True. Judo as a competitive sport at the highest level is all about winning medals, grabs and throws, sweat and hard work … In short, the quest of each athlete to reach the highest podium and shine at the end of the competition day with a radiant smile and the blinding glow of that gold medal. Especially at the Worlds. Because the IJF Worlds are that annual moment supreme where the stakes are very high!
True also, every judo fan knows all the accomplishments of his/her idol on the tatami. How many times he or she medaled on the World Judo Tour, the ranking, the number of head-to-head fights, the victories, the losses …
Hence, … the lighter side of judo. At the Worlds in Tokyo, IJF Media wants to scratch away a bit of judo layer and find out what our judokas like, away from the tatami, so we can share this inside intel with all judo fans.
In the Nippon Budokan, we ran into European Champion Matthias Casse who became Vice-World Champion here in Tokyo. But what about his time outside the dojo?
Besides being a high-level athlete, he's also a bachelor-student in chemistry so his life is very scheduled due to this dual career. "I really have to plan my days, so there is not too much time to waste at the moment. Therefore, I'm not really a movie or series watcher," he says. "I try to arrange my time as useful as possible. I never started to watch any series, but if I did, I'm afraid I definitely would be binchwatching them," he laughs. "However, I prefer to spend my free time otherwise." The rare moments he watches movies, he picks them carefully. "If I do watch, I like the movies to have a certain depth, a plot that makes you think a bit about what you see. Like 'Inception' for instance. But don't even ask me any names of actors or actresses, because I'm not really into that."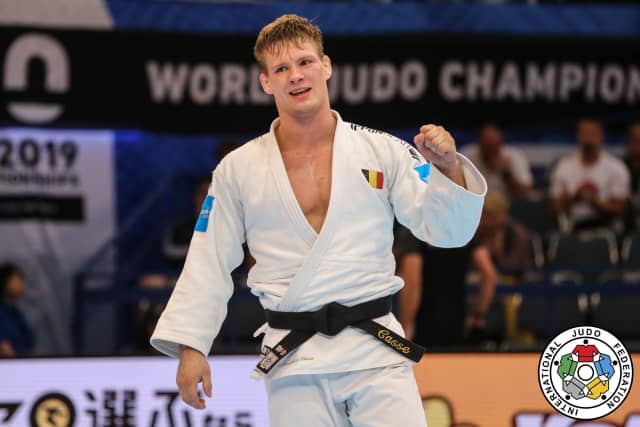 However, the Belgian likes music. "All genres of music. No particular music performers though. It really depends on my mood. When working out or just prior to competition I always opt for something upbeat. So it can give me a boost. I don't wear any headphones or earplugs in the gym. The music there is always on speakers, so if there are other people working out, they usually don't mind my choice and it's great to see them being energized as well," he smiles.
What about food? "Now, that's one of my points of interest," he laughs. "I love to eat, especially quality food. And I like it all; meat, pasta, you name it. Comes with the territory, I guess. Since I was a kid, I helped my dad when sometimes he was cooking. That stirred a passion for cooking and eating too. I still live at home, so my mum normally prepares our meals, but occasionally I cook myself. I'm pretty versatile in what I cook, but I don't have a particular or special dish." Being an athlete constantly in training, water is his beverage of choice. "I always carry my water bottle with me. On special occasions, like winning the silver I make an exception and a nice cold beer is what I like," he admits. "I also favor chocolate milk."
His favorite color? "Gold," he immediately answers. "Definitely not silver nor bronze," he jokes.
The city he likes the most is Antwerp. "I live in a suburb, so it's pretty close by. I like to walk around the city or go for a bite in a restaurant. I know my way around in the city. It's nice and cozy." If you are a judoka competing on the World Tour, you travel a lot, but hardly have time to really explore each city. "I've been several times to the United Arab Emirates for judo, but I 'd like to go as a tourist for a change. I'm impressed by cities like Dubai and Abu-Dhabi, I would like to visit them in a more detailed way. A culture that is totally different than mine I find appealing."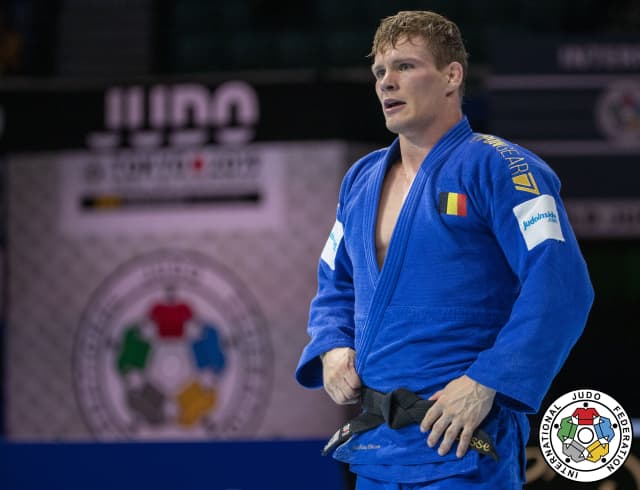 Any animals in casa Casse? "We had many in the past," says Matthias. "Like a dog, sheep, piglets, pot-bellied pigs, rabbits and even geese but currently we only have chicken."
Matthias likes to read. "Preferably non-fiction. If I invest time in reading, I want to learn something," he says. "Currently, I'm reading a book about sleeping. An important topic for an athlete, underestimated by many. The days prior to competition when I have to make weight and not many things are going on, that's for me the best moment to read a book. Those are long days and reading is the perfect way to pass time and it relaxes me as well."
His role model in judo is Bronze Olympian and teammate Dirk Van Tichelt. "I learned a lot from him," Matthias admits.
His dream bout on the mat? "What do you think?" he smiles. "An Olympic final with Sagi Muki on the tatami and then I beat him."