Imagine you live on a small atoll somewhere in the Pacific. You never left your paradise-like island and suddenly judo brings you to Tokyo, a buzzing metropolis with more than nine million of inhabitants. Quite a difference with the merely 116,000 people scattered around 32 atolls which puzzled together constitute Kiribati, located in Micronesia and the only country that is situated within all four hemispheres.
Well, it happened to Nanimatang Noketi, an 18-year old judoka from Kiribati. It's not only Noketi's first appearance at the IJF Worlds but also his first ever international competition. Furthermore, it was also the debut of Kiribati as a judo nation at these Worlds.
For Noketi mounting the tatami in the legendary Nippon Budokan felt like stepping into a menacing lion's den. He was impressed or say rather … shell-shocked by the scale of the competition and its historic setting. His nerves got a good hold of him. "I was so nervous," the young judoka commented after his match. He got floored with ippon in his first bout after hardly nine seconds by Hungarian Csaba Szabo. "Of course, I wanted to do better, but I felt almost paralyzed. I could hardly grip my opponent as my hands were trembling. It was nerve wrecking."
Overwhelmed indeed. "It's my international debut. It's quite something for me to be here and compete at the biggest judo event in the world. I'm very much impressed." Who wouldn't be? Noketi has only being competitive in judo for two years.
Not only the level of competition left an impression on him, also the big and boisterous crowd. "We are a small country with not many inhabitants. So, when we have a judo competition, not many people turn up to watch. Here at the Worlds it was something else!", the 18-year old exclaimed. "Also, the TV cameras and all the photographers, it was a shock for me. I wasn't really prepared for all that media attention. If I have a new chance to participate next time, I will be better prepared now. It was the first time I encountered opponents from other countries too."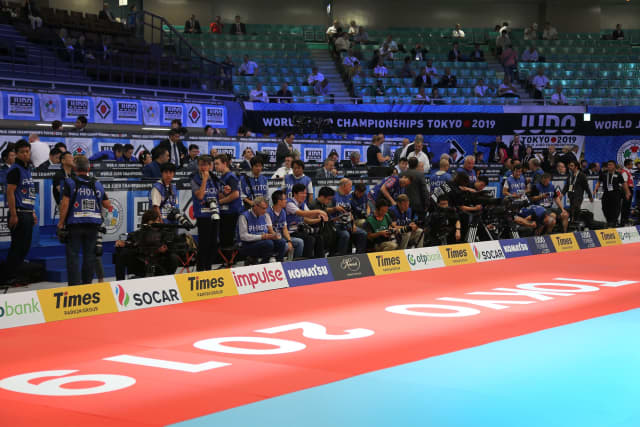 Nevertheless, Noketi is very proud the represent the tiny state on the world platform. To qualify for the national team, he competed in an elimination tournament. "I won nine bouts to earn the selection," he says. "I was ecstatic qualifying for the team being able to represent my country. I only wish I could have lasted longer on the math," he confides. "Judo is not so big in Kiribati. Youngsters come out to try judo, some stay, some don't. Sometimes they're afraid of the mats," he laughs. "They think they will hurt themselves. But we are enjoying ourselves practicing judo. I particularly like the throwing. In Kiribati we also have traditional wrestling, I used to practice it. But when I found out judo came to the island, I wanted to become a judoka. I think judo is the best martial art."