We will remember from this first day of competition at the Tokyo 2020 Games that, yes, sport and especially high-level sport can be formidable vectors of development and that despite the global health situation, the Olympic Games are taking place and they offer us moments of intense sporting engagement.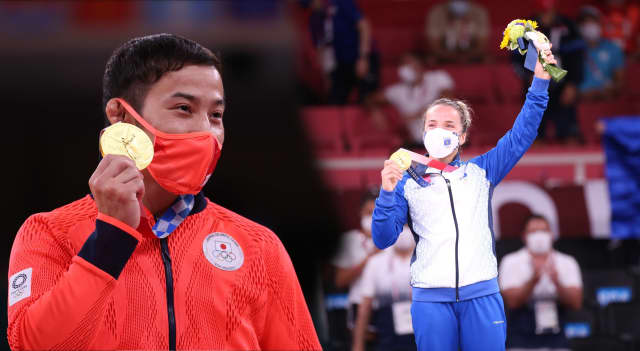 We will remember that we discovered two new Olympic champions. We almost stopped expecting them, since the postponement of the Games, yet they are now in place and they are magnificent. Bravo to Distria KRASNIQI and Naohisa TAKATO. Today their careers are consecrated by an Olympic title, but we are sure that in a while, it will already be time to resume training. Before that, long before that, let's celebrate sport, judo and the values ​​they convey. Let us be proud of the work undertaken and let us already look towards a future which can only be brighter.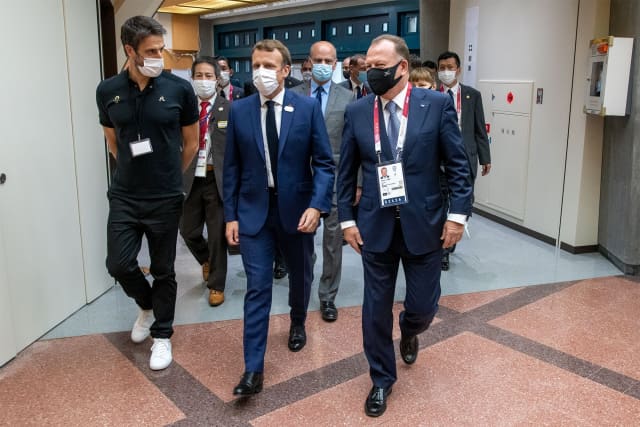 We will also remember that on this first day of judo, our sport attracted the greats of this world. The French President, Emmanuel Macron, was present to see the beautiful journey of Luka MKHEIDZE, who finished on the podium and offered the first medal to the French delegation. The President of Kosovo was able to rejoice at Distria KRASNIQI's performance. She is now one of the very big names in this sport, while the Mongolian Prime Minister could congratulate Urantsetseg MUNKHBAT for her first Olympic medal, a special addition to a collection that already includes 4 world medals. Many more important personalities also joined our judo family today to enjoy the show.
-48kg: Five years after Kelmendi, Distria KRASNIQI Consolidates Olympic Gold for Kosovo
Final TONAKI, Funa (JPN) vs, KRASNIQI Distria (KOS)
Clearly a little less powerful than her opponent, Funa TONAKI used every single opportunity to put Distria KRASNIQI (KOS) off balance and followed every action in ne-waza. KRASNIQI who had been ahead of everyone throughout the day seemed a little shy now that she was competing for gold but twenty seconds before the end, as nothing was written on the scoreboard, she executed a beautiful uchi-mata, that put TANOKI on her shoulder for a clear waza-ari.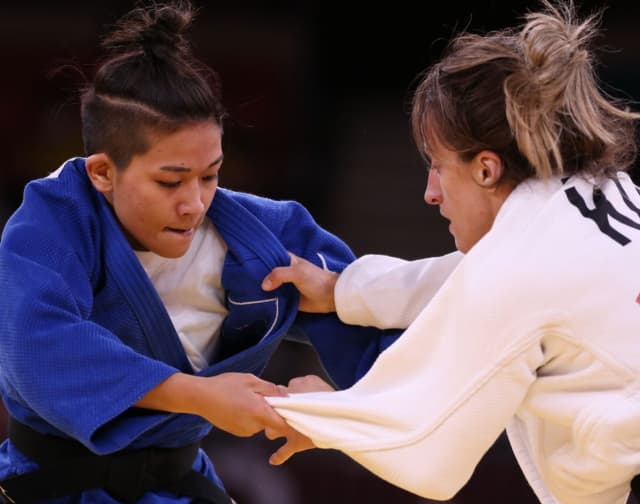 It is important here to underline the performance of both athletes and particularly of Distria KRASNIQI (KOS). Five years ago Majlinda Kelmendi opened the door when she became the first ever Olympic medallist for Kosovo and it was a gold medal. Here in Tokyo, the small Kosovan federation, in terms of numbers, is producing a second Olympic champion. The ratio is impressive. There is a judo school in Kosovo and this is not the last time that we will see their amazing competitors.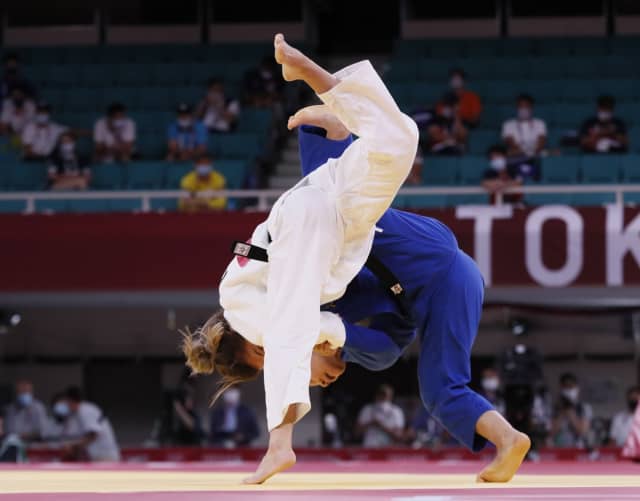 Distria KRASNIQI said, "This is a second Olympic medal in the history of Kosovo. It's the second gold in a row in the same sport: judo. It means a lot and I hope it will be an inspiration for children but I also hope it won't be the only one in Tokyo. I hope we will bring home more medals. I was the first chance and I took it but I'm not the only one who is ready. There are more chances in the coming days."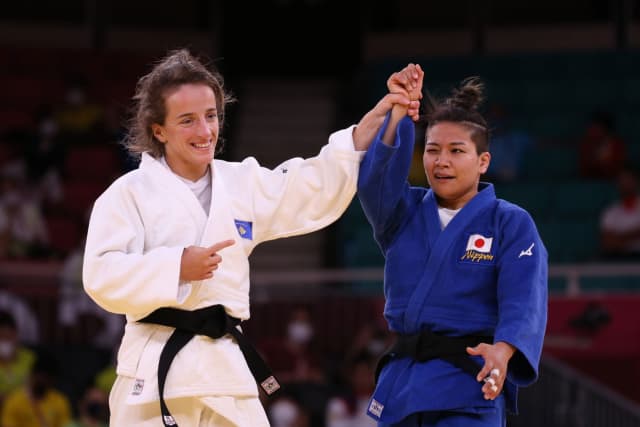 Bronze Medal Contests RISHONY, Shira (ISR) vs BILODID, Daria (UKR) COSTA, Catarina (POR) vs MUNKHBAT, Urantsetseg (MGL)
Daria BILODID was more flamboyant when she won her two world titles and apparently the break due to the pandemic did not help her to stay on top. Since the beginning of the day, she seemed tired and looking for energy but it is during difficult days that you recognise big champions. In the bronze medal contest Shira RISHONY looked in position to control the match from the beginning and this is exactly what she did until a fatal mistake, that BILODID didn't let go of, to pin down RISHONY for ippon. BILODID's tears at the end were probably a mixture of feelings. She was sad because she clearly came for the gold medal but happy to, despite all odds, step on the Olympic podium for the first time. Will she remain in -48kg in the future? This is her decision but we have already seen her in the higher category. She will have a bit of time to think about it. For the time being, enjoy being the first bronze medallist of the Tokyo 2020 Olympic Games.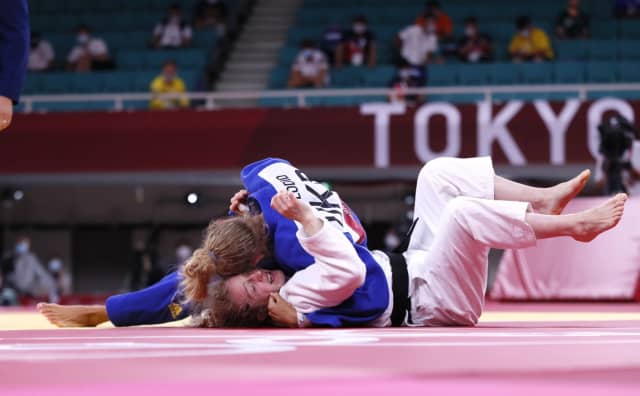 Daria Bilodid declared, "In the end I felt I had no strength. I was psychologically and physically exausted but I did everything to win a medal. Now it might sound strange but I don't yet feel the joy for the medal. My emotions are not ready yet but I can tell you that to fight in here, where judo was born and in the Budokan where I won my second world title is something very special."
Catarina COSTA (POR) resisted with determination against Urantsetseg MUNKHBAT (MGL), dreaming of the bronze medal, but the Mongolian legend didn't offer her the chance to celebrate as she applied a kansetsu-waza technique to win the first Olympic medal of her impressive career. This is also a first medal for Mongolia in front of the Prime Minister of Mongolia, who was among the guests of the day.
Semi-finals BILODID, Daria (UKR) vs TONAKI, Funa (JPN) KRASNIQI, Distria (KOS) vs MUNKHBAT, Urantsetseg (MGL)
Daria BILODID was the first in action, in a match where the competitors had totally different morphology, Funa TONAKI being small and compact, with the Ukrainian being much taller than anyone in the category. It seemed obvious that BILODID had been studied carefully over the past months and that videos had been played thousands of times. BILODID needs a strong left arm over the head of her opponent. TONAKI's mission was therefore very simple, to block that arm from going over the head and to attack before BILODID, with low shoulder movements, while avoiding going to the ground since BILODID is well known for her sangaku-jime. At the end of normal time, each had a shido to their name and everything was still possible. Looking tired, BILODID still seemed to be capable of winning that incredibly important semi-final, especially when TONAKI was penalised a second time, but the Japanese judoka exploited a tiny opportunity on the floor to pin her opponent for ippon and to offer a first chance for the host country to step on top of the podium.
Having shown incredible power throughout the early rounds, Dirstria KRASNIQI of Kosovo, who was heavily supported by her delegation, started the semi-final calmly but surely to impose her strong kumi-kata and score a first waza-ari before even half the bout had passed. In front of her was a well known competitor on the World Judo Tour, Urantsetseg MUNKHBAT (MGL), but the former world champion seemed to be totally incapable of finding the slightest throwing opportunity. Dirstria KRASNIQI thus qualified for the final to already offer a second Olympic medal to her country, after Majlinda Kelmendi's title in Rio five year ago.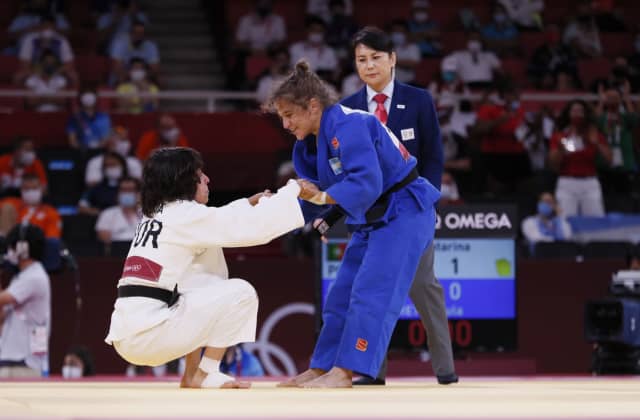 Repechage LIN, Chen-Hao (TPE) vs RISHONY, Shira (ISR) COSTA, Catarina (POR) vs PARETO, Paula (ARG)
Shira RISHONY seemed quicker to get back on her feet after the break that followed the morning session, slightly taller than her opponent but still not being able to really gain the upper hand. With a shido each at the end of the contest, it was time for golden score and there RISHONY needed only 18 seconds to score with a magnificent sasae-tsuri-komi-ashi for a clear ippon, to secure a place in the bronze medal match. Earlier in the day the Israeli was defeated in the quarter-final by Urantsetseg MUNKHBAT (MGL).
Despite two really good first contests, the reigning Olympic champion, Paula PARETO (ARG), saw her dream of a second title being crushed by Funa TONAKI (JPN) in the quarter-final, after a Japanese style combination from osae-komi-waza to shime-waza for ippon and a slight elbow pain for the Argentinian. Nevertheless, after the break, the pocket-sized champion faced Catarina COSTA of Portugal for the possibility to keep dreaming of an Olympic podium. The Portuguese judoka scored a first waza-ari with a shoulder movement and despite the two shido she had collected earlier, she managed to keep her advantage. At the end of the repechage match, the two athletes hugged for a long time. Paula Pareto is the first current Olympic Champion to lose her title in Tokyo and she will not reach the podium, but she remains an amazing champion, who is more than just a judoka, but a role model for society. Before the whole judo world moves from one to the next generation, we must take our time to honour the amazing career of the former world and Olympic champion. Bravo Paula!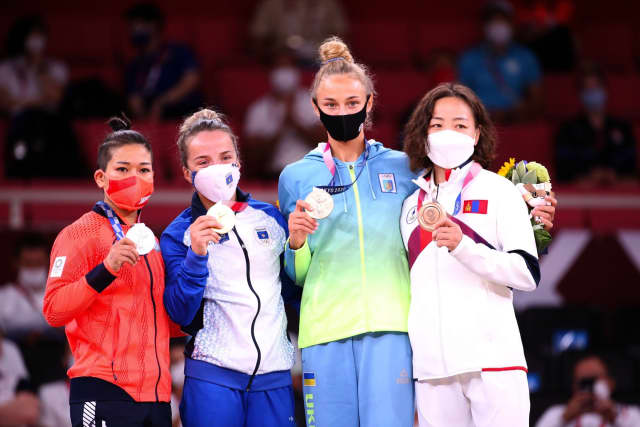 FINAL RESULTS 1 - KRASNIQI Distria (KOS) 2 - TONAKI Funa (JPN) 3 - BILODID Daria (UKR) 3 - MUNKHBAT Urantsetseg (MGL) 5 - RISHONY Shira (ISR) 5 - COSTA Catarina (POR) 7 - LIN Chen-Hao (TPE) 7 - PARETO Paula (ARG)
-60kg: TAKATO Opens the Japanese Judo Account
Final YANG, Yung Wei (TPE) vs TAKATO, Naohisa (JPN)
The final was maybe not the most exciting match of the day but honestly the athletes have an excuse, as they gave so much to reach this last contest and the whole day was marvellous in terms of action, engagement and desire to not give anything away.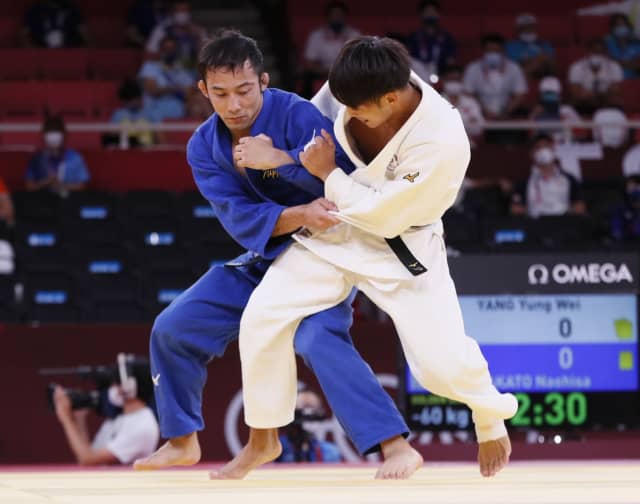 Naohisa TAKATO (JPN) had a clear goal, to open the account of Japanese gold medals in the judo event and he did it. This was not easy but who said it would be? To become Olympic champion demands years of training. Today TAKATO is the king of the world in the light weight division and we congratulate him for that.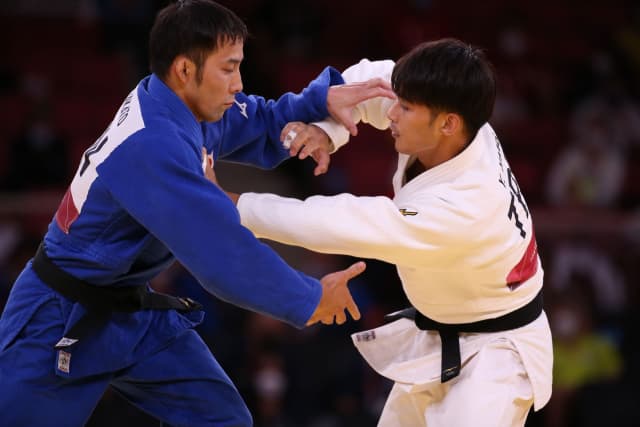 TAKATO Naohisa said, "Contrary to what people might think, my hardest contest was not the final, not even the semi-final. It was the quarter final because in Rio I lost in that round and here in Tokyo I was very afraid before the fight against the Georgian."
Yung Wei YANG explained, "When I woke up this morning I felt that I would reach the final. I'm serious and I know this is not a dream. It is real and I feel great."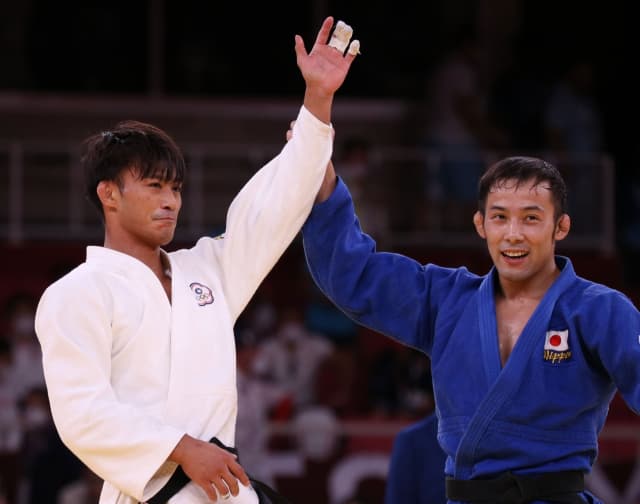 Bronze Medal Contests TSJAKADOEA, Tornike (NED) vs SMETOV, Yeldos (KAZ) KIM, Won Jin (KOR) vs MKHEIDZE, Luka (FRA)
Tornike TSJAKADOEA (NED) will have some regrets because he had a really good day at the Budokan and was very close to stepping on the medal podium. In front of him was an Olympic silver medallist who has the experience at this level of competition. In the golden score period, the Kazakh scored a waza-ari to add a second Olympic medal to his prize list; a really strong performance.
The question of the day in the second bronze medal contest was whether Luka MKHEIDZE (FRA) had recovered or not from his semi-final. The first part of the contest, the usual 4 minutes, proved that the Frenchman was ready to fight for a medal, probably the first one of the French delegation at theses Games. With only one shido on the scoreboard for KIM, it was therefore another golden score, where KIM received a second penalty for passivity after a little more than two minutes.
There are not that many opportunities to win an Olympic medal in a sports career. Today was MKHEIDZE's chance to add his name to the long list of French medallists at Olympic Games but to be honest that was probably not the most expected medal of a delegation which is particularly expectant with their women and with Tedddy Riner of course. For the French team, which has been struggling to get results from their men, this result on day one of the Games is very encouraging. MKHEIDZE deserves his medal. He put all his heart into it and that is what we want to see, what we love to see.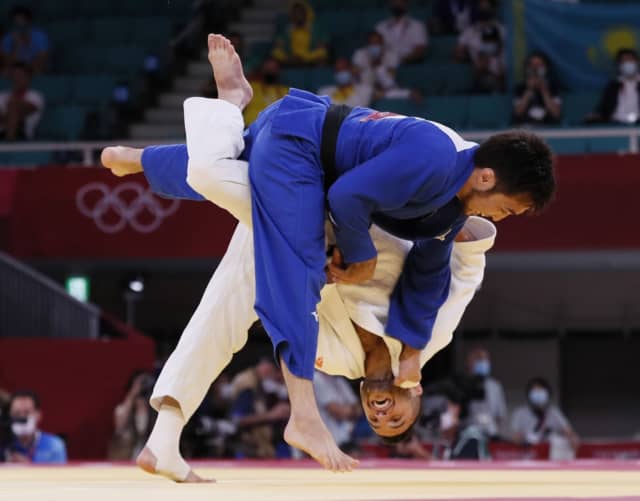 Semi-finals TAKATO, Naohisa (JPN) vs SMETOV, Yeldos (KAZ) YANG, Yung Wei (TPE) vs MKHEIDZE, Luka (FRA)
During most of the normal contest time, TAKATO and SMETOV, each with impressive collections of international medals, offered nothing special m, until a few seconds before the end, when the Japanese judoka pinned down his opponent three times in a row, but every time, SMETOV was capable to escape and often in a very acrobatic way. It was time for golden score for the triple world champion and the Rio Olympic silver medallist. After more than four minutes, they were still fighting to score, with a single shido possibly making the difference; TAKATO and SMETOV having two shido each. Totally exhausted, they were looking for air and were still putting maximum energy into every attack and the highest level of ground work came, to the delight of the delegations and officials present in the venue. After 7 minutes and 2 seconds, almost incapable of walking anymore, it was TAKATO Naohisa who finally found a tiny bit of miraculous energy to score a waza-ari with a counterattack. More than eleven minutes of intense judo, where both competitors give all they had and never gave up; this is what we love to see and this is what the Games bring.
If Luka MKHEIDZE (FRA) is not unknown on the World Judo Tour, he was definitely not among the favourites of the competition in the morning, but step by step, the Frenchman gained confidence and reached the semi-final against another outsider, even if Yung Wei YANG (TPE) was seeded. The two athletes were very active and despite no score on either side, they reached the golden score period with no shido to their names either. The golden score offered incredible ne-waza sequences again, where athletes can spend a lot of energy delivering a superb show. This was the way out for Luka MKHEIDZE (FRA), totally exhausted, surrendering to the permanent pressure imposed by YANG, who immobilised his opponent to reach the final, to meet another exhausted champion.
Repechage TSJAKADOEA, Tornike (NED) vs LESIUK, Artem (UKR) CHKHVIMIANI, Lukhumi (GEO) vs KIM, Won Jin (KOR)
In less than a minute, Tornike TSJAKADOEA (NED), scored a beautiful ippon with a right-handed uchi-mata that left no chance for Artem LESIUK (UKR) buying himself a ticket to the bronze medal match.
After a few seconds it seemed obvious that the match between Lukhumi CHKHVIMIANI (GEO) and Won Jin KIM (KOR) would not reach the end of normal time, as both champions were dangerous with several attacks, but the clock was ticking and nothing was scored when the final gong echoed in the Nippon Budokan. Golden score! It was a long and heavily disputed golden score that we witnessed. After three minutes of extra-time CHKHVIMIANI had two shido to his name and was still pushing hard to score but it was eventually after almost 4 minutes that KIM scored a superb ippon with seoi-nage.
We will remember that top seed Rovbert MSHVIDOBADZE (ROC), was defeated rapidly by Tornike TSJAKADOEA, who proved to be ready on D-day and that another top seeded competitor, Francisco GARRIGOS (ESP), was eliminated during the morning session.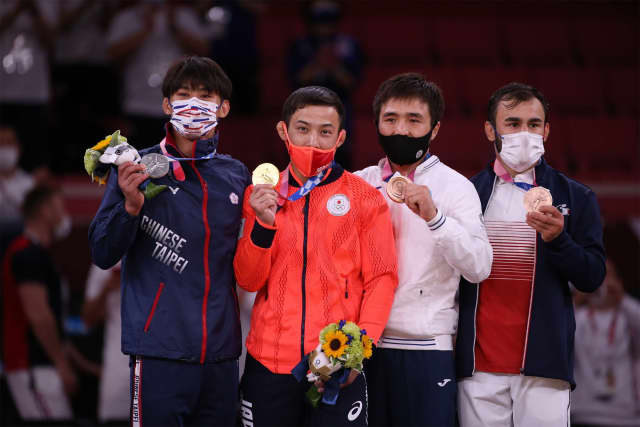 FINAL RESULTS 1 - TAKATO Naohisa (JPN) 2 - YANG Yung Wei (TPE) 3 - SMETOV Yeldos (KAZ) 3 - MKHEIDZE Luka (FRA) 5 - TSJAKADOEA Tornike (NED) 5 - KIM Won Jin (KOR) 7 - LESIUK Artem (UKR) 7 - CHKHVIMIANI Lukhumi (GEO)