World and double Olympic medallist Richard Trautmann (GER) made a bold move exactly a year ago, becoming Head Coach for Azerbaijan in March of 2022.
Shortly after Trautmann's arrival in Baku, he was joined by a world champion, an Olympic medallist still striving for more, carrying a challenging background with him, looking for stability and his forever home. Saeid Mollaei was a refugee looked after by the global judo community, spending just under 3 years with team Mongolia as a very welcome interim solution.
Judo fans everywhere have sent their hearts to Mollaei and much has been made of the friendship between him and Israel's Sagi Muki, highlighting the role of sport as an essential step towards peace, always offering evidence for the idea that sport and friendship can override all other barriers. Trautmann says, "There was of course all the publicity around the issue with Israel but I never imagined I would be his coach when he first faced Sagi Muki last summer."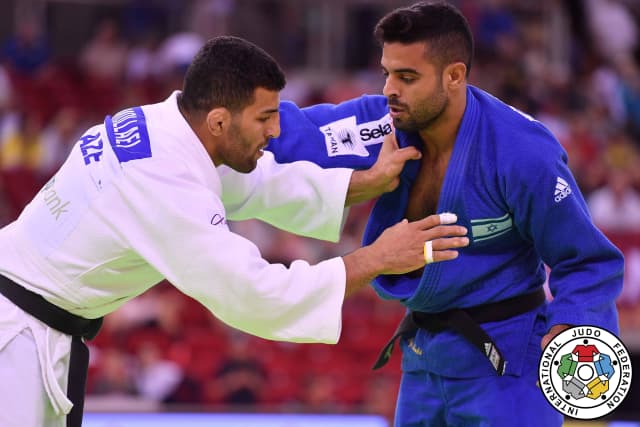 In Azerbaijan Mollaei connected immediately with Trautmann, a coach he had known in Germany, where he lives with his young family. Trautmann adds to the story, "We had a connection for a long time, for many years. He was a big rival of Dominic Ressel when I was working in Germany but we made him welcome in Cologne at the training centre anyway. Mollaei had sought asylum in Germany even when he was training in Mongolia.
I was told that Saeid would come to Baku and I was very happy as he is so professional and we speak the same language. He even helps me with translations sometimes as he speaks English, German, Farsi and his mother tongue of Azerbaijani.
At first the task was to work more on the relationship. He was happy to work with me and it all seemed logical. He's really an amazing athlete, already an Olympic and world medallist but he listens always and wants to be better than yesterday; this is his real strength."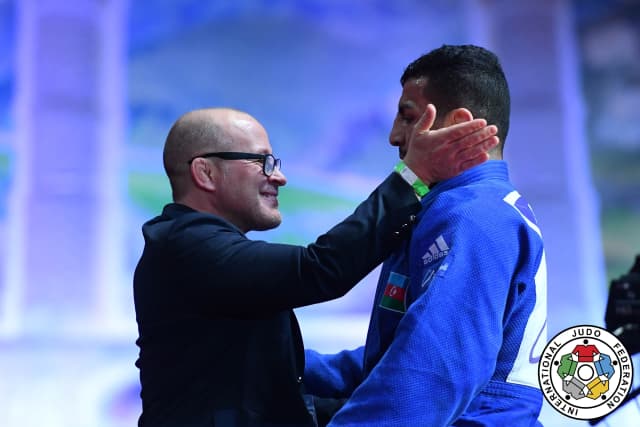 In Antalya we saw a different side to Saeid Mollaei. We have been enthralled for years by his committed wrestling style, grappling from all angles and finding the tiniest gaps in which to insert his body for lifts and rolls and drives. On the tatami in Turkiye we found Mollaei upright, fully in control of the distance between him and his opponents, using the core principles of judo, creating reactions, employing an expert feeling for timing.
Coach Trautmann continued, "My work was to make him confident in this style. I can't lie and say I have taught him to do these new things. I've just worked with him so he really understands that although he is always close to the body, from a distance he is also not bad. This was always existing in his judo. I give him ideas for how to prepare the situations and how to enter for these techniques. We work on the situations in which to apply classic attacks. He has always had strong ashi-waza but now to be able to fight at this level with both of these styles is a big advantage and building the extra confidence to do both was essential.
Techniques were there but Saeid didn't know when to use them. Confident kumi-kata also brings a natural application. Dominating the correct side and using the right moment to initiate the attacks is important and now he has this much better.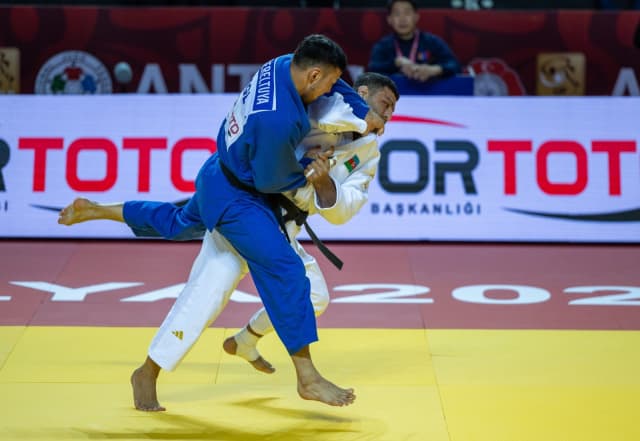 His physical programme, though, was one of his first questions when he arrived in Azerbaijan. We have a coach for physical preparation but I asked him what he wants. He is actually not stronger than my previous teams but his dynamic strength is something else. His wrestling background is likely to have contributed to his unbelievable core strength. Really he is an outstanding athlete and it was important for him to maintain that."
Managing a new and high level member of a team while also being new in that particular coaching role is not easy and that set of challenges is compounded when there is also injury to deal with. The day after the Jerusalem Masters in December 2022, Saeid went under the knife for a planned elbow surgery. It was expected and it was necessary but it's still not a pleasant period.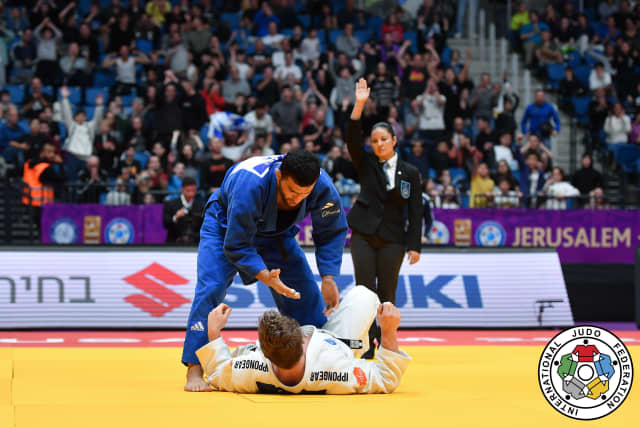 "While rehabilitating after the elbow surgery I put him in touch with a physio who is a good friend of mine, one who is working with the German women's team. Saeid had good access as he lived close to them and he did most of his recovery work with him. When Saeid came back to judo we could not feel that he had been out, such was the quality of the work done. He was ready to train again in Paris, straight away. He was able to fight again even earlier than we put him in but we wanted to really build physically and after Tel Aviv, which he did not fight, he trained in Japan. He has been before but not so much so that was a good experience. Then we felt he was ready again for competition."
The judo he delivered in Antalya was clean, varied and intelligent and it drew comment from spectators, other delegations and even IJF experts. As the coach describes, this is not a matter of new techniques but of the confidence to apply the judo he already had. It was refreshing, exciting and for his opponents will undoubtedly create some problems.
Mollaei beat Boltaboev in the semi-final in Antalya with this beautiful de-ashi-harai:
"Saeid is clear in his mind that he wants to be European champion as this is now his first chance for that title but of course the Olympic Games in Paris is the ultimate goal, a gold medal," says Trautmann.