Niki Adams has more than one claim to fame. An avid judo fan, this is certain, but she is also the wife of the 'Voice of Judo,' Neil Adams and an Olympian in her own right. Niki competed with the Canadian team in Atlanta in 1996 and has stayed in touch with the world's judo community ever since. Present in Jerusalem, Niki offers her observations for today's technical analysis.
"It's a really different feeling from yesterday's event. At first I thought there was a touch of desperation to the proceedings but actually it's not that, it's all about how close the matches are. They know each other and all are sensible enough to fight with respect for the capabilities of all their opposition.
In my work with NAEF I am mostly in touch with the fundamentals of judo. We all know that judoka with sound fundamentals and the combination of that with the ability to adapt, while maintaining their own styles, are the ones who succeed, more often than not. Mollaei was a great example of that today. No matter what came at him he had an answer, a grip, an entry for his attacks."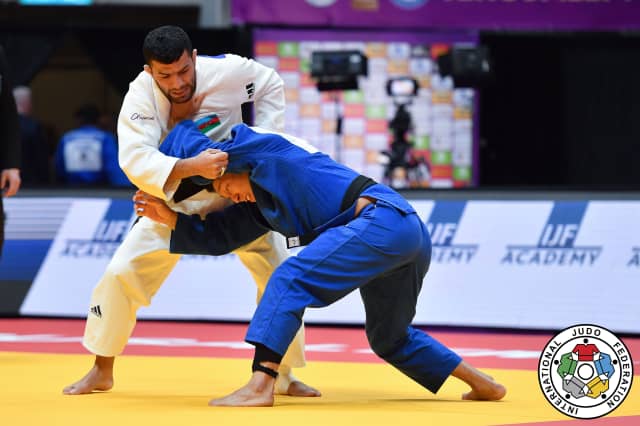 "Coming to watch at this level and seeing the different styles clash is always exciting. I'm a fan of pretty judo and I love to see when coaches are clearly pushing technical judo rather than mostly tactical judo. Here we can see great technical foundations but across a variety of styles and seeing contests such as the one between Fujiwara and Mollaei really highlights how beautiful our sport is.
As a Canadian I've been a little disappointed by the Canadian team today despite great work yesterday. I believed today's judoka had more to give. I know they'll come back in the coming tournaments but today didn't go as planned and they need to work out why. Having said that, Margelidon redeemed himself in the bronze medal contest with a mature and calm game plan and won a medal at this crazy-high level."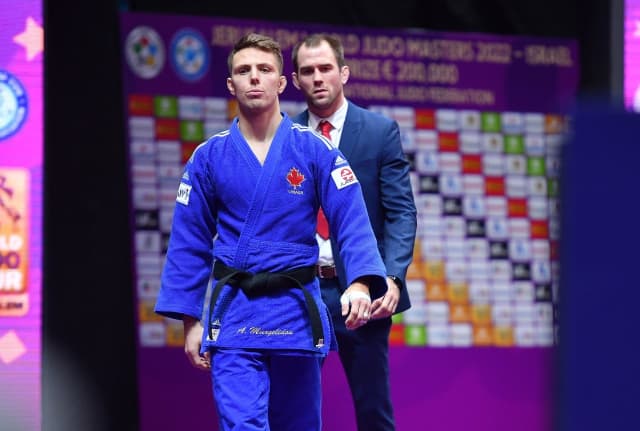 A complete change of discussion and Niki's next observation is one that has been in the back of everyone's mind recently.
"I remember my identity changing and in a very short period I went from being Niki Jenkins the Olympian to Niki Jenkins Neil Adams' girlfriend. Then I became Niki Adams, a mum and wife. I say this because seeing Kim Polling competing at such a level so soon after becoming a mum is really admirable but it's also complex. A changing body is tough to understand and control but it's also potentially a change of identity. If she feels there's unfinished business here and completing her ride is part of her identity, then more power to her. Kim fought really excellently today all the way to the final block and it's great to see her back. She has earned respect from the younger ones and even that was seen to some degree today. She's strong, present and robust, holding her ground at all times. It inspires confidence and faith with absolutely no-one counting her out, even as a new mum."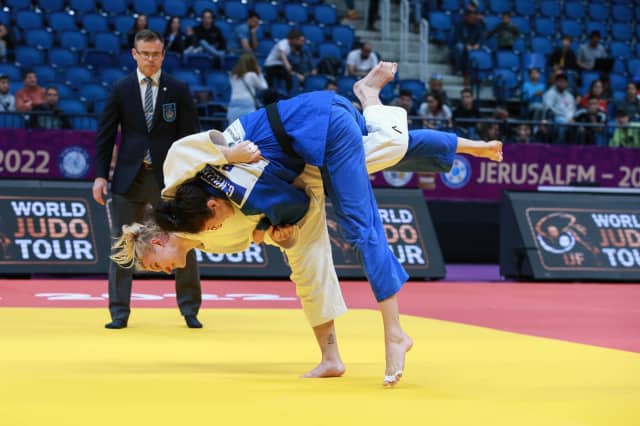 That is a topical issue and one which will be looked at more in the coming weeks and months. Clarisse Agbegnenou, Nekoda Davis, Hannah Martin and Kim have all made a return to high level competition since giving birth. In the past it has seemed almost impossible to do so but boundaries are being pushed.
Overall, I like seeing the real grit going on. They don't give up. Kim hasn't given up and neither has anyone else here in the mat in Israel. With a few seconds left and being a score down, even when they're not just tired in the moment but tired at this stage of the year, still going right to the bell it's heir only option. It's great to see, especially for young judoka watching online, seeing the determination required, the right attitude in life as well as in sport.
Cargnin is another great example. There's no halfway house. He really pushed all the way to the end. He's adaptable and he's also technical. He won the gold because he deserved it after a day of giving his whole self to the task."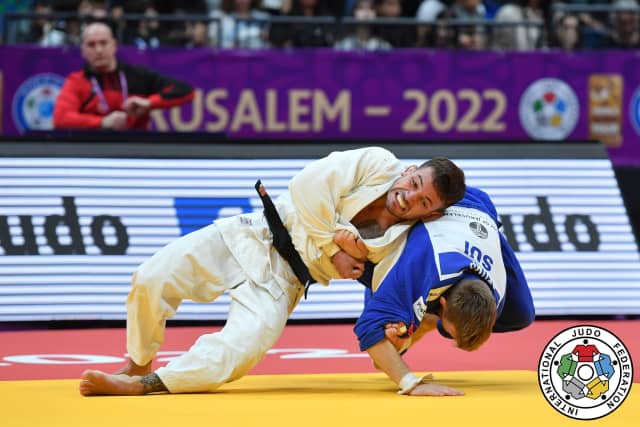 "As one small point for consideration, I'd like to see a little less one handed judo, with a greater emphasis on two-sided kuzushi, promoting big, safe throws. We have seen a few judoka throwing through the straight arm from an extreme one sided position and having two grips on could reduce those dangerous situations somewhat.
Regardless of the number of disqualifications and near misses with that straight arm issue, there has been great refereeing throughout and they have a tough job. As a competitor, many years ago, I wasn't a friend to referees but the distance really brought perspective and I see how hard they have to work to ensure the right results."
"Beauchemin-Pinard against Szymanska in the -63kg repechage final gave the referees one of those right calls to asses. The Pole came with a ko-uchi and the Canadian attempted to counter with the tani-otoshi but it was a touch late. I wouldn't want to be out in the middle having to work that out and their decisions have to be made immediately. Even on replay I can't decide sometimes. So for them to adjudicate at the speed they do and with such a tiny margin for error, they do an incredible job."
Day two has brought some really clever tactics combined with judoka who hunt for the throw. There is clearly a lot of analysis going on behind the scenes and it feeds into chess-like matches worthy of study and reflection.
Day 3 brings the heavyweights and the greatest power of the World Judo Tour. Follow all the action at live.IJF.org.