When she does not train, she sleeps, cooks and eats, especially desserts, she likes sugar. She says it between laughs, with that shyness very typical of the 16 years that she has. The same thing happens with her as with other judoka; seated at a table she has good manners and exudes innocence, but with her judogi on she transforms and becomes a young predator.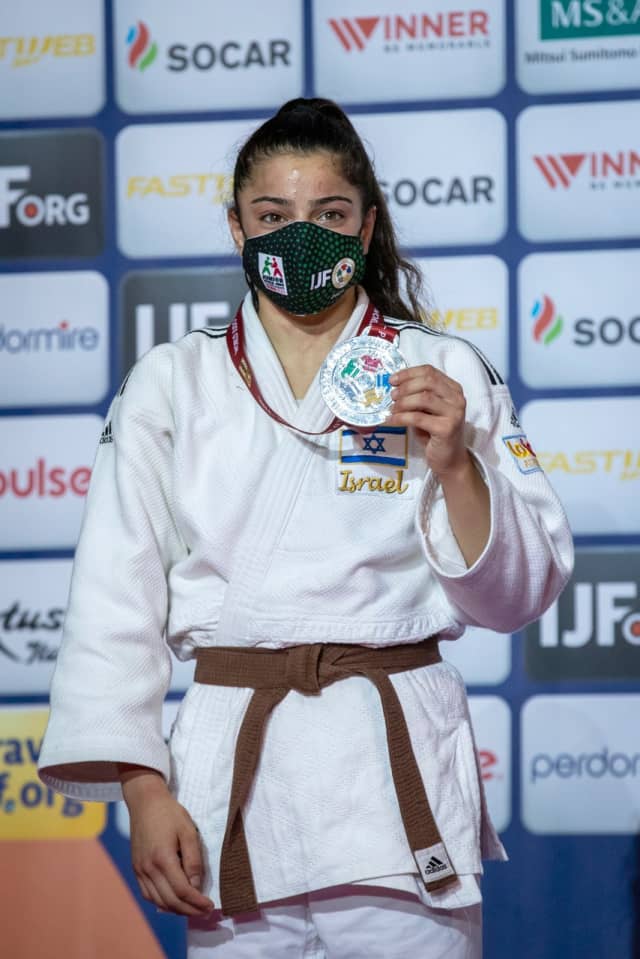 Kerem Primo has a familial relationship with judo. Her sister Gefen is a judoka and her brother Einav too. It was him who brought little Kerem to a dojo for the first time, when she was 7 years old. "I liked it so much that I came back the next day and the next too, until today." 
What she likes most about judo is the fact that "nothing is ever the same, everything is possible and everything can change in a second." It is her comfort zone. She is comfortable on that tatami that offers pleasure, but also uncertainty and the unexpected, the risk of defeat. 
Beside her, Maayan Greenberg listens. She is her coach. "Kerem has a special talent and an irreproachable attitude. Her sense of commitment is above average. You have to watch her train, giving everything in every session. She is one hundred percent motivated and always strives for perfection." 
In the demanding Israeli school, this behaviour comes as standard and is necessary to make a career and achieve goals but, as always, there are the good ones, the very good ones and the chosen ones. "She belongs to the last group, a warrior with exceptional qualities," says Maayan. 
As the coach draws the profile of a legend in the making, Kerem blushes and smiles as if embarrassed to be the centre of attention and the object of so many compliments. This is what happens with sport practised at a certain level: adolescents become adults at dizzying speed. 
This also has an explanation, at least in Israel. "After the Rio Olympics," explains Maayan, "the Israeli Federation established various programmes for young people to train with seniors." It was the express desire to advance the junior ranks quickly and prepare them to make the final leap into the seniors with relative ease. It is an established, long-term plan and Kerem is the ultimate reward, like the wooden fruit that falls into the basket. 
European cadet champion, junior European champion and from now on she is also junior world silver medallist, after offering a masterclass at the Junior Worlds in Olbia; another notch on a shotgun that has room for many more. The older sister already has 24 medals, of all colours. Kerem follows in Gefen's wake and seems to be only interested in collecting the gold. As for how, in her style, she is also outstanding. 
"My favourite technique is uchi-mata and I try to throw from both sides. I also have other techniques because I have understood that to win you have to master a fairly wide range, the more the merrier." 
She also looks at what others are doing. She likes Majlinda Kelmendi, for her capacity to work and Abe Uta for her wide repertoire. Among the boys, "my favourite is Sagi Muki." In other words, she likes success and that is why she watches the best. 
"She always pushes up," Maayan intervenes. For the coach, her greatest quality is not being satisfied with what she already has, always trying to push the limits of what is possible a little further. At the same time, Kerem feels that she has to polish certain aspects. "I think I need to be more aggressive." As for her style, she is eminently offensive and likes to win by ippon, to attack without rest. It's all a matter of rhythm; maybe that explains her musical tastes before the battle. "I listen to music with rhythm, dynamics." 
For Maayan, Kerem is the dream of any coach, because of her behaviour and seriousness, because she ends up exhausted, she does not save energy in training. "I think we are at the beginning of a brilliant career." 
With the junior world medal already in her pocket, next week Kerem will participate in her first senior tournament: the Paris Grand Slam. This is another level of demand, where the truly serious begins. There she will discover a new world, competitive to the maximum and she will change, at least for a few days, her coach. At her side will be Shany Hershko, who leads Israel's women's team among the seniors. Finally, we asked Kerem about the differences between Maayan and Shany. 
"Shany is much taller," she laughs.