The IJF World Judo Tour was full of unforgettable moments of sporting brilliance, drama, emotion and awe this year. We've picked out some of the most talked about moments from the 2018 campaign.
Paris debutant brings the crowd to their feet with act of fairplay
Winning the Paris tournament is a dream for any judoka. To achieve this feat on your debut in France as a 22-year-old is a herculean achievement. MUKAI Shoichiro (JPN) had just achieved the greatest feat of his young career and instead of soaking up his sweet moment of victory, the Japanese youngster showed the world something far more powerful than winning.
MUKAI, who had defeated former World Judo Masters winner Beka GVINIASHVILI (GEO) in the -90kg final with a ippon-seoi-nage after 15 seconds, did not celebrate.
He saw that GVINIASHVILI had sustained an injury and rushed over to help the Georgian off the tatami towards his coach which the teeming crowd recognised with applause and a standing ovation.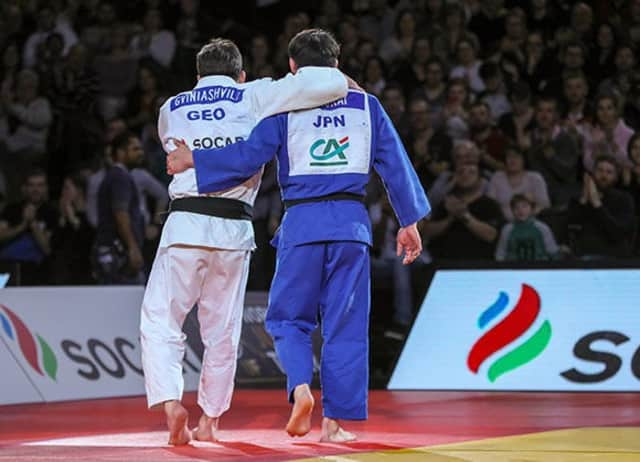 That act of sportsmanship that made 14,000 fans stand up in unison and made the hairs on your neck stand up as every single person in the AccorHotel Arena knew that only judo could produce such a refreshing scene.
BILODID becomes the youngest world judo champion of all time
Ukrainian sensation Daria BILODID (UKR) was crowned the youngest world judo champion in history with a sensational performance in Baku. At the tender age of 17 BILODID won the world title at just her second attempt and added her name to record books. The teenager beat the record set by all-time great TANI Ryoko (JPN) who was 18 when she won her first world title in 1993. TANI went on to win seven world titles – at a time when the event was held every other year - and five Olympic medals and is widely considered as the greatest female judoka of all time.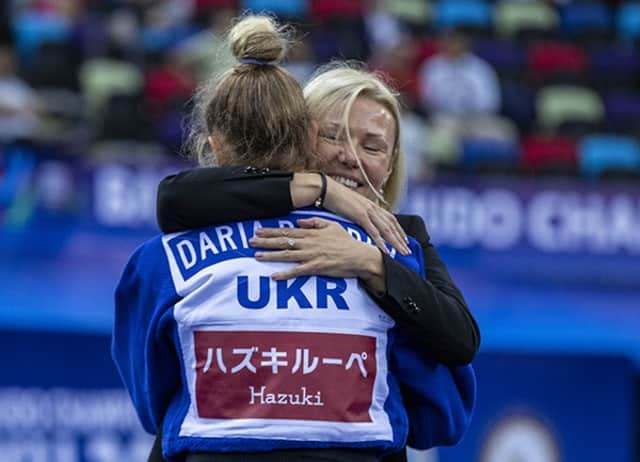 BILODID, who only turned 18 in October, has judo in her blood. The former gymnast is the daughter of two-time European champion Gennady Bilodid The wildly popular youngster, who has already won world gold at the cadet, junior and senior levels, has never lost a Japanese judoka. BILODID is riding a 25-fight winning streak and will be confident of remaining unbeaten on the long and testing road to Tokyo 2020.
Superstar siblings steal the show in Baku
Japan's ABE siblings ruled the world for Japan on day two of the World Championships in Baku, Azerbaijan.
The Tokyo 2020 poster stars won gold minutes apart and both used the same technique.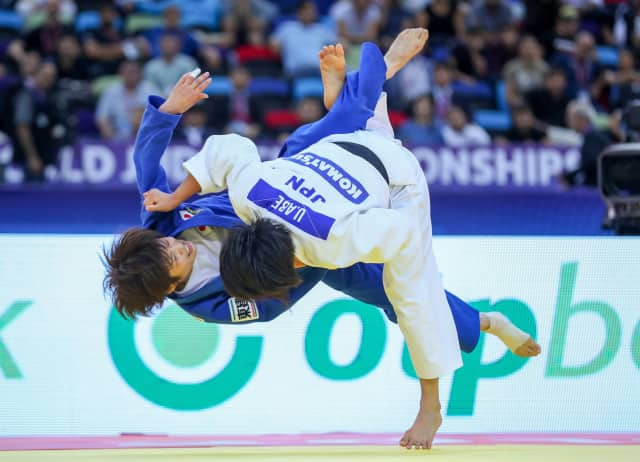 Teenager ABE Uta, 18, won the senior Worlds at her first attempt as she dethroned defending champion SHISHIME Ai (JPN) in the final with a spectacular ippon after 53 seconds of golden score.
Junior World Championships gold medallist ABE, 18, won -52kg gold on her senior Worlds debut. The Paris Grand Slam winner maintained her unbeaten on the IJF World Judo Tour since 2016 by winning all five of her contests by ippon. ABE, who has now won 29 contests in a row, dethroned defending champion SHISHIME Ai (JPN) in the final with a spectacular ippon after 53 seconds of golden score.
Brother ABE Hifumi retained his world crown minutes after watching his sister become world champion and used exactly the same technique (uchi-mata). The -66kg maestro defeated the unseeded and unfancied world number 36 Yerlan SERIKZHANOV (KAZ) who himself had been a revelation in Baku.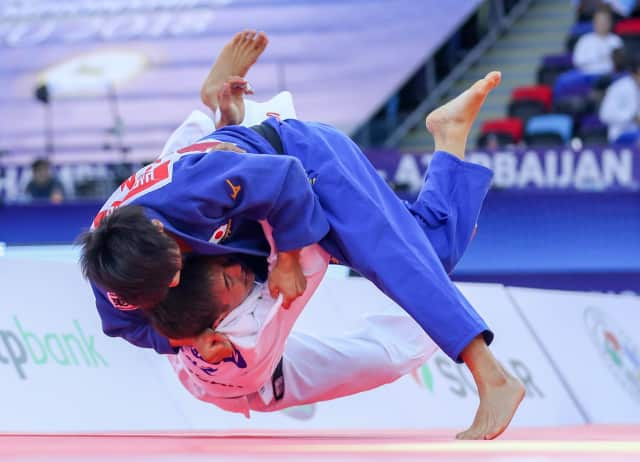 The superstar siblings, who were competing together at a World Championships for the first time, were mobbed by the world's media in the mixed zone as their achievements have deservedly made them household names in Japan and around the world.
The unique double is one of the most incredible achievements in the history of the World Championships as the remarkable duo shared their sublime skills with the world.
TUSHISHVILI crowned the new heavyweight hero for Georgia
World number one Guram TUSHISHVILI (GEO) won his first world heavyweight title as the men's +100kg crown switched hands for the first time since 2007. In the absence of 10-time world champion Teddy RINER (FRA), TUSHISHVILI, 23, seized his opportunity by producing the best performance of his career and leaving no doubt who the rising force is in the heavyweight category.
The Georgian ace won all five contests by ippon including the final over home judoka Ushangi KOKAURI (AZE). The 'Tower of Tbilisi' defeated rank outsider and world number 36 KOKAURI in front of the President of Azerbaijan, H. E Ilham ALIYEV. TUSHISHVILI, who was arguably the best supported judoka in the entire individual competition, threw his Georgian-born rival with six seconds left on the clock with a seoi-nage for ippon. Georgia's first gold medallist in Baku pointed to his name on the back of his judogi and then lifted up his coach in celebration after a sincere embrace between both finalists.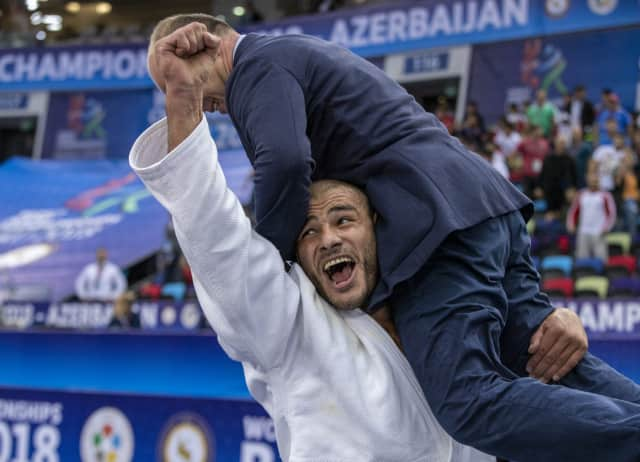 Fair play for all - judo makes history in Abu Dhabi on #WorldJudoDay
All eyes were on the 2018 edition of the Abu Dhabi Grand Slam in October as the historic scenes of friendship and the sporting excellence ushered in a landmark achievement for the competition and judo as Israel's national judo team competed under their national flag for the first time in a Gulf country.
The theme for this year's #WorldJudoDay was Friendship and that key value in judo's moral code set the tone for the competition as the IJF realised it's goal of providing all countries with equal participation rights in Abu Dhabi. The IJF is committed to promoting the moral principles and values of Judo, Olympism and sport in general and the step-by-step process led to a watershed moment that extends far beyond the sporting landscape.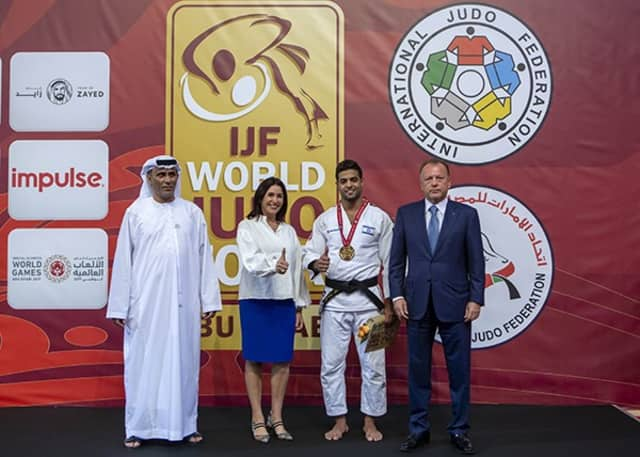 The Israeli delegation won two gold medals and three bronze medals in Abu Dhabi as Sagi MUKI (-81kg) and Peter PALTCHIK (-100kg) won historic gold medals in front of Israel's Sports and Culture Minister Ms. Miri REGEV and Israel Judo Association President, Mr. Moshe PONTE who were congratulated by President of U.A.E Judo & Wrestling Federation, H.E. Mohamed Bin Tha'loob Al DERAI.
French world champion AGBEGNENOU signs off for 2018 in style
World champion Clarisse AGBEGNENOU (FRA) finished her year undefeated with a dominant display at the World Judo Masters in China. The untouchable -63kg kingpin has assembled a 22-fight winning streak in individual competition.
The French phenom defeated Osaka Grand Slam silver medallist NABEKURA Nami (JPN) to win her first Masters title in the last contest on day one of the season-ending competition in China. NABEKURA put up a credible effort as she forced the contest into golden score before failing with an ambitious sumi-gaeshi as AGBEGNENOU landed on top and applied a pin for 20 seconds and ippon.
Three-time and reigning world champion AGBEGNENOU, 26, won the Paris Grand Slam, Tbilisi Grand Prix, European Championships, World Championships and Masters this season and most of those were at a canter.
The phenomenally powerful Olympic silver medallist is a joy to watch and has assumed control of her home Grand Slam as the leading attraction at the Bercy, which will once again become the theatre of judo in February.
President VIZER converses with the judo world and beyond in Twitter Q&A sessions
IJF President Mr. Marius L. VIZER took time out of his rigorous schedule to hold his highly-popular Twitter Q&A sessions in 2018.
President VIZER sat down to answer questions, on any subject, from members of the media, fans, judoka, coaches, judo federation's and retired champions.
We've picked out some of the most read answers from 2018.
@Vahid_Judo: Hello Mr.president, Why the rules that were designed to be run until 2020Tokyo olympic has decided to not run any more?(like the rule that only Ippon specifid winner not only two Wazaris, because of this so good rule judokas were forced to attack more to win!). thanks @MariusVizer: We reverted to two waza-ari being ippon to make the judo evaluation more understandable for the general public & from the scoring point of view, to make judo more attractive for fans & media and more simple and efficient
@syn3rgyz: I like the revert to two waza-ari being ippon but why was the standard for waza-ari lowered to include yuko like scores? @MariusVizer: It is not lowered, the value of waza-ari, because the difference between a good yuko and a weak waza-ari is insignificant and we cannot measure by microscope the millimetres of contact of the body during contact with the mat because of the difference between every allocation.
@KotaroSasaki1: How are you planning to get Judo industry bigger? @MariusVizer: We are continuously working together with the judo sport suppliers & we are supporting & encouraging always the sport industry around the judo. This is the reason as well that we have a huge number of suppliers which are involved in relation to judo equipment & logistics.
@PuroWorld: How can judo's mixed team competition become more competitive? Japan bt Brazil 6-0 in the final last year and there were few surprises #AskVizer @MariusVizer: The mixed team event is in its infancy & I think some countries need more time to prepare better teams. I hope in the next edition & thereafter you will see a different value of contests #AskVizer
@Duncan_ITG: How excited are you about judo coming home at Tokyo in 2020? #AskVizer @MariusVizer: It's a great honour & pleasure for us to be again in Tokyo for an Olympics & with the debut of the mixed team event which we hope will be an exciting and beneficial sport for judo & for the Olympic movement as well #AskVizer
@NickJMButler: #AskVizer What are your views on the demands by a German athletes group that the IOC should give 25% of income directly to athletes? Including a lump sum for all Olympic participants? Do top judo athletes get rewarded enough? @MariusVizer: In the judo sport, the athletes are awarded in every competition, as well the best judoka in each category receive a special financial award at the end of the year but the Olympics is a different movement #AskVizer