It was a good day with interesting performances, good results and open and exciting judo.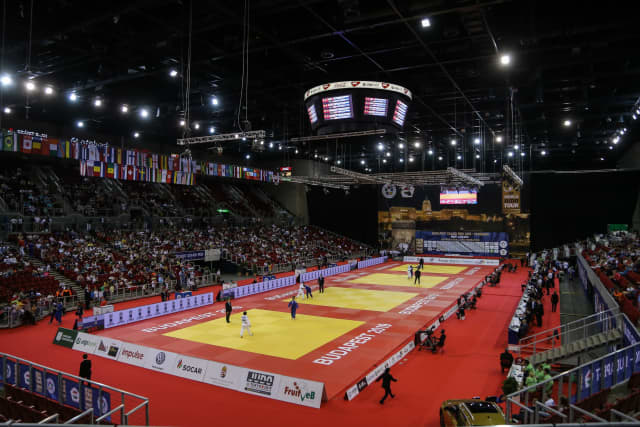 What stood out for me, and it was something a lot of people were discussing, was the false attacks and their classification.
The impression of false attacks was a real talking point here with a good example being UNGVARI Mikos, and he conceded himself, he made a deliberate false attack for his third shido in golden score.
He had no grip at all as he when he went to turn in, he thought it won't happen and he dropped straight down with no attacking intent.
There was lots of golden scores today but is was still exciting with no judoka backing down in their pursuit of glory in Budapest.
We saw four different countries take gold which really epitomises judo and how we're a thriving international sport.
There were some surprise winners and medallists today as a good mix of countries won medals.
At -63kg, DOI Masako (JPN) was tentative despite her win as she played QUADROS' game and in my opinion the Japanese still has a way to go to be among her country's front runners in the weight category.
In the -70kg category Gemma HOWELL (GBR) was fantastic. She was not the favourite and surprised people today. Gemma could be in the medal hunt at World Championships and really did well in the final against top opposition in Maria BERNABEU (ESP).
In the men's -73kg category, Akil GJAKOVA took gold after an excellent day. He was my top performer and is a major contender now at the World Championships next month.
Finally at -81kg, Tato GRIGALASHVILI (GEO) was a very deserving winner. He's a really promising young talent with dynamic judo and he excites a lot of people. His potential is unlimited and I look forward to seeing what's next for him on a major stage as he has emerged as a candidate for Tokyo 2020.
Loretta Cusack-Doyle has been actively involved in judo for over 40 years, 17 of which as an international athlete and member of the GB team. She is a former world champion in 1992 and a double European Champion in 1983 and 1993. She was also a national cadet and junior GB coach for 12 years. Loretta is currently a member of the IJF Coaching and Education Commission and a Member of the IJF Live Streaming Team. She was also an Athlete Service Manager for London 2012 and a Technical Operations Manager for Glasgow 2014.