Imagine you're ripped out of your comfort zone as a young child. Your father is imprisoned, your mother disappears. Home is gone. You're in dire straits and it's nothing like the rock band. Finally you end up in an orphanage. And you're afraid for what's next because you're alone. Luckily the Nepalese Judo Federation steps in.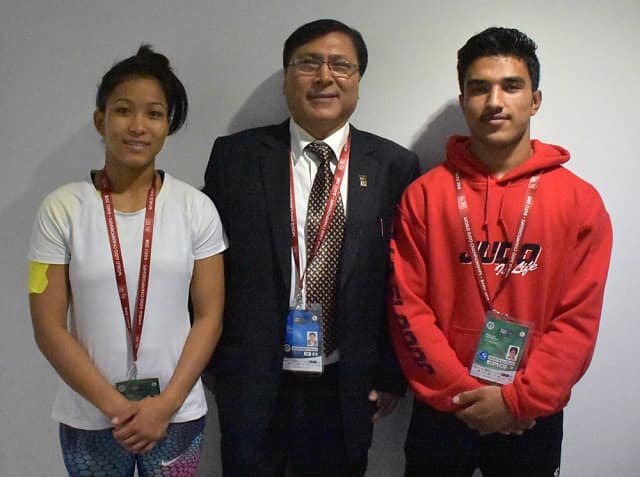 "We run different successful programs in a couple of orphanages throughout the country where we organize judo practices on a daily basis. Among them PAM which is an acronym for 'Prison Assistant Mission'. It's an effective program that also produces competitive judokas," explains Deepak Bajracharya, President of the Nepal Judo Association.
"Here at the Judo Worlds in Baku we have two judokas in Team Nepal who were raised in such an orphanage home and followed our judo program. What's even more, they are among the top judoka's in Nepal. This kind of program is a great asset for Nepal and the sport of judo in our country. It gives youngsters who encountered bad luck in their early childhood a way to feel good about themselves and have success in life notwithstanding the setbacks they had to deal with when they were young kids," says Deepak. "Nepal Judo federation invests in these youths who come from a disadvantaged background. These investments are not in vain as these young athletes have made Nepal proud representing our country on the world stage. As a national sports federation we are very proud that we are part of this achievement."
19-year old Manita Shrestha Pradhan (-57kg) had a tough time as a kid. Her father was sentenced to prison, while at the same time her mother disappeared. The eight-year girl had to join her father in jail. Luckily a social assistant could get her out of there and in the PAM program, where now she has been 11 years. "I came from a remote area in the Eastern part of Nepal. After my troubled situation as a little girl, I'm very happy judo entered my life. I hope it can continue to be part of my life forever," says the double bronze medalist of the 2016 Asian Championship U18 and the 2017 Asian Championships U21. "If other Nepalese judokas work hard, one day they will find themselves on the tatami of the Worlds," adds the country's role model for a younger generation.
Indra Bahadour Shrestha (-66kg) won gold at this year's South Asian Judo Championship and Bronze at the South Asian Games. His life story is similar to the one of teammate Manita, rescued by the PAM program together with his two brothers and sister. "He's our number one judoka in his category," informs Deepak. "Judo is helping a lot to improve the social environment of these youngsters. With judo as a tool we help to structure their life."
"I'm very happy that due to judo I'm here", confides Indra. "I participated in many competitions thanks to judo and PAM which gave me great opportunities to visit other countries. Without this program I wouldn't be here." He puts the fact that he is a role model for the younger kids into perspective. "We are here because of hard training and being focused. If others work as hard as well they might even become better than us and achieve even more," ends the young man.