The 2018 World Judo Championships, the showpiece event of the International Judo Federation's World Judo Tour, will take centre stage in the Azerbaijan capital of Baku from Thursday 20 September – Thursday 27 September at the National Gymnastics Arena.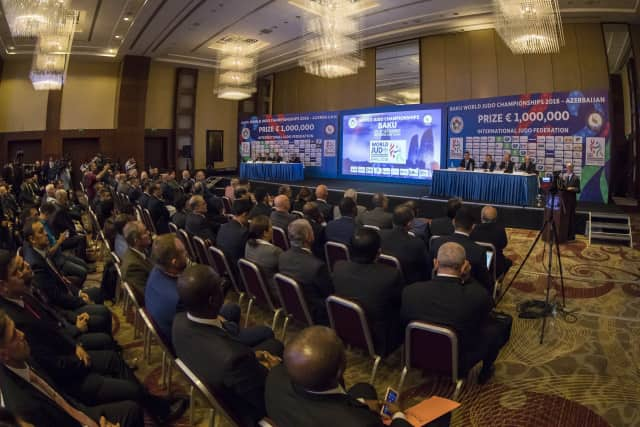 The official draw and press conference took place on Wednesday afternoon at the Hilton Baku.
Following Tuesday's thrilling IJF Hall of Fame gala, which saw the induction of 19 new members as the class of 2018, the judo family and the world's media, superstar athletes and specialist guests, gathered to witness the draw for the individual and mixed team competition.
IJF Head Sports Director Mr. Vladimir BARTA revealed that 758 judoka and 125 nations would be represented at Baku 2018 over the next eight days.
Judo fans will have unprecedented access to the sport's blue ribbon event with each mat being broadcast live on the IJF website with a commentator for each mat while record-breaking television and digital coverage is also anticipated.
Click here for the full broadcaster list for #JudoWorlds2018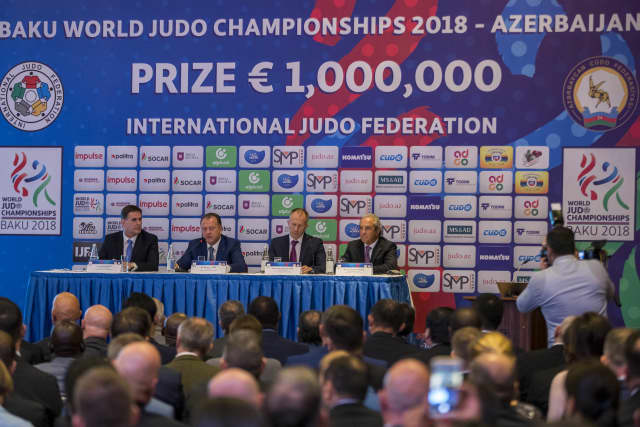 Mr. Marius L. VIZER, IJF President, made the opening address at the draw.
"Dear guests, dear ladies and gentlemen, our Azerbaijan hosts, members of the media, friends, colleagues, athletes, it is a pleasure to welcome you all to Baku," said the IJF President.
"I'd like to thank you all for supporting the work of the International Judo Federation and our sport as we continue to move forward. I appreciate your work in your countries, continents and on the world stage at our events.
"I hope we will have a great World Championships and I am pleased to be able to inform you that we will have coverage on Eurosport and the BBC this year. We feel that our sport is moving in a positive direction and I wish you all a wonderful time in Baku."
Mr. Sergey SOLOVEYCHIK (above - centre, right), IJF Vice President and EJU President, made the second address.
"I welcome you all here to Baku for what will truly be a global event. The warm in Baku is not just down to the hospitality; it is also because of the hospitality of the people.
"I congratulate the IJF President and his team for the excellent organisation and I wish you all a wonderful competition in Baku."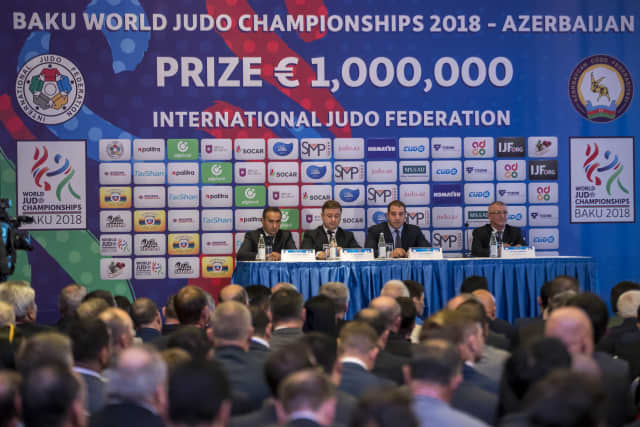 Mr. Elmar BABANLI, Azerbaijan Judo Federation General Secretary, made the welcoming address on behalf of the local organising committee.
"Good afternoon everyone and welcome to Baku, our capital city. This is a great opportunity for our country and our sport and we hope to host a successful competition. May the strongest judoka win in Azerbaijan."
Unified Korean team announced for mixed team event on Thursday 27 September
Judo is set to unite the Republic of Korea (ROK) and the Democratic People's Republic of Korea (DPRK) under one flag – for the first time in a summer sport - as a unified team will make history by competing in the mixed team event on the last day of the 2018 World Judo Championships.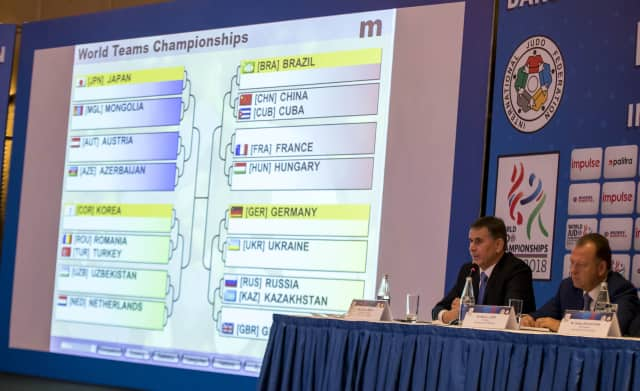 Mr. Marius L. VIZER said: "We will witness a historic and special event in the mixed team event and I'd like to thank both the Democratic Peoples Republic of Korea (PRK) and South Korea (KOR) for making this possible. Judo is a sport which brings us together and the world will see this in the team event."
The Unified Korean team are seeded fourth and will be one of 19 teams competing including top seeds Japan, Brazil (2nd) and Germany (3rd).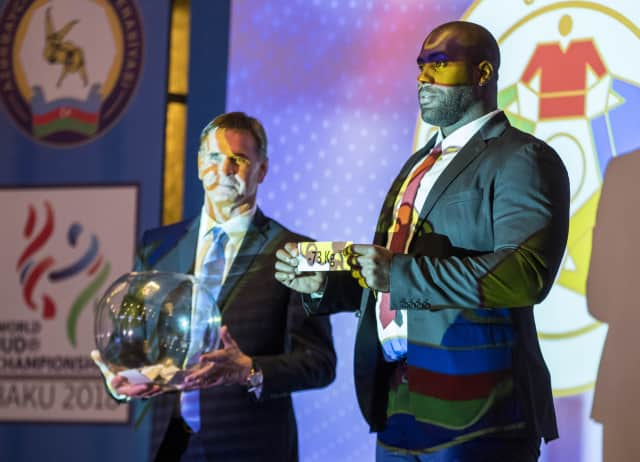 Click here to see the full mixed team draw.
Following the draw, three stars of the IJF World Judo Tour joined the IJF President on the stage to discuss the next eight days and to answer questions from the media.
Former world bronze medallist Sabrina FILZMOSER (AUT), who will be taking part in her 13th World Championships, said: "I'd like to express my gratitude for the invitation to be there with you today, it's a big privilege for me. I'm a little surprised at how it feels to be here in person for the draw for the first time. I've enjoyed the opportunity and I'm looking forward to the competition.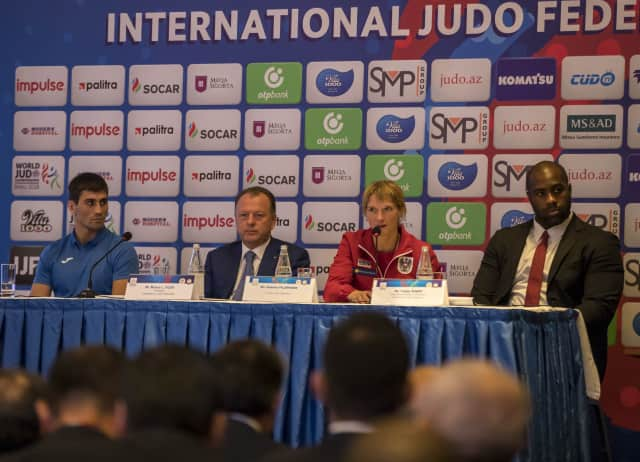 Olympic and world silver medallist Rustam ORUJOV (AZE) said: "I am very happy to be here at home for a World Championships. I welcome you all here to Baku. I feel that our team is in very good shape and we're ready to compete. I think that being in Azerbaijan will help us to show our best judo."
Double Olympic champion and 10-time world champion Teddy RINER (FRA) said: "It's difficult to say who will win the world heavyweight title in Baku. For me there's TUSHISHVILI (GEO), KRPALEK (CZE), MOURA (BRA) and the Japanese are always very strong, there are wonderful judoka in the category here."
RINER will not be fighting in Baku but will be active in his role as the Chairman of the IJF Athletes Commission and admitted that he will be scouting his future opponents.
"I'm looking forward to watching the heavyweight category of course and I will be looking to pick up things as I prepare to return to competition in January as I work towards the Tokyo 2020 Olympics."
The IJF is supporting over 50 nations to take part in the 2018 World Judo Championships including Cuba, DPR Korea, Panama and Venezuela.
Watch #JudoWorlds2018 live and free on the IJF website.