The first edition of the Brasilia Grand Slam was officially opened on Monday at the Centro Internacional de Convenções do Brasil (CICB).

Following the IJF anthem and a rousing edition of the Brazilian anthem, Mr. Silvio Acacio Borges (below - far right), CBJ President, made the opening address.
"The CBJ is very grateful to have the opportunity to host you all here. We are so happy to have judo family members here from all over the world. I'd like to greet everyone here. This year we celebrate 50 years of our national federation and this event crowns our anniversary and return to the international calendar.
"I'd like to thank our sponsors, partners, the federal government and Vice Governor and all of our magnificent supporters and judoka. I reserve a special thank you to the IJF President Mr. Marius L. Vizer who supported us to host this Grand Slam. I wish you all a great success, thank you very much."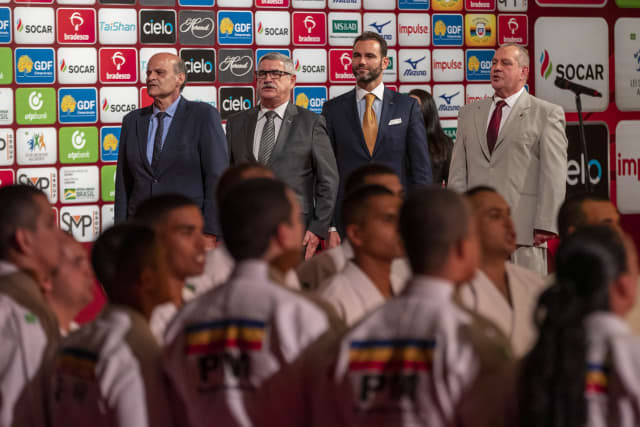 Mr. Vlad Marinescu (above - right centre), IJF Chief Media and Marketing Officer, said: "Hello everyone, I am honoured to be here representing the IJF. Following the 2013 Rio Worlds and 2016 Olympic Games, it is a pleasure to bring an international judo event back to Brazil.
"Brazil has a great judo system and fantastic athletes and great results. Most importantly it is a country that showcases the values of judo. Judo is more than a sport, it is a way of life. In judo we are competing for a better world. On behalf of the IJF President we would like to thank and congratulate you for hosting this Grand Slam and thank all of your sponsors and partners.
"We wish the best of luck to all the countries and judoka. Thank you very much."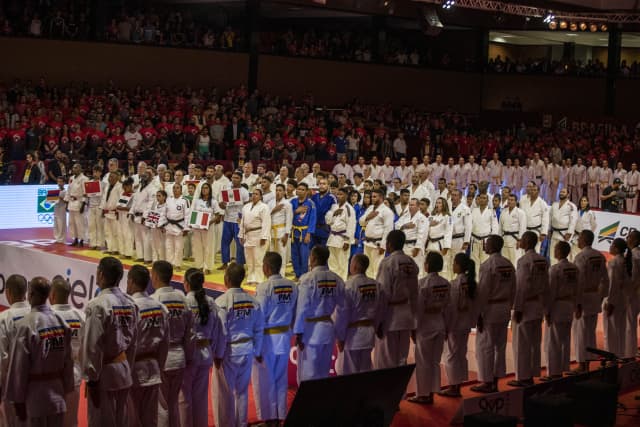 Mr. Decio Brasil (above - left centre), Special Secretary of Sports of Federal Government, said: "It's a great honour for Brazil and Brasilia to host this prestigious event. Good luck to you all."
Mr. Marcus Vinicius Britto (above - far left), Vice Governor of the Federal District, said: "I'm pleased to see so many people and in particular young fans here today. I'd like to thank the IJF and congratulate the CBJ for the excellent organisiation of this milestone event for Brazilian judo. Our sponsors and partners will have vital to the success of this event and we thank everyone who has been involved in the organisation of this impressive Grand Slam. I wish everyone a great competition and I declare the competition open."