-90kg
World champion Nikoloz SHERAZADISHVILI (ESP) lost his second match against Axel CLERGET (FRA) by a waza-ari score. The Spaniard failed to sparke in Tokyo and exited early on as a host of big names were shocked in the morning session on day five.
CLERGET fell to Zagreb Grand Prix bronze medallist Noel VAN T END (NED) in a hard-fought encounter as the Dutchman starred in pool A.
Former world champion Nemanja MAJDOV (SRB) showed his quality as he worked his way into the last four in front of his dad who had the best view in the arena as his matside coach. The Serbian meets VAN T END this evening for a spot in the World Championships final.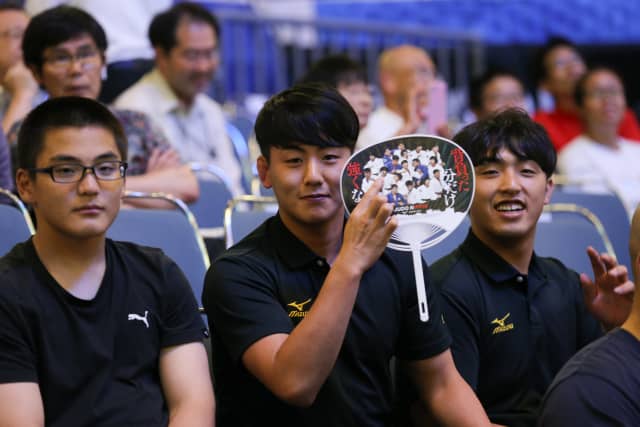 Marcus NYMAN (SWE) unexpectedly progressed in the last four after winning five contests in a row. NYMAN defeated TOTH Krisztian (HUN) in the quarter-finals to book a clash with home favourite MUKAI Shoichiro (JPN) for a place in the final. MUKAI beat SILVA MORALES (CUB) with a textbook ko-uchi-gari for ippon in his quarter-final.
Semi-Finals
MAJDOV, Nemanja (SRB) V VAN T END, Noel (NED) MUKAI, Shoichiro (JPN) v NYMAN, Marcus (SWE)
-70kg
World champion ARAI Chizuru (JPN) was a shock casualty as she conceded her crown in the preliminary session. ARAI lost to Barbara TIMO (POR) in round three by a waza-ari score to open up the category. The Portuguese, who previously represented Brazil, was a surprise semi-finalist.
European Games winner Margaux PINOT (FRA) led the way in pool B as she won her four contests to charge into the last four.
Marie Eve GAHIE (FRA) eased into the semi-finals after going three for three to create the possibility of an all-French final.
Olympic bronze medallist Sally CONWAY (GBR) claimed the fourth pool after all of the build-up in Britain had been focused around her teammate Gemma HOWELL (GBR) – who fell to PINOT in her opening contest - who had won her last two events.
Semi-Finals
PINOT, Margaux (FRA) v TIMO, Barbara (POR) CONWAY, Sally (GBR) v GAHIE, Marie Eve (FRA)
Watch the final block from 7pm Japan time here on the IJF website.