The World Championships nears as Russia hosts the third Grand Slam of 2017
The 2017 World Judo Championships in Budapest, Hungary – which will coincide with the 65th anniversary of the International Judo Federation – is on track to be the grandest and biggest judo showcase of all time in August.
With that spectacular stage looming, the stars are out in force in Ekaterinburg, Russia for the third Grand Slam of the year - following Paris and Baku - and the final edition before August's annual marquee judo event.
The first edition of the Ekaterinburg Grand Slam is a vital fixture for nations as it offers a major test against not only an array of Russia's enviable talent pool but also the international elite who are also chasing World Ranking List points and a seeded position at the Worlds which is reserved for top eight judoka in each weight category.
Russia have entered 54 judoka including Olympic champion Khasan KHALMURZAEV (RUS) and Olympic bronze medallist Natalia KUZIUTINA (RUS) as team manager Ezio Gamba rotates his squad as the Italian mastermind steers everything towards the Worlds and the Tokyo 2020 Olympic Games.
Olympic champion Rafaela SILVA (BRA) is among the top international names in action with Olympic medallists and former world champions featuring heavily in the draw.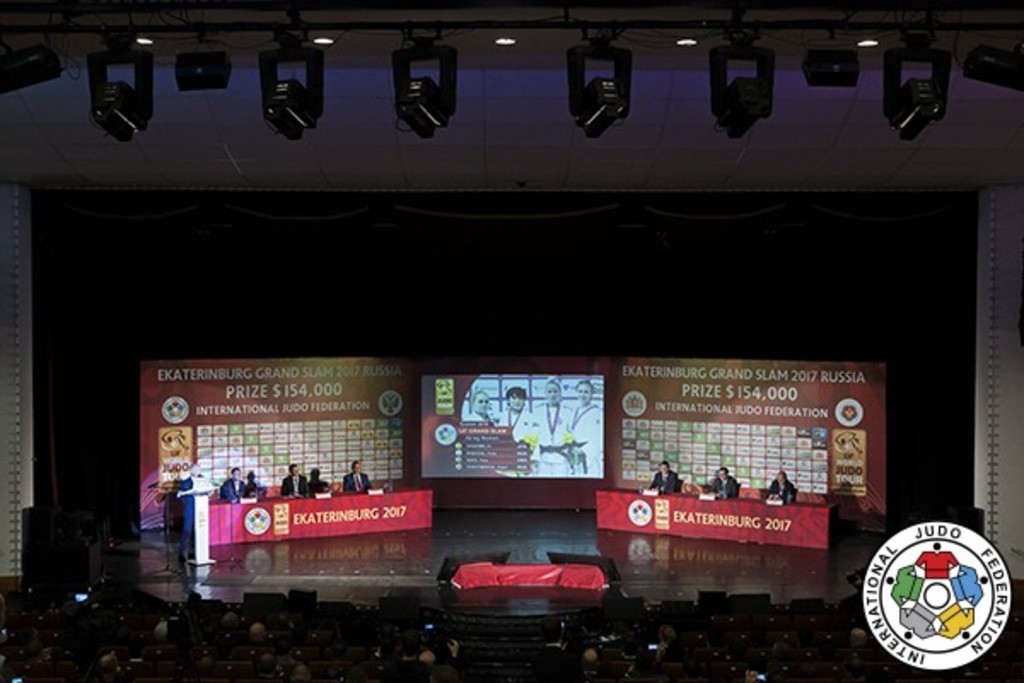 36 nations found out their fate at Ekaterinburg draw

The draw took place on Friday afternoon at the Estrada Theatre as the nations, coaches, officials and the media were engrossed in the first official business of #JudoRussia2017.

Mr. Vladimir BARTA, IJF Head Sports Director, revealed that 286 judoka (122 women, 164 men) would compete from 36 nations over the two-day competition at the Palace of Sports with seven categories being contested on each day.
CLICK HERE TO READ ABOUT 7 RETURNS FOR #JUDORUSSIA2017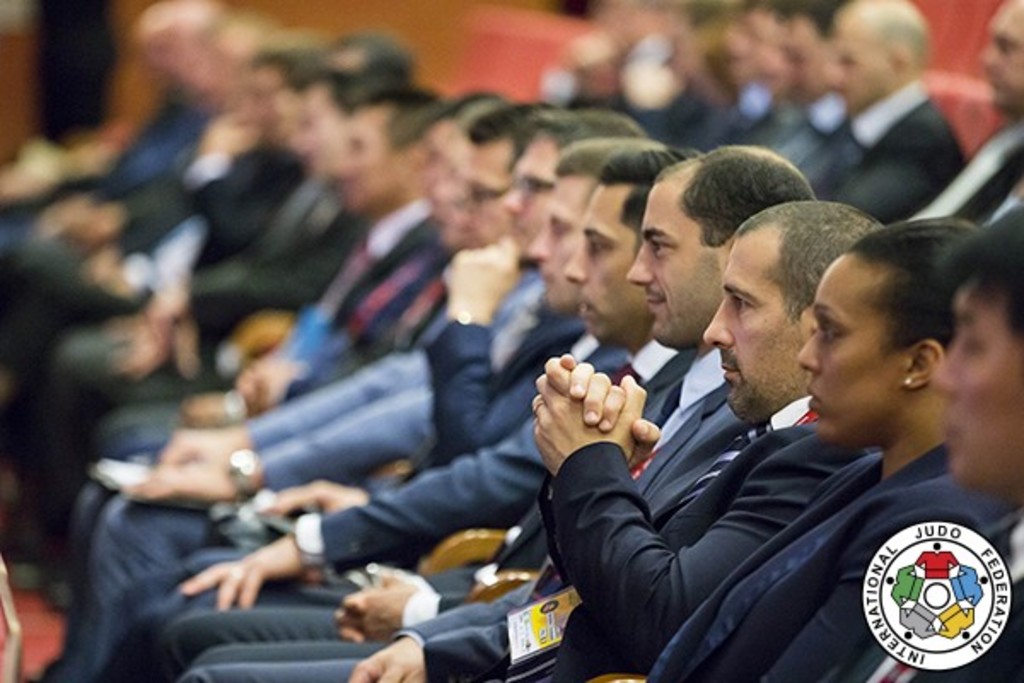 London 2012 Olympic champion Lucie DECOSSE (FRA) was among the coaches in attendance at the draw
Mr. Mohamed MERIDJA (below - centre), IJF Education and Coaching Director, said: "Dear Mr. Minister, dear judo friends, dear ladies and gentlemen, on behalf of our President Mr. VIZER, I would like to extend my appreciation for the warm welcome and hospitality.
"I would like to thank Ekaterinburg for hosting this Grand Slam. Russia has a special place in judo and I would like to thank our hosts for the excellent organisation. I wish you all good luck."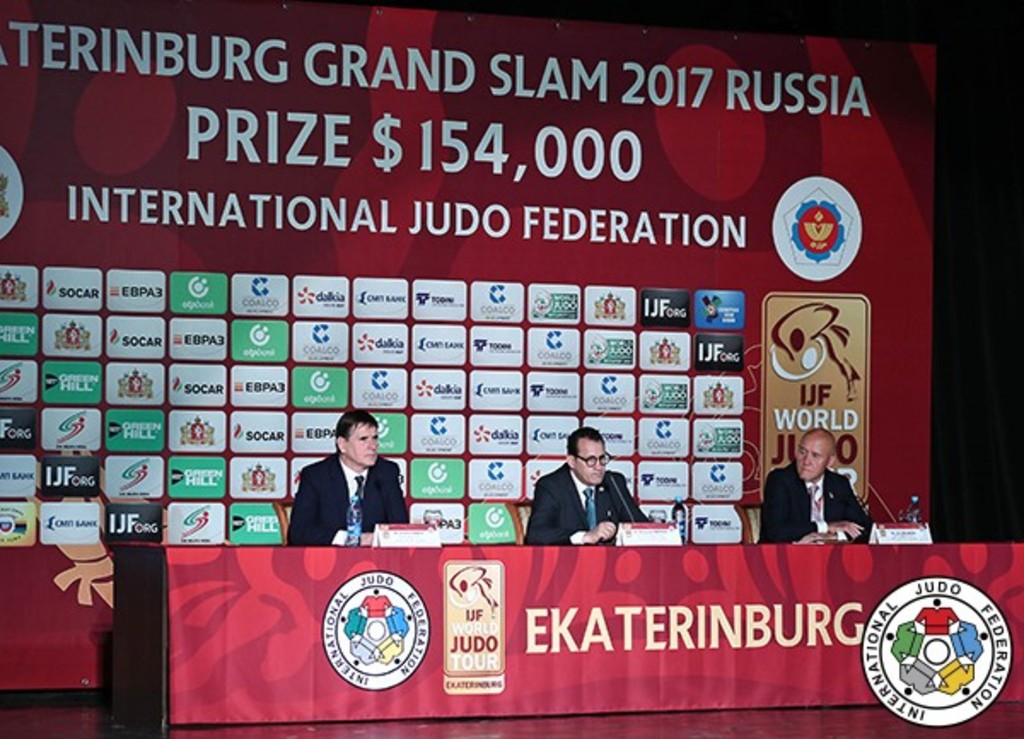 IJF delegation at the draw
Mr. Leonid RAPOPORT (below - centre), Minister of Physical Culture and Sport of Sverdlovsk Region, said: "Ladies and gentlemen, I welcome you all to Ekaterinburg city. It is a great experience for us to host this event, over 5,000 people are involved in judo in this region and three judoka from this region will represent Russia this weekend."
Mr. Valentin KHABIROV (below - right), Russian Judo Federation Vice President and Executive Director, said: "Ladies and gentlemen I bid you a warm welcome to Ekaterinburg and I am glad to see you here. We want to thank the Ekaterinburg Government for supporting us to host this event. We wish you good luck and hope to see beautiful judo."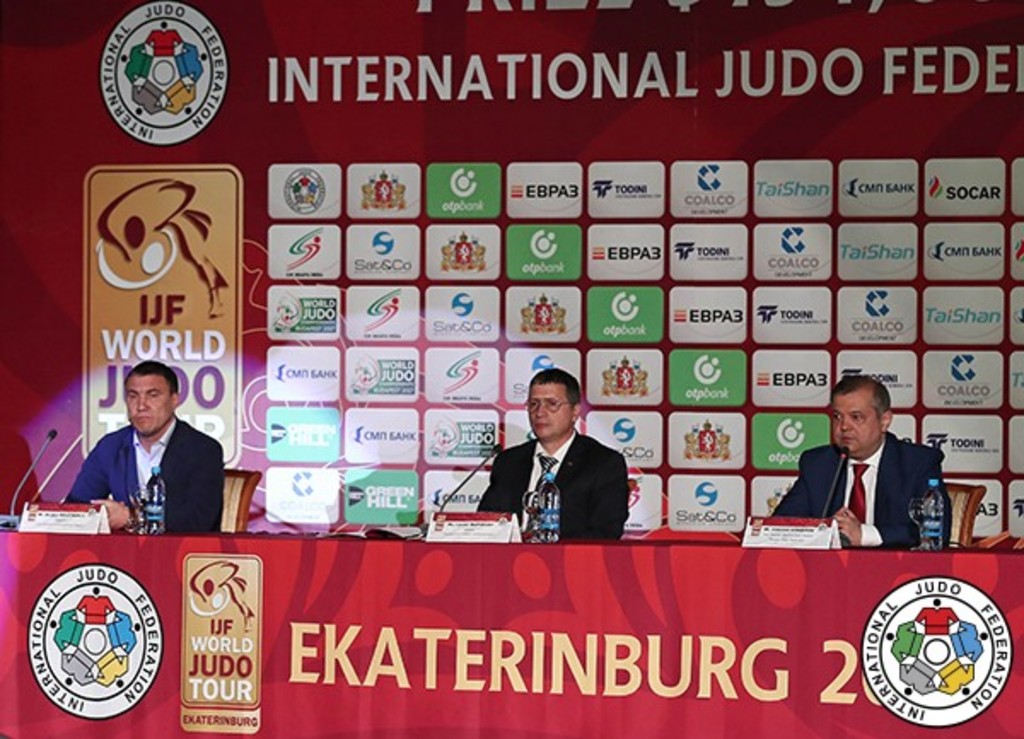 The local organising committee delegation
WOMEN
-48kg
Rio 2016 Olympic bronze medallist Otgontsetseg GALBADRAKH (KAZ) can clinch world number one status with a victory in Ekaterinburg on Saturday. The Astana Grand Prix winner can leapfrog one-time teammate-turned arch-rival MUNKHBAT Urantsetseg (MGL) with a third Grand Slam gold medal. Former world champion and fellow Olympic bronze medallist KONDO Ami (JPN) will provide the stiffest opposition while the growing presence of four-time Grand Slam medallist Milica NIKOLIC (SRB) cannot be overlooked.
-52kg
Rio 2016 Olympic bronze medallist Natalia KUZIUTINA (RUS) should dictate the -52kg category at home on day one. The Paris Grand Slam bronze medallist has all the experience and quality to emerge triumphant from a deep roster of world-class judoka including three-time world medallist Erika MIRANDA (BRA) and London 2012 Olympic champion Sarah MENEZES (BRA) who will eventually come good in her new weight category.
-57kg
Rio 2016 Olympic champion Rafaela SILVA (BRA) be chasing a first Grand Slam gold medal on Saturday as the Brazilian hero aims to top the medal podium for the first time since the Games last summer. The 2013 world champion was fifth in Paris this year and won silver at the Tbilisi Grand Prix in March. European Championships bronze medallist Helene RECEVEAUX (FRA) and former world champion UDAKA Nae (JPN) are also among the top seeds who could be pitted against the returning former world bronze medallist Miryam ROPER who will now be wearing the colours of Panama. Pan American Championships winner Jessica KLIMKAIT (CAN) and her country's second -57kg starlet Catherine BEAUCHEMIN-PINARD are both called upon and will be anxious to perform with the recent news of the incoming Japan-born Christa DEGUCHI being cleared to represent the Great White North from October.
-63kg
Former European Games winner Martyna TRAJDOS (GER) is the top seed in the -63kg category. The Dusseldorf Grand Prix silver medallist last graced a Grand Slam podium in 2016 when she won bronze in Paris and as the world number eight will be keen for a timely rankings boost to solidify a seeded start in Budapest in August. Abu Dhabi Grand Slam bronze medallist Mariana SILVA (BRA) – who finished fifth at her home Olympics – will be joined by teammate and Beijing 2008 Olympic bronze medallist Ketleyn QUADROS (BRA). Three-time World Judo Masters winner Kim POLLING (NED) was due to compete at -63kg but elected to sit this one out and may be considering a return at her familiar -70kg category.
-70kg
Former world number one Kelita ZUPANCIC (CAN) took silver at the Pan American Championships in April behind Colombian legend Yuri ALVEAR. The 27-year-old has one Grand Slam gold medal to her name which came four years ago in Baku and has her best chance yet to double her gold medal tally as the number one seed in Russia. Tbilisi Grand Prix winner Maria PORTELA (BRA) has won five Grand Slam medals and has to go back to 2012 for her sole victory but it did come in Russia when the country's premier judo event was held in Moscow. European champion Sanne VAN DIJKE (NED) is going to be one of the judoka to follow in this category on the road to Tokyo 2020 and could open her Grand Slam gold medal account on Sunday.
-78kg
European Championships bronze medallists JOO Abigel (HUN) and Natalie POWELL (GBR) are among the top seeds along with reigning world champion UMEKI Mami (JPN) who won the Dusseldorf Grand Prix in February and will be battling to achieve a consistent year. France's young and highly-talented upstarts Madeleine MALONGA and Sama Hawa CAMARA will vie for honours as Audrey TCHEUMEO sits this one out after her fourth European Championships victory.
+78kg
European champion Maryna SLUTSKAYA (BLR) is in the form of her life after three wins in a row including capturing her first major title last time. The world number three has won the Prague European Open, Tbilisi Grand Prix and European Championships this year in the space of six weeks and could add a fourth consecutive gold if the 25-year-old can finish unbeaten at a Grand Slam for the first time. European Championships bronze medallist Larisa CERIC (BIH) is another European heavyweight whose stock has never been higher but Asia's new force ASAHINA Sarah (JPN) will be unperturbed by any challenger having been selected to compete at her first World Championships this August in Budapest. Tokai University member ASAHINA, 20, won the Tokyo Grand Slam at the end of 2016 and won the Paris Grand Slam at the start of 2017 before toppling her domestic rivals at the All Japan Openweight Championships in April.

---
MEN
-60kg
Former European Championships winner Amiran PAPINASHVILI (GEO) starts as the top seed despite a barren spell having not won a competition since 2015. The 28-year-old world number three took silver at his home Grand Prix in March but has not won an IJF World Judo Tour event since clinching the Abu Dhabi Grand Slam title a couple of years ago. Former world silver medallist DASHDAVAA Amartuvshin (MGL) and his stable mate and former world champion GANBAT Boldbaatar (MGL), who were seen pushing tractor tyres up mountains in Ulaanbaatar in their pre-Ekaterinburg camp, are joined in -60kg action by European Championships bronze medallist Francisco GARRIGOS (ESP).
-66kg
Top seed DAVAADORJ Tumurkhuleg (MLG) will be looking for a third Grand Slam triumph when he takes to the tatami on Saturday. On his day the world number two can light up any competition and is a go-to guy in terms of producing highlight reel moments. The 26-year-old has teammate DOVDON Altansukh (MGL) for company in the category while Paris Grand Slam silver medallist ARDANOV Anzaur (RUS) and two-time Grand Slam winner Charles CHIBANA (BRA) have the credentials to present a serious medal challenge.
-73kg
World number two HASHIMOTO Soichi is part of a nine-strong Japanese team at the Ekaterinburg Grand Slam. The 25-year-old, who is undefeated on the tour since 2015, is bidding to win his third Grand Slam and maintain his unbeaten run to go into his first World Championships in August as the favourite. European Championships bronze medallist Tommy MACIAS (SWE) has Grand Slam pedigree having won gold in Abu Dhabi last year and the Swede will be the number two seed at -73kg in Russia. Former Tyumen Grand Slam winner Uali KURZHEV (RUS) will also be seeded and among the leading medal contenders.
-81kg
Paris Grand Slam winner Frank DE WIT (NED) will be the top -81kg seed ahead of some vastly-experienced and accomplished judoka. The 21-year-old, who has finished seventh at the Baku Grand Slam and fifth at the European Championships since his stunning win in France, will be determined to regain the form that saw him win his first Grand Slam in February. Rio 2016 Olympic champion Khasan KHALMURZAEV (RUS) wears his gold backpatch for the first time in an IJF event as he returns to the circuit following a straightforward victory at the Sarajevo European Cup in April where he eased back into action. World bronze medallist Victor PENALBER (BRA) won the Tbilisi Grand Prix last time out in March and much will also be expected from London 2012 Olympic bronze medallist Antoine VALOIS-FORTIER (CAN) who is competing on the IJF World Judo Tour for the first time in 2017.
-90kg
Qingdao Grand Prix winner Max STEWART (GBR), who is one of the youngest judoka in the category at 23 years of age, is the number one seed for the first time at a Grand Slam. The British judoka will present his strongest case yet for a Grand Slam podium after two fifth-place finishes. Four-time Grand Slam runner-up Noel VAN T END (NED) and former world silver medallist TOTH Krisztian (HUN) are also in their lower 20's and seeded for Sunday's intriguing offering.
-100kg
The -100kg category features serious firepower as Tbilisi Grand Prix silver Martin PACEK (SWE), world bronze medallist Toma NIKIFOROV (BEL), Olympic silver medallist Varlam LIPARTELIANI (GEO) and two-time Grand Slam silver medallist Alexandre IDDIR (FRA) are all in it to win it on the last day in Russia. Luciano CORREA (BRA) won the World Championships a decade ago and is a surprise inclusion at 34 years old.
+100kg

Baku Grand Slam silver medallist BOR Barna (HUN) is one of leading names entered in the men's heavyweight category but that will mean little come Sunday when a hoard of hulking heavyweights size him up with the intention of contesting the last final of the competition. World Judo Masters winner Daniel NATEA (ROU) needs a medal to get back on track after a fruitless first quarter to 2017 while double Olympic bronze medallist Rafael SILVA (BRA) and Tbilisi Grand Prix bronze medallist David MOURA (BRA) will see action in addition to the second Tbilisi Grand Prix bronze medallist Levani MATIASHVILI (GEO) who is danger of becoming the forgotten man in his country's heavyweight dynamic having being usurped by newly-crowned European champion Guram TUSHISHVILI (GEO) and veteran Adam OKRUASHVILI (GEO).
---
COMPETITION PROGRAMME

Saturday

10:00 Preliminaries on three mats
16:30 Opening ceremony
17:00 Final block on two mats
Women: -48kg, -52kg, -57kg, -63kg
Men: -60kg, -66kg, -73kg
Sunday
10:00 Preliminaries on three mats
17:00 Final block on two mats
Women: -70kg, -78kg, +78kg
Men: -81kg, -90kg, -100kg, +100kg
Location: Palace of Sports