Today, March 14th, the draw for the Ekaterinburg Grand Slam on the IJF World Judo Tour took place in the Grand Hyatt Hotel.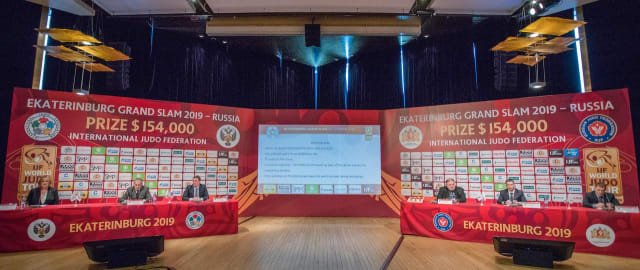 Present at the event were Mr. Mohamed Meridja, IJF Education and Coaching Director; Mr. Vladimir Barta, IJF Head Sport Director; Dr. Lisa Allan, IJF Competition Manager, Mr. Leonid Rapoport, Minister Physical Culture & Sports Sverdlovsk Region; Mr. Sergey Vorobyev, President Sverdlovsk Region Judo Federation and Mr. Vitaliy Makarov, EC member of the Russian Judo Federation.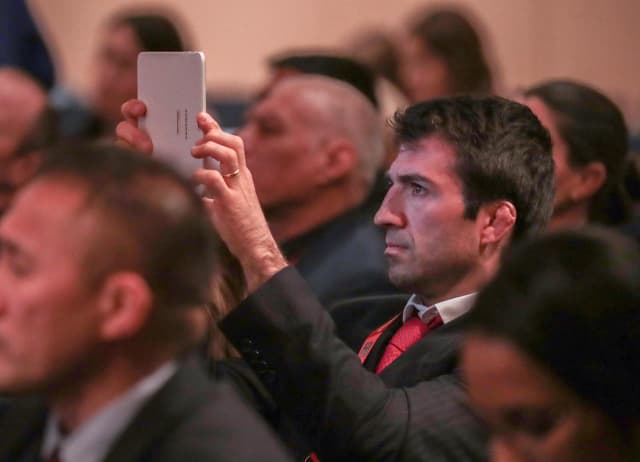 "On behalf of IJF President Marius Vizer, I warmly welcome you to this Grand Slam tournament in Russia," Mr. Meridja addressed the assembly of coaches and referees present. "I wish you a wonderful time here in Ekaterinburg and a successful tournament."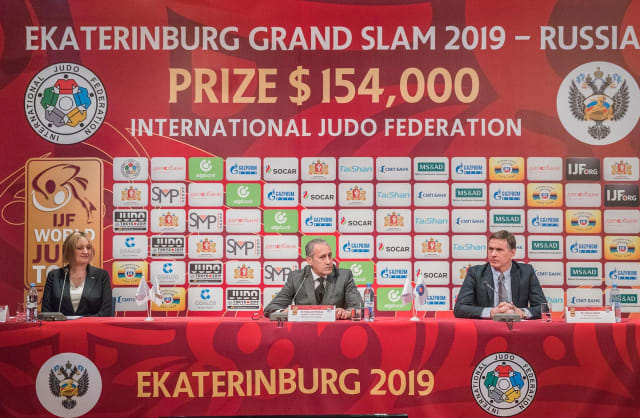 On behalf of the host nation, Minister Rapoport welcomed the delegations. "Hosting this event has seen a substantial increase in judo participation in this region," the Minister said. "I wish you all a successful draw and the best of luck at the competitions to both coaches and athletes."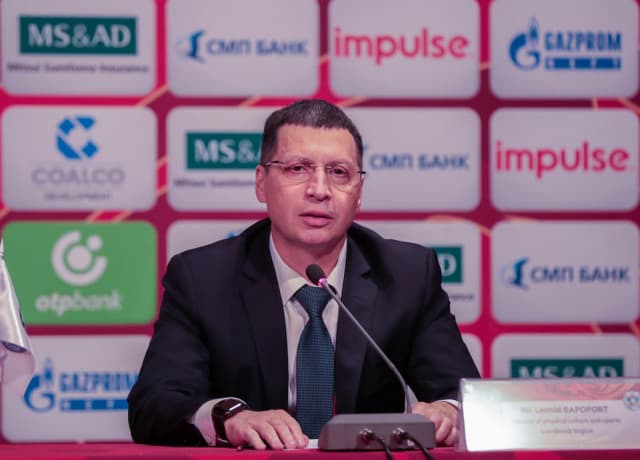 Mr. Barta then proceeded with the draw. At this Grand Slam, 358 athletes – 206 male and 152 female - from 47 countries will enter the arena to battle for the highest award.
The biggest categories for men is the -81kg weight category with 37 participants while the -70kg weight category for women represents the highest number of athletes, i.e. 33. In the men's category, the gold medalists returning to defend their Ekaterinburg GS title of last year are Smetov (-60kg/KAZ), Kukolj (-90kg/SRB) and Ota (+100kg/JPN). For the women's tournament, five 2018 gold medalists are present, i.e. Kuziatina (-52kg/RUS), Monterio (-57kg/POR), Portela (-70kg/BRA), Takayama (-78kg/JPN) and Ceric (+78kg/BIH).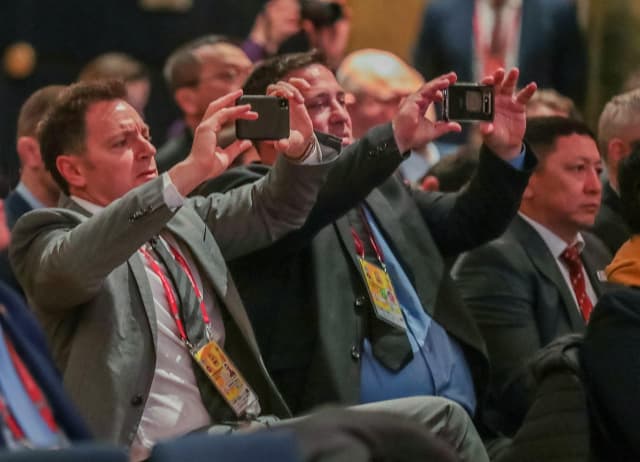 A break down per category gives the following numbers regarding participation:
Men's
-60kg: 29
-66kg: 29
-73kg: 32
-81kg: 37
-90kg: 26
-100kg: 30
+100kg: 23
Women's
-48kg: 21
-52kg: 18
-57kg: 23
-63kg: 23
-70kg: 33
-78kg: 18
+78kg: 16
Results of the draw can be found here.
Dr. Allan ended the draw with an overview of technicalities for the coaches and athletes. She also pointed out a slightly change in schedule as the preliminary rounds will start at 11:30 AM local time each day of the tournament. Final blocks will start at 5 PM with the Opening Ceremony on Saturday at 4 PM.
Hashtag for this Grand Slam is #JudoRussia2019. The event can be followed live via https://live.ijf.org/