Trust, faith and compassion. These are the attributes Asa Weithers and his coach Ian have shown to the world before the world number 226 has even stepped on the tatami of the sport's elite at the Brasilia Grand Slam.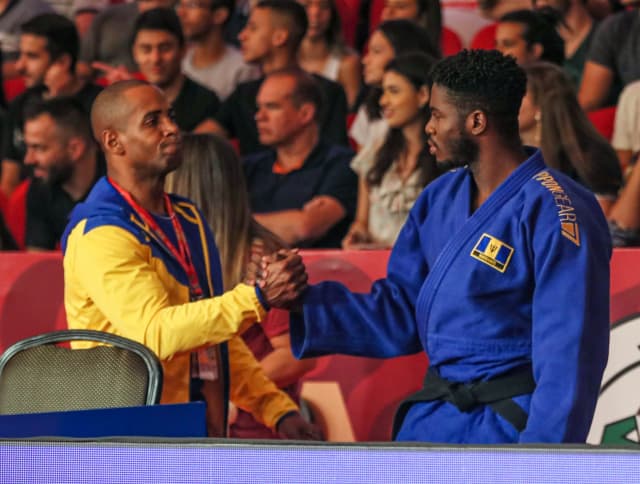 Ian and Asa are not your standard judoka and coach partnership, but they are father and son, united by their pride in representing the small island nation of Barbados and their devotion to judo.
The 24-year-old is a young man with a dream that centres around five interlocking rings, coloured blue, yellow, black, green, and red on a white field.
Father Ian has been consumed by judo in the Caribbean nation since he first practiced the sport nearly 40 years ago.
"My mum's friend did judo and said that her boys should try the sport," said the approachable 54-year-old.
"This was in 1970 and at the time we had one main club on the island.
"When I was coming through the ranks funding was already our main challenge as I managed one trip abroad to Martinique to compete when I was 12 years old.
"Teddy Cummings was the founder of judo in Barbados and many young people actually started to practice judo on our beaches.
"We've had many foreign visitors over the years with high-level judo experience and they have helped us a lot.
"I took over his club, Marine Gardens Judo Club in the 90s after he passed away, and I was fortunate to spend some time abroad to learn all the areas of coaching thanks to Olympic solidarity funding.
"I went to the USA and Hungary and it was a real eye-opener for me. Barbados Judo Association President Caddle Hoskins has also spent some time abroad and was in Canada for many years and so he is able to put in place some ideas and practices he learned there as well as a development plan for our future.
"Four judoka have gone to the Olympics for Barbados and I hope that this young man next to me will be our fifth.
"Finances are the main challenge for us. We rely on donations and we have to self-fund for a lot of events that are often very far away from our continent.
"It's a challenge but judo is what brings our family together. My wife has done judo and is now our club administrator, my daughter went to the 2007 World Championships in Rio de Janerio and now she's teaching children."
Asa, who was in action at the Commonwealth Championships in Walsall, England, two weeks ago, lost out on Monday morning to Brazil-born Nacif ELIAS (LBN) in his opening contest in Brasilia but made the Olympian work hard for his victory.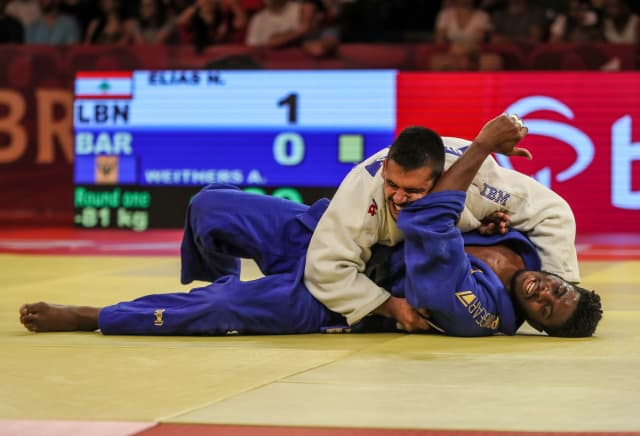 "Judo has been my life for as long as I can remember," said the well-mannered 2nd Dan in the warm up area following his defeat.
"When I was nine I fought in America and took a silver medal in a US Open and this moment has stuck with me. This feeling was something I still thank back to today."
The ippon-seoi-nage specialist is not a newcomer to the rigours of the IJF World Judo Tour. The Bridgetown native debuted on the circuit at the age of 16 at the 2011 World Championships in Paris.
"We have a population of 255,000 people on our island and in the venue that day in Paris was over 12,500 people. I totally froze. I've never seen so many people in one place in my life.
"It was a very good experience for me and that was the day I knew that I wanted to commit to becoming an international judoka," added the -81kg judoka who is seeking his first win on the IJF World Judo Tour.
The two-time World Championships competitor lost out to CHO Jun-Ho (KOR) who went on to win bronze in Paris.
"Growing up I played basketball and football but for me judo always came first and had a special feeling for me.
"It's very difficult to find training partners in Barbados but I'm putting in as much time as I can with the people I have around me.
"I train six days a week, twice a day, and as much as my work will allow me to," said the part-time IT manager.
"I'm thankful to have a lot of support from my employer who understands what I do and my ambitions to compete at an Olympic Games."
Asa and Ian actually built the Barbados Judo Association's website themselves and are leading by example both on and off for the tatami for their country.
Asa is aiming to compete at the Perth Open and Osaka Grand Slam in November following a spirited showing in Brasilia.
"I was pleased with my performance today, I didn't give ELIAS many opportunities and he's a good judoka. We studied him a lot which helped and I was really in the contest. I have gained confidence from today and it lifts me for my next competitions."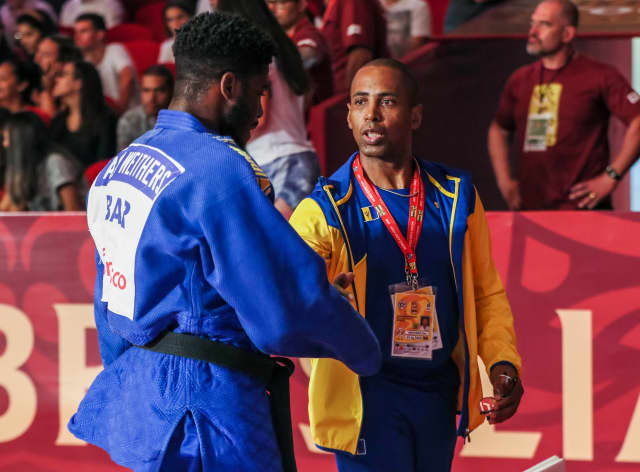 Proud dad Ian said: "Already Asa has improved his ranking from being 400 in the world to 226 and now we want him to break into the world's top 200. It's a step-by-step process.
"We'll go back home and immediately start to work again and especially on his match conditioning. He's strong for two minutes but has to develop more stamina and to be able to complete four minute contests."
In a touching moment of honesty and pride, Ian shared how it felt to see his son going toe-to-toe with the best judoka in the world on the Grand Slam stage.
"It's an unbelievable feeling, I'm so proud of my son, I'm on this journey right behind him and I'll do everything I can for him.
"This morning I was his training partner, then I was his coach, but what gives me the most pride is being is his father."
Asa smiled at the words of his father and was quick to give credit to his hard-working mentor.
"With my dad by my side I feel like I can take on the world. He gives me strength and we're there for each other. I'm thankful to him and I hope that we can be at the Tokyo 2020 Olympic Games together next year."