Recently, from 29 May to 1 June more than 3,400 Belgian athletes participated in the 37th edition of the National Games of Special Olympics Belgium, the largest sports event in Belgium for G-sport athletes with an intellectual disability. During these Games, which took place in Sint-Niklaas and Beveren, they gave the best of themselves in 20 different sports and adapted disciplines. Judo was also on the program and the honor of lighting the Olympic Flame was given to an acclaimed judo legend.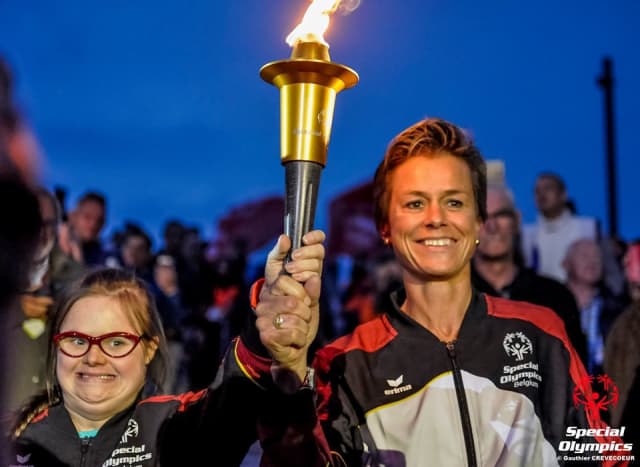 Indeed, IJF Hall of Famer, former European and World Champion and multiple Olympic medalist Gella Vandecaveye lit the cauldron with the Olympic Flame together with a Special Olympics athlete at the Opening Ceremony of these National Games on the Market Square of Sint-Niklaas.
"The participating athletes are all champions," said a delighted Gella. "They all receive a medal after their performance. It is so heart-warming to see them determined to excel in their sport, it gives you a great feeling to be involved. "
Disability sport is clearly on the rise in Belgium. Special Olympics Belgium started 40 years ago with around 800 athletes and five sports, today more than 17,500 athletes are members of the organization. In 2020 Special Olympics is aiming at 20,000 athletes.
Another judo champ was present around the tatami during the judo competition. Harry Van Barneveld, bronze Olympian (1996), multiple medalist at the Worlds and former European champion (1997) could be found near the medal podium as he was on medal presentation duty.
"I've been to the Special Olympics a few times now and the atmosphere is always great. Not only in judo, but in all sports there is a pleasant mood," Harry Van Barneveld commented. "The athletes are very driven. The happiness they radiate in delivering their performance is simply fantastic. So genuine, so friendly too. Victory and defeat are experienced very intensively, but that's what sport is about. I think it is great that these athletes with intellectual disabilities can really enjoy themselves here at their Games. Simply fantastic."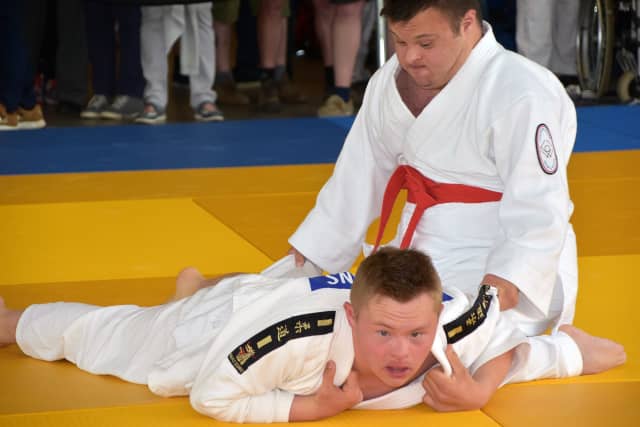 41-year-old athlete Bert Hendrickx proudly wears a yellow belt and only started a year ago with judo. "Judo is a fun sport," he says. And he also manages himself quite well on the tatami because he finished on the highest podium proud with his sparkling medal. "The first fight was easy, but not the second. My opponent made it difficult for me " In his club, all judokas train together. "If an exercise is difficult, the other judokas are always ready to help," says Bert. His coach Tom confirms. "Integrating special judo into regular judo gives great satisfaction." Bert is sporty and has always practiced sports, such as basketball or football and now his passion is judo. "I'm very happy because I made many new friends with judo and that is great," the athletes ends.
Isn't that what judo is all about?