Every contest stands alone, presenting itself exactly as it is, with two individuals fighting to realise their goals and progress.
Those judoka have coaches, sitting in view, on the field of play, willing their athlete's to draw on all their shared training and history, to put their best selves forward in front of the cameras and their internal mirrors.
Those coaches and athletes come from clubs and national centres in countries with different languages and customs and philosophies, but when it comes to judo, they all speak exactly the same language, without fail.
We can start to understand the true depth of all that has gone into these moments; the path of the coach from their first minutes on a judo mat, the reason they stopped competing and the reason they stay in the arena past that point.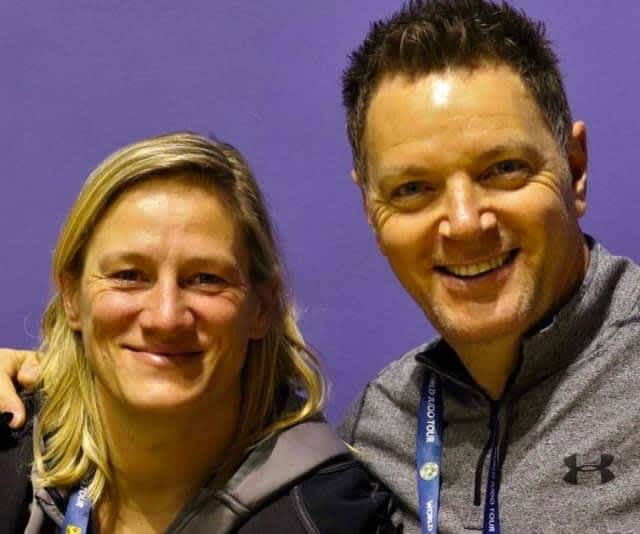 On day 1 in Tel Aviv, we were shown two journeymen of judo, faces that will undoubtedly stand next to us for the whole of their lives. Ilias Iliadis (GRE), the world's youngest ever male Olympic champion, stepped on to the dais to coach one of his boys, Urozboev, from his team in Uzbekistan; a team on cloud nine, inspired every day by their charismatic leader.
A quieter figure climbed the platform opposite and prepared to coach Yildiz of Turkey. Georgian-born David Asumbani, Paris Grand Slam winner, is now one of the national coaching team for Turkey and continues his career still in dojos and arenas all over the world.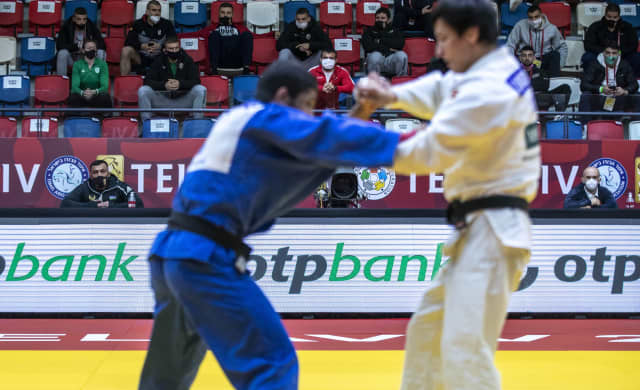 The result of the contest is important to the four men involved but our observation focusses on the coaches and the experience they have accumulated and the connection they have with judo.
Ilias is always ready to talk about judo and about life, "For me, maybe there is a little more adrenalin when I face a friend in the other coaching chair, but my athletes want to win regardless. With the mat under our feet we can be enemies, but of course we are always friends off the mat. I've known David since we were kids and in many ways it's nice for the friendship to keep meeting in different periods; it brings more emotion.
When you are an athlete everything you do is just for self, but now in a coaching role, it's necessary to be thinking of everyone, from doctors and officials to athletes. It's good to know that some of my old friends share this change with me."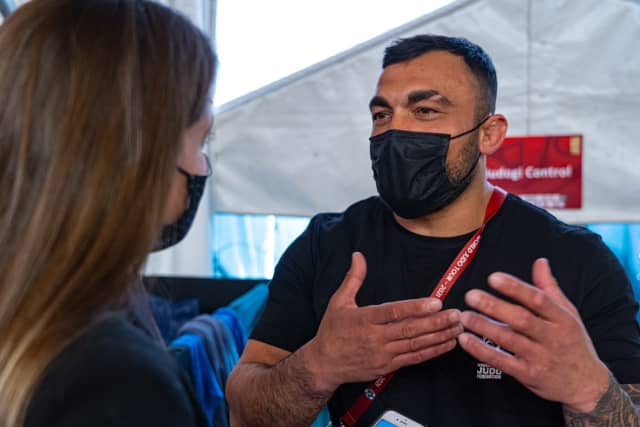 Weaving between dozens of other athletes and former athletes, in their new roles, David is found in the warm-up room, watching the screens to keep up with the opposition and what is remarkable but also expected is the echo of Iliadis, "It's nice to coach with friends, but sometimes it can be hard. My job in Turkey is interesting. I can see all the big results in my home country of Georgia and it's great for them, but in Turkey it all feels new and exciting. We are doing some great work and the big results will come.
We have big plans for the Olympic Games and beyond. I loved to fight but this role is more complex and I'm focussed on all of it. Coaching brings more stress and responsibility, where the fighting part is just you."
It seems that great judoka all over the world are finding a new drive to excel and are revelling in the chance to do it while supporting young teams who look up to them. And they are right to look up to them! They have lived it and they continue to live it in every aspect of their lives as they move further from their own performance days.
It's a special thing to see the world of judo embracing diversity and being an open environment within which people can move and grow and explore. The Georgian is coaching in Turkey and the Greek is coaching in Uzbekistan. They are in a well represented group, transferring culture and experience to every corner of the planet. Above everything else, they remain friends, sharing their unique but understood journeys.