On 19 September, one day prior to Judo Worlds, the IJF hosted its inaugural Conference on Gender Equity in the Hilton Hotel in Baku. The Conference was chaired by Lisa Allan, IJF Head of Gender Equity.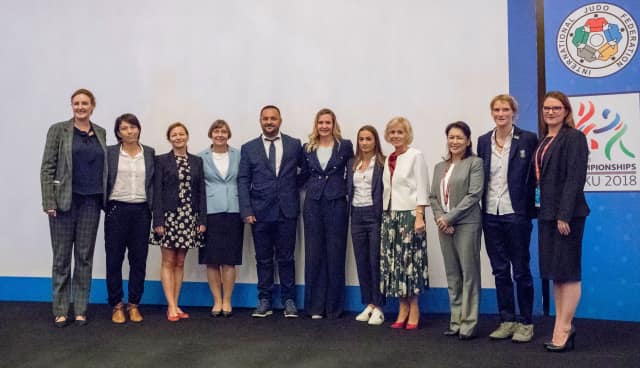 After a warm welcome by IJF President Marius Vizer and Yamashita Yasuhiro, IJF Development Director, the floor was given to various speakers.
In her motivational speech Rozália-Ibolya BIRÓ, Member of the Romanian Parliament, told the attendants an important lesson one of her mentors once thought her: don't try to do what everybody does. Do something that is hard. Something that you need courage to do.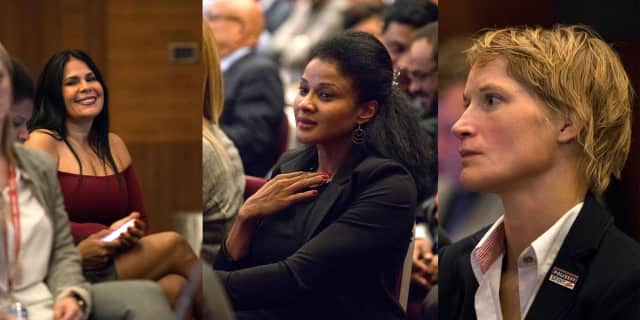 Sanda Čorak, President of the Croatian Judo Federation, gave some interesting feedback about an IJF Survey conducted in 2017 regarding the position of women in NJFs. Men and women have different historic paths in judo. Men's judo entered the Olympics in Tokyo (1964), women's judo in Barcelona (1992). However, the further development of judo led to gender equality during competition (rules, awards, mixed teams) but women are still underrepresented in all other areas. IJF mailed a questionnaire to all IJF members. Only 52 federations (or 26%) returned the completed questionnaire. Translated to the continents, the numbers are as follows: Europe (23), Africa (12), America (6), Asia (6) and Oceania (5). 20 NJFs established a Commission on Gender Equality, 30 NJFs started activities to empower women in judo and 38 NJFs follow NOC recommendations.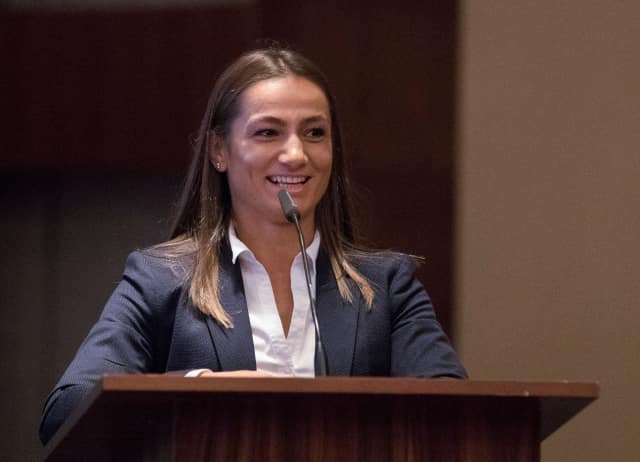 Another important finding was that there is a gap between the share of women as competitors and the share of women in all other positions, especially in leadership positions. Only a small number of NJFs have undertaken activities. "The engagement of women in sport is a social problem and it is hard to make progress only from the perspective of one sport. Sport organizations and NJFs can work on minimizing the majority of the obstacles." As a conclusion of the survey Sanda Čorak states that gender equality is a complex social issue and result of tradition and culture. It cannot be solved in a short period of time and only from a sport perspective. "IJF can make a further progress only in partnership with NJFs. For development of judo we all have to take advantage of the full potential of the population – men and women, as TOGHETHER WE ARE STRONGER!"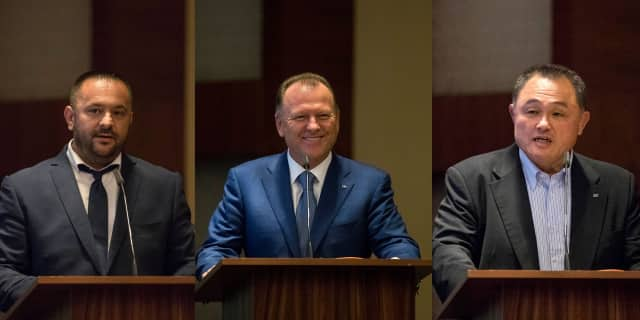 Judo Coach Yuko Fuji (JPN) shared her experience as a female coach of the Brazilian Men's Judo Team. "I don't consider myself a pioneer", she stated. "Moreover, this honour can be bestowed only on my boss Ney Wilson when he put me in charge of the Men's Team." She also quoted former Head Coach Luiz Shinohara. "No matter whether you are woman or man, but competence does matter."
Driton Kuka, Head Coach of Kosovo and his Olympic champion Majlinda Kelmendi explained what they accomplished for their country what no government was able to do. "I believe that my medal will change the life of many women in my country. What my coach and I did for Kosovo no one could do. In judo we learn that we have to support each other first," Majlinda said. "I noticed that girls worked harder than boys," Coach Kuka commented. "In my experience women show more discipline and focus with good results later."
International IJF Referee Akiko Amano talked about her work in Japan and about how to keep women involved in judo. Finding out that many women dropped out after becoming a mother her organization introduced a free day care service during competitions, bringing women back to judo.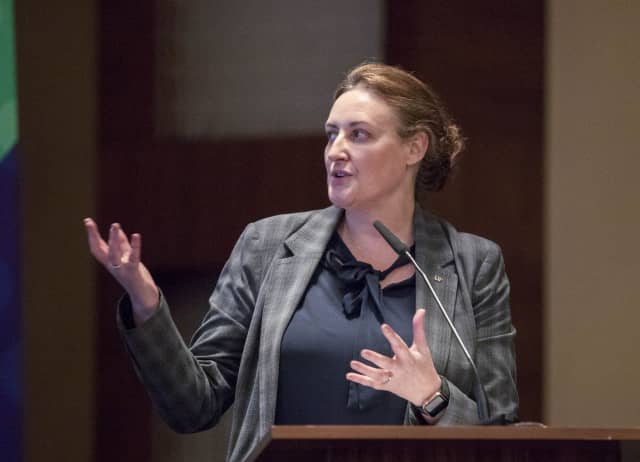 Austrian athlete Sabrina Filzmoser stated that sport empowers girls. "Set your aims very high as a girl. Sport can be a force to tear down barriers for girls and women."
Kate Corkery, President of the Australian Judo Federation took the floor as the last speaker of the day. "We know that men and women have different strengths – through thousands of years of evolution. We think differently. However, this difference in thinking is a huge opportunity." She challenged to IJF with the Creation of the IJF Male Champions of Change and an Annual Progress Reporting that would be publicly and transparently.
After the conference, IJF Media asked some of the attendants at the event for their opinion about the topic.
Lara Monsores from the Brazilian delegation enjoyed the inaugural conference on Gender Equity. "It is a very good beginning," Lara Monsores states. "We need to have dialogues, we need examples like our coach Yuko Fuji who is the first female judo coach in Brazil to coach the men's judo team. Women in leader's positions like the Croatian and Australian Presidents are examples we have to follow. It makes me very happy and confident. The IJF is on the right track. First of all, to have a commission consisting of women thinking of how to help other women. We try to do the same in Brazil and it's going to be a very good example for us."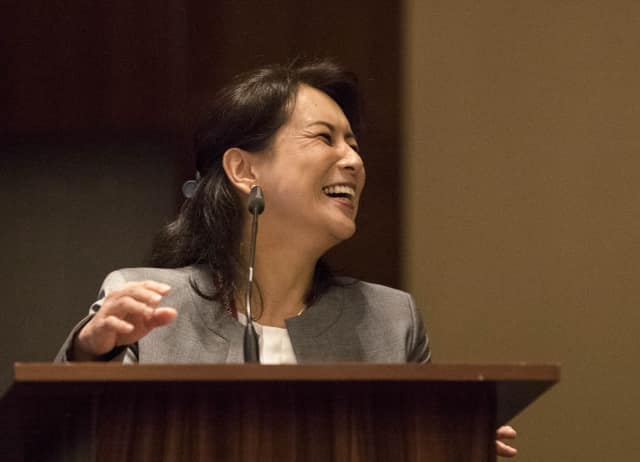 "It's a complicated topic really. As Lisa Allan explained in the beginning of the conference. It's not about pushing women. It's about equity for everybody," says Judo Hall of Famer Jane Bridge. "So, in this case I think they did very well. All the stories were very interesting. But we should also think about bringing more men in the next edition to talk about promotion for women. It's always noteworthy to hear the men's perspective. Nevertheless, for an inaugural edition it was very thought-provoking."
"I'm not related to judo, but I'm a master student in Ethics, a new programme at university," explains Azerbaijani graduate student Vugar Rustamli. "I saw the announcement of the conference and I really wanted to attend as for my line of study it is a very interesting topic. In my education curriculum last year, we had so many topics on gender equality and equity in sport and it's one of the main pillars in good governance. So, for me it was really interesting to hear the different insights, i.e. from the athlete, the coach, the referee, the administrator." The young man also sees ways to improve the conference. "I would suggest for the next edition to add more workshop-like sessions. I think there is plenty of room for the IJF to develop this conference further. I was shocked to find out that only 26% of the governing bodies answered the survey. The national federations should be pushed more to at least answer, to get this important information you need to further address improvements. Overall, it was undoubtedly a good conference. It will be a sustainable conference and with workshops and seminars it will certainly improve."