Azerbaijan edge Algeria in men's thriller while Turkey stuns the hosts in women's final
The team competition brought the Islamic Solidarity Games judo programme to a crowd-pleasing finale as Azerbaijan
The IJF has proposed a mixed team event to be added to the Tokyo 2020 Olympics programme with a final decision by the IOC expected by the Executive Board in June 2017.
A team competition is held on the last day of the IJF's annual World Championships (cadet, juniors and seniors) and a mixed team format was used at the 2014 Summer Youth Olympic Games in Nanjing, China.
Dr. Lisa ALLAN, IJF Competition Manager, spoke positively about the competition and highlighted the home country's use of young technical officials.
"It was nice to see the Azerbaijan Judo Federation using some new, young technical officials at the event. It shows that they are clearly thinking of the future and important events such as next year's World Championships here in Baku."
The team competition also received praise as the one-day spectacle has proven to be one of the most thrilling attractions in world sport.
"The team event was very competitive and we look forward to seeing it on a bigger stage which we hope will be the Tokyo 2020 Olympics."
Men's team event
In the men's team final hosts Azerbaijan were matched against Algeria.
A rematch of the -66kg individual final kicked off the match as Nijat SHIKHALIZADA (AZE) renewed acquaintances with Houd ZOURDANI (ALG). The Azeri reigned supreme again with 11 seconds left of the contest after the Algerian received a third shido for passivity and was disqualified. Azerbaijan 1 - 0 Algeria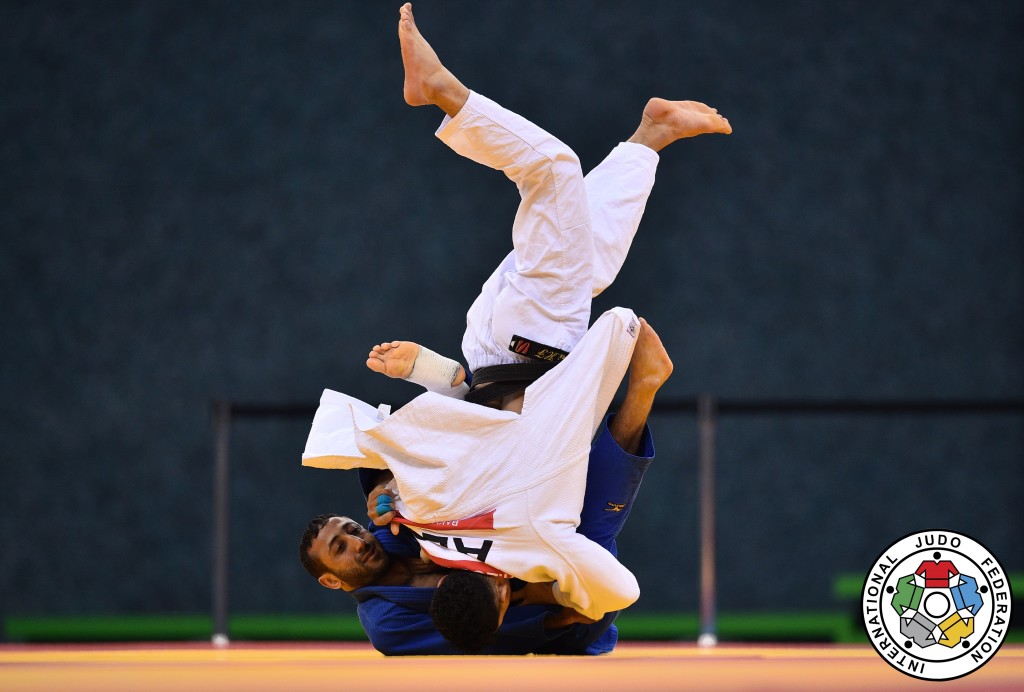 Rio 2016 Olympic silver medallist Rustam ORUJOV (AZE) was firmly in control against Oussama DJEDDI (ALG) at the halfway point with the latter having two shidos to his name but without any scores registered. ORUJOV, who took silver in the individual event, attacked with a weak ko-soto-gake and was countered with the same technique by DJEDDI for ippon and a stunning upset. Azerbaijan 1-1 Algeria.
Baku Grand Slam runner-up Rufat ISMAYILOV (AZE) restored his country's advantage as Algeria did not have a competitor at -81kg and had to forfeit the point. Azerbaijan 2-1 Algeria.
A rematch of the -90kg final came next as Mammadali MEHDIYEV (AZE) fell to Abderrahmane BENMADI (ALG) by a waza-ari as the Algerian avenged his defeat to peg back the home team and restore parity once again. Azerbaijan 2-2 Algeria.
The fate of the men's team gold medals went down to the last contest of the competition as Ushangi KOKAURI (AZE) fought Nadjib TEMMAR (ALG) with everyone on the line. TEMMAR picked up a right foot injury in the opening 30 seconds and had to hold back the tears as he was now severely restricted in his movement. In incredible drama KOKAURI gave Azerbaijan the edge with a waza-ari and sealed the title for his team by ippon in front of the President of the Azerbaijan Republic Mr. Ilham ALIYEV. Final score Azerbaijan 3-2 Algeria.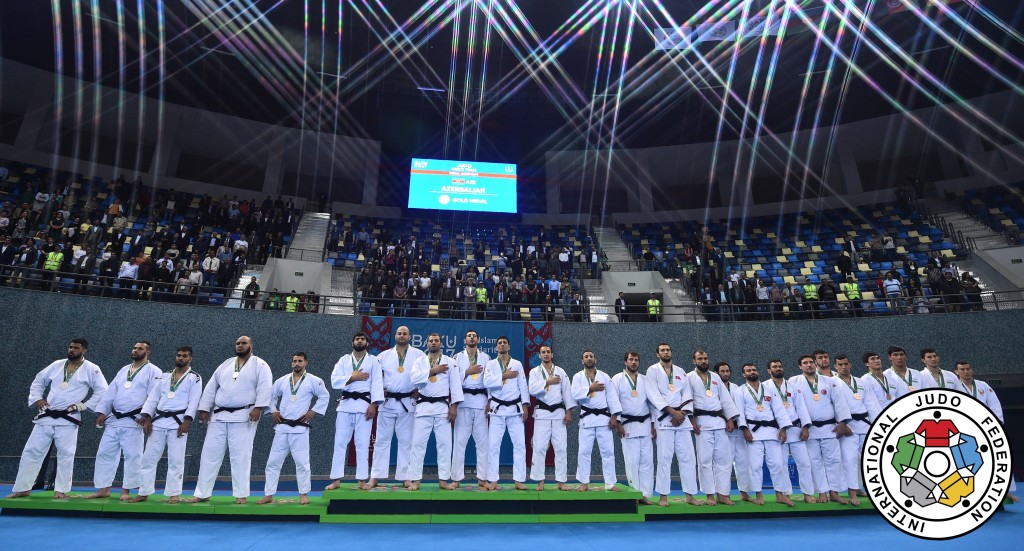 Algeria took their place in the men's final as their team of four beat Kazakakstan's three-man team on cumulative points having finished all square at 2-2 in their semi-final.
Azerbaijan made their way into the gold medal contest by defeating a young Uzbek team 4-1 in a ruthless display.
The bronze medals were won by Uzbekistan who defeated Saudi Arabia 4-1 and Turkey who bested Kazakhstan 3-2.
Women's team event
Newcomer and individual gold medallist Bazarragchaa ERDENEBAT (AZE) started off at -52kg but fell to Dilara LOKMANHEKIM (TUR) who made amends for her surprising fifth-place finish even though it was her debut at this weight having moved up from -48kg. Turkey 1-0 Azerbaijan
Turkey doubled their lead when individual bronze medallist Nazlican OZERLER (TUR) threw Ichinkhorloo MUNKHTSEDEV (AZE) for ippon to give their team control of the match. Turkey 2-0 Azerbaijan
The -63kg contest was a rematch of the individual final as Busra KATIPOGLU (TUR) and Khanim HUSEYNOVA (AZE) went the distance with the gold medals on the line. In golden score the score could not have been more delicately poised with both judoka having two shidos and running perilously close to a third shidos which would have resulted in qualification. After three minutes of added time the Turkish judoka attacked with a hip technique for a contest and match-winning score to crown her team as the champions. Turkey 3-0 Azerbaijan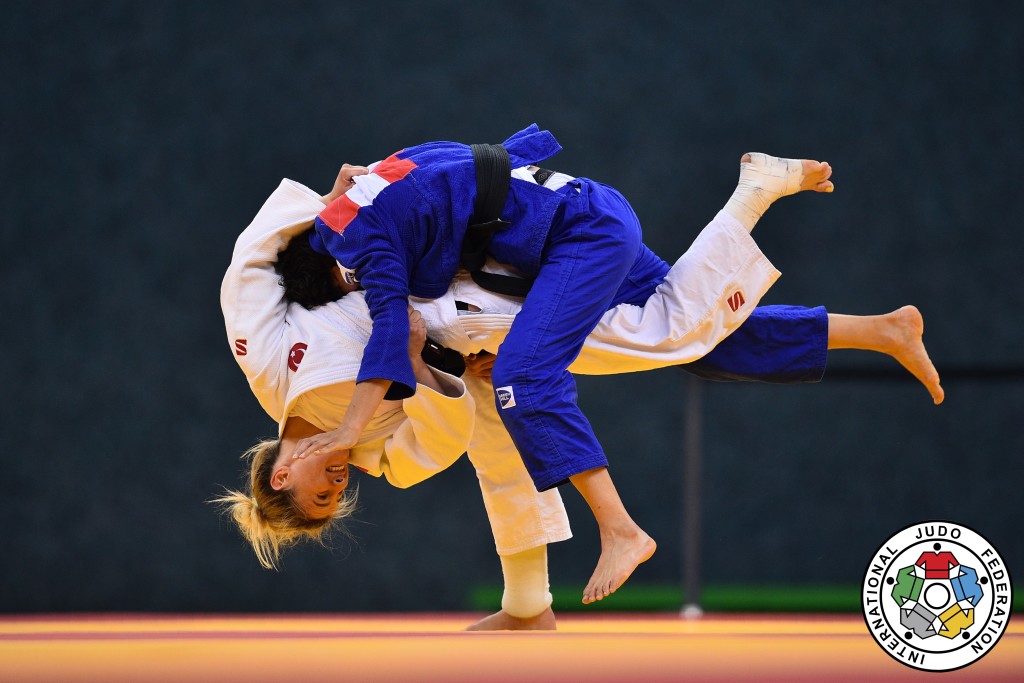 The match became a rout when Sukran BAKACAK (TUR) held down Gulsadaf KARIMOVA (AZE) for 20 seconds with a kesa-gatame for ippon. Turkey 4-0 Azerbaijan
Individual gold medallist and former European champion Kayra SAYIT (TUR) completed the whitewash with victory over Iryna KINDZERSKA (AZE) as the former held down the one-time Ukraine fighter for ippon. Final score Turkey 5-0 Azerbaijan
Turkey, whose team included three individual gold medallists, brushed aside Morocco and Algeria in the round robin (5-0 and 4-1) while Azerbaijan beat Uzbekistan in their semi-final clash.
The one and only set of women's team bronze medals went to Uzbekistan who defeated Algeria 3-2 in a tense match. Algeria only started with four judoka, with no -70kg athlete, and so already were 1-0 down having had to forfeit that contest. Algeria picked up wins at -57kg and +70kg but Uzbekistan triumphed at -52kg, -63kg and gained the decisive point from the forfeited contest.
Click here for the full results from the Islamic Solidarity Games
The IJF World Judo Tour resumes next week in Russia with the first Ekaterinburg Grand Slam from Saturday 20 – Sunday 21 May. Watch all the action live and free at www.ippon.tv
IJF President Mr. Marius VIZER will hold a Twitter question and answer session in Ekaterinburg on Saturday 20 May from 4pm local time.
Use #AskVizer to submit your questions on Twitter.
Pictures © AFP Services/Baku 2017 Islamic Solidarity Games