We met him at the Budapest Grand Prix and promised to see each other again in Japan. Mohammad Rashnonezhad kept his word and waited for us, patiently, despite having reasons to cancel the appointment. He was sitting in the rest room reserved for athletes, watching the contests. He was surrounded by champions thinking that, with talent, he can become one of them.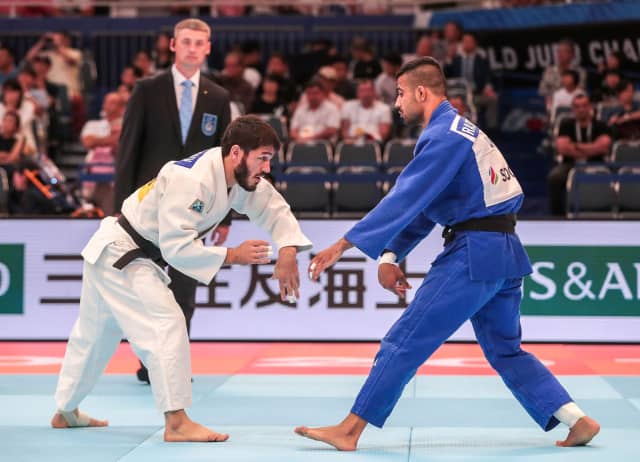 Mohammad is not just any judoka, he is a member of the refugee team of the International Judo Federation. They are all young and victims of life, of war, of political repression. They are the contingent of hope, the team that rebuilds their broken lives thanks to judo.
He is an Iranian by birth, twenty-three years old and has been living in Holland for almost two years. In Budapest he was one of the two refugees who won in the first round. Mohammad delighted those present with very offensive judo, showing that he has talent and the desire to fight. The problem is the lack of training.
In Holland he goes to the dojo almost every day and trains. However, he still has no peers of the same level, or coaches. He is alone and does what he can, but we are talking about the elite and, to be part of it, it is necessary to have resources.
"Right now, I have mixed feelings", Mohammad begins. "On the one hand I am delighted to be here in Japan, the land of judo, and to participate in the world championships. On the other hand, I am sad because I have lost." It must be said that Mohammad had no luck with the draw and debuted at the world championship against the fourth seeded, Uzbekistan Sharafuddin Lutfillaev.
Defeat is not the real problem. What happened is that Mohammad did not fight on equal terms because, for the moment, he cannot. "The program of the International Federation has changed my life. Now I can devote myself to judo, become a professional, forget the ideological prejudices that forced me to leave. But I need to go further".
The equation is simple. To make his dream come true, to be world champion, Mohammad needs to measure his opponents equally. And to do that he has to train with them. "And may the best judoka win," Mohammad ends. At the moment he is not the best, he knows and assumes it. But before his life changed, when he was a cadet and, later junior, he was one of the best. The medals won in Asian championships attest to his talent.
A class that needs to be expressed to the fullest. He already participates in the World Judo Tour. The 2019 Tokyo World Championship is one more step towards his goal. Step by step, with patience and determination. And all, as always, with a smile that conveys joy and hope.