Naser Al Tamimi, General Treasurer of the International Judo Federation, has been awarded the Order of the Rising Sun, Gold and Silver Rays.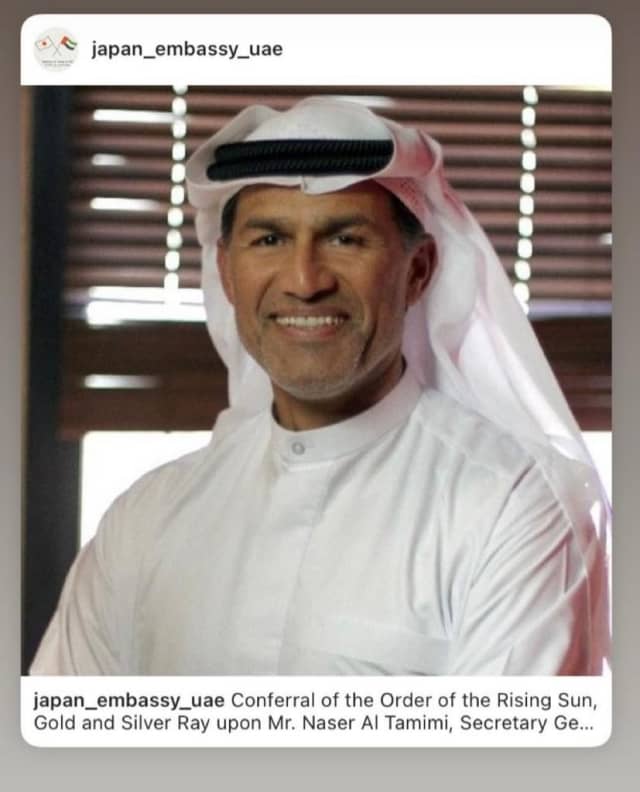 The message was delivered personally by Japanese Foreign Minister Yoshimasa Hayashi. The award is the official recognition of Naser Al Tamimi's outstanding contribution.
The Order of the Rising Sun was created by Emperor Meiji in 1875 and was the first national decoration awarded by the government of Japan. The logo has rays of sunlight from a depiction of the Japanese sunrise. The rising sun design symbolises energy as powerful as the sun itself in parallel with the concept of the rising sun in Japan, often referred to as the land of the rising sun.
The order is presented to those who have achieved in outstanding ways in the field of international relations, the promotion of Japanese culture, advancement in their own field, the development of social welfare, or the preservation of the environment. 
The modern version of this honour has been conferred on non-Japanese recipients since 1981, although several foreigners held the honour before World War II, with women receiving the order of departure in 2003; previously women received the Order of the Precious Crown. 
The awarding of the Order is administered by the Office of Decoration, an office of the Prime Minister. It is awarded in the name of the emperor and may be awarded posthumously.
Naser Al Tamimi has stated that he was happy when he heard the news, "It's a special feeling, something beautiful. It means a lot to me and motivates me to work even harder for judo."
Mr Al Tamimi started working in the world of judo in 2000 and for the International Judo Federation in 2007. To describe the man, it is enough to ask around. Everyone describes him as a very polite, cultured, affable man, with a peaceful disposition, always in a good mood. He is a tireless worker and often works in the shadows, discreetly. He was one of the architects of the establishment of diplomatic relations between Abu Dhabi and Israel. He is a man of peace, a modern man, a man of judo.
The award given by the country of judo pays tribute to a man of action, but also to a man of peace.