Today, Friday 10 May at 4 pm, the official opening ceremony of the Baku Grand Slam took place in the Heydar Aliyev Arena, the competition venue of the judo tournament.
After the roll call of the delegations present while simultaneously the nations' flags appeared on the giant TV screens, the dignitaries present were given the floor to present their welcome speeches.
The country's Minister of Sport Azad Rahimov welcomed all delegations wishing all competitors the best of luck opening the tournament.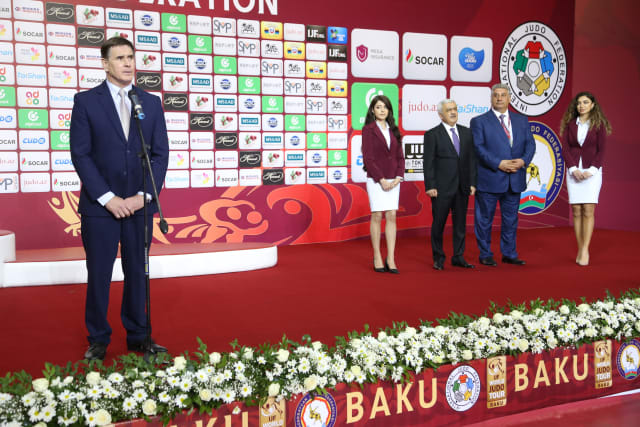 IJF Head Sport Director Vladimir Barta congratulated the host nation for another strong organization of this Grand Slam. "We are pleased to see you all here in the 2018 World Championships host city of Baku. I'd like to thank the Azerbaijan Judo Federation for their excellent organization and hospitality of this Grand Slam."
Rovnag Abdullayev, President of the Azerbaijan Judo Federation and IJF Development Manager, also welcomed the athletes and thanked the delegations and the IJF for the trust in the National Judo Federation for hosting this event wishing all competitors a successful tournament.
Then the lights in the arena were dimmed and a compilation video of the best judo action images of last year's Worlds was shown. The presentation was followed by a cultural program of dances and performances of the local dance troops bringing the grand performance 'Judo Nature'.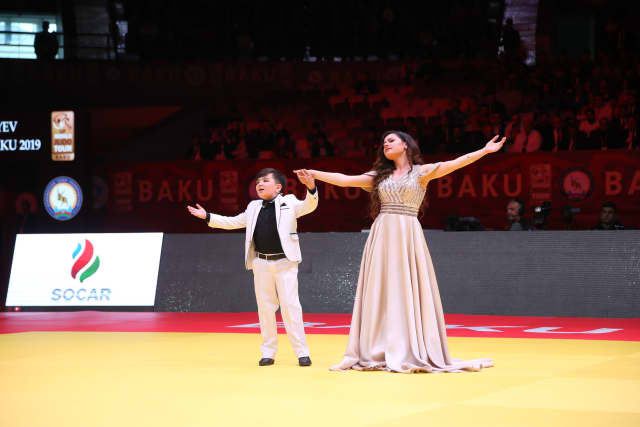 Next, the audience witnessed a sword dance battle between medieval soldiers alternating with dancers in beautiful traditional costumes showcasing local folk dances on invigorating music. Famous local singer Samira Afandi closed the official opening ceremony with a beautiful song.