It's the 7th consecutive time the Croatian Judo Federation hosts a Grand Prix on the IJF World Judo Tour, with already a 6th edition in Zagreb as the judo center of the world during this three-day competition.
"In 2013 we brought the World Judo Tour to Rijeka, the year later we opted for Zagreb and have been doing so for the last six years," Dr. Sanda Corak, President of the Croatian Judo Federation explains.
"We faced a lot of challenges since year after year the tournament grew bigger attracting gradually more competitors. Nonetheless, today we are very happy with the evolution of this Grand Prix, which has almost become a mini-Worlds considering the number of participants, i.e. 558 athletes - 332 men and 226 women - hailing from 87 countries. The numbers are amazing with some big names of the international judo circuit here present, among them World and Olympic champions. This is very beneficial to judo in general but also to judo in Croatia in particular. Especially for the younger athletes at the verge of breaking through in the senior competition."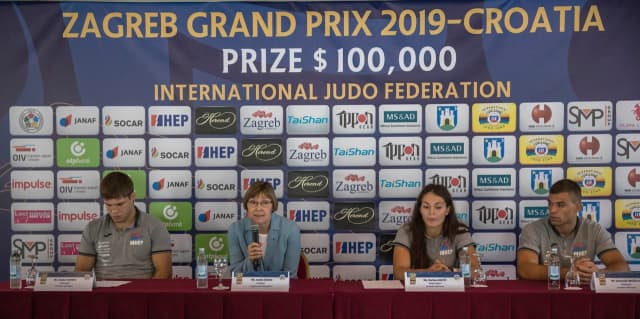 After seven editions, the Croatian Judo Federation built up some extensive know-how to organize a flawless event. "We have a very good team, but we can also count on a big number of volunteers who are very committed to our sport and federation," says Dr. Corak.
At the draw the Croatian Judo Federation President announced that all three final blocks will be broadcasted live on national television. A first for judo in Croatia. "This is indeed of major importance for our federation and a big step forward," confirms Dr. Corak. "It's the first time this happens, and it can be considered as a serious upgrade for the recognition of judo as a major sport within our country. Currently, judo is among the top ten of popular sports in Croatia. With this media campaign we might end up in the top-five or even top-three," the president smiles.
Hardly on month prior to the IJF Worlds in Tokyo next August, the Zagreb Grand Prix is an important tournament for the competitors to find out their readiness for IJF's major event in Japan. "I'm sure this GP is a final check for all participants, it's definitely a confidence builder so close to the World Championship," opinions the CJF President. "For our athletes as well. Previous years we had some bad luck with lots of injuries among our athletes. So, having this Grand Prix on home soil one month prior to the Worlds is a good thing for them. I dare say our athletes are a bit spoiled," Dr. Coska jokes. "They are used to the fact that our federation hosts an international event for all age categories per year. That's a lot easier for them than for us organizing these events," she smiles. "But seriously, it's always nice to compete in front of your family and fans," the CJF President ends.
Croatian athletes Zlatko Kumric and Dominik Druzeta couldn't agree more with their President. "Performing in front of your home crowd gives you more pressure, but it is a very positive stress," says Dominik Druzeta. "It very much pushes us to give it our outmost and work for the best result we can achieve. For judo in Croatia it's also very important. Our federation works very hard and this Grand Prix will generate plenty of media awareness, on TV, bus also on billboards in the streets. So, it generates a very positive outcome to promote judo in our country."
His teammate Zlatko Kumric confirms. "It's a great pleasure for us to compete on home soil. Not many countries can present this opportunity to their athletes. Hence, a big opportunity for us judokas. Furthermore, we are extra motivated as our family and friends will be in the bleachers boosting for us instead of watching the livestreaming when we compete abroad."