Raymond Damblant has been a key person in the growth of judo in Québec. IJF Media had a chat with the 88-year old judo founding father who was a guest of honor at the Montréal Grand Prix.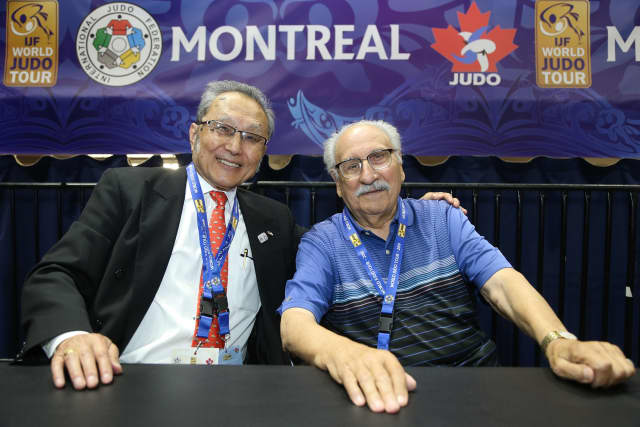 French-born Raymond Damblant moved to Quebec in 1959 where he became the founding president of Judo Québec in 1966, a position he held until 1971 before becoming the technical director of the organization until 1975. He was in charge of combat sports at Expo 67 and acted as director competitions at the 1976 Olympic Games in Montréal and played the same role at the 1984 Olympic Games in Los Angeles. In 1967, he became the first Canadian to receive the title of international referee level A, which led him to become referee at five world championships, nine Pan-Am Games and be selected as referee for two Olympic Games, Munich in 1972 and Moscow in 1980. He was also involved with Judo Canada, first as its Vice-President from 1963 to 1970, as Chair of the Grades Committee from 1972 to 1989 and as Technical Committee from 1982 to 1986. Subsequently, he became general secretary of the organization from 1987 to 1996 before being appointed a life member in 2000.
"I'm very happy and proud with Judo Canada hosting a Grand Prix here in Montréal. For me this is the cherry on the cake after years of hard work on all levels possible," said Raymond Damblant. "We had the Worlds in Hamilton, quite a while ago, in 1993, and now this Grand Prix is a reward from the international judo community that I really appreciate."
Judo has enormously evolved according to Damblant. "The level of Canadian judo is on par with the international level. Canadian judokas start bringing back home medals, so I don't think we look ridiculous on the international scene."
Judo in Canada surprisingly rooted in the Western part of the country, principally in Vancouver, British Columbia around 1920. "At that time there was no judo practiced in Quebec," Damblant adds. "Mainly Japanese immigrants from the first and second generations brought judo to the Pacific coast. With the second World War people moved around and this helped judo to disperse to other Canadian regions. Furthermore, the arrival of many French immigrants in Quebec also boosted the development of judo on Canadian grounds. I had the chance to gather all those people and create Judo Québec in 1966."
Today judo has evolved. "Québec has been the province that was the most apt to adapt itself to the modern style of judo. The fact that judo is gaining popularity in Canada, but also its huge membership in this province is the result of people looking for something new. We were the first martial arts federation in the country. Also, judo is more than a sport, it's a way of life. There is a lot of respect in judo and people like that," says the 88-year old sensei.
"There are big differences with the early years of judo in Canada. Like in all sports there is evolution. One needs to accept that and it's actually pretty normal. There is the influence of judo practiced worldwide and you can't stop evolving," ends Damblant.