Everyday of the World Judo Championships Tokyo 2019, we propose you the technical analysis of an IJF expert. Today, Loretta Cusack-Doyle tells us, what she saw and what she felt after an amazing day of judo.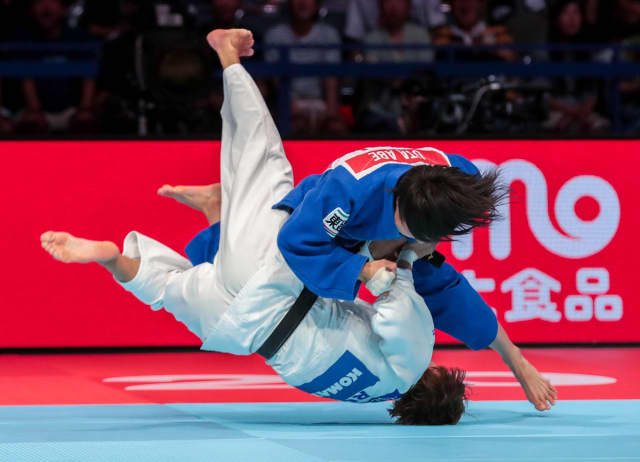 We already had two amazing days of judo. This is the World Championships and that is what people expect from a competition like that. Looking at the results over those two days, we can see that the World Ranking List plays an important role. It is important for the athletes to be well ranked during the season, to have a good seeding when the big events comes.
Yesterday and today, among all the medallists there were respectively four women and 3 men who were among the top eight of their categories.
It must also be said, that today in the -52kg we had 57 athletes. Usually those are numbers we have for the male categories. The volume of matches is enormous and to become a World Champion, you have to produce a tremendous effort.
Talking more specifically about today's competition, I noticed that the preliminary rounds were particularly dynamic. But even-though if during the final block, we had a lot of golden scores, 11 bouts finished with a positive score. The transition tach-waza/ne-waza was very good and interesting to watch.
Obviously, everyone was expecting the Abe siblings to win again like last year. It didn't happen exactly that way, but what to say about Abe Uta. She is so precise, she produces such a clean judo, with strait attacks, that at least today she was totally unbeatable.
Majlinda Kelmendi is coming back. She is for sure not at 100% yet, but until the final she was solid. Obviously, Abe was on an other planet and she is the ultimate favorite for the Olympic Games. Nevertheless Kelmendi is such a champion that everything is possible and I look forward for the months to come to discovering who will be the Olympic Champion.
Natalia KUZIUTINA (RUS) had a stable performance throughout the day even if she was not at the level of Abe in the final. Shishime Ai (JPN), was very good in tach-waza and in osae-komi-waza.
In the men's division, I was so much impressed by the uchi-mata variations of MARUYAMA Joshiro (JPN). He could attack with one hand, two hands, in every positions and directions, going forward, sideward or backward. When you reach that level of performance, there is no doubt that you have the capacity to win a world title, which he did, even if he was injured at the end.
The Korean Kim, who finished second, showed very good skills with his ko-uchi and o-uchi-gari, with which he was very accurate. For Abe Hifumi of course it was a difficult day, after two world titles and when you are the defending champion you have more pressure on your shoulders. Despite all that, he is still on the podium with style. Will that be enough to go the Olympics? We will see. With the new world champion being MARUYAMA nothing is guaranteed.
Last but not least, Denis Vieru, in a category where the level was so high and the shining stars so numerous, confirmed that he is one of the favorites for a medal next year at the Olympics. He showed very dynamic tachi-waza combined with good skills on juji-gatame.
I am definitively looking forward the days to come.
---
Daniel Florin Lascau won the World Championships for Germany in 1991. In addition to being an IJF Sport Director, Lascau is a key member of the IJF Academy and also serves as a Referee Supervisor for the IJF.