Imagine you're ranked 248th in your weight category and the draw puts you against the top seeded judoka in that category. That's what happened to Nigara Shaheen (-70kg), the sole participant from Afghanistan. In her first round she met Marie Eve Gahie from France, currently ranked number one in the World. You already could guess the outcome of that bout. However, Shaheen's first appearance on the World Tour tatami might be more than just a judo statistic. It could be ground breaking for judo in her country … IJF Media talked to her in the Mixed Zone.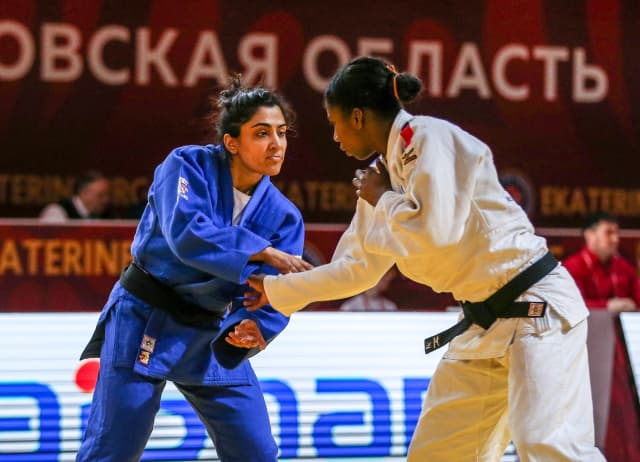 For Nigara Shaheen, a master student in international trade, the Grand Slam in Ekaterinburg is her second international tournament. "Previously, I participated at the 2017 Asian Games in Hongkong, but I got a shoulder injury there. This is my first return to the international scene after my injury. I was pretty excited about it," she says.
"It feels great to represent your country on such a big platform. Back home I'm the only female judoka. I got so excited I could participate in this tournament, but I guess my preparations were not enough. Hopefully I'll do better next time."
The draw made her awestruck. "After the draw I realized I was going to face Marie Eve Gahie from France, a very strong opponent and the current number one on the World Ranking. I know her well since I follow her actions on the mat. Nevertheless, for me it was a great opportunity to compete against her although I hoped to continue a bit more. My mistake I got overexcited, that's the reason I didn't do well."
Asked if she sees herself as a role model, Shaheen realizes she could be an example to fellow countrywomen. "Being the only female judoka in Afghanistan, I have to practice with the men. Unfortunately, there are so many social taboos connected with women playing sports in my country. I would be proud if in the long run I could be considered a role model for other girls or women in Afghanistan. I would be honored being one. There are so many social boundaries associated with women in sports in Afghanistan, especially in judo. In other martial arts, like karate and taekwondo, there is lesser close contact compared to judo. Practicing with male training partners, this is frustrating. I guess, I'm not only a fighter on the tatami, but also outside the mat I'm fighting against all the prejudice."
Judo made Nigara Shaheen a determined young woman. "Since I was twelve years old, I dreamed of winning a medal for my country. I have given up so much to be present here." Studying at university didn't withheld her from pursuing her judo career. "Currently I'm studying international trade at the university here in Ekaterinburg as an exchange student. and here I can practice with the university team," ends Shaheen.