A few months ago, we left Sabrina Filzmoser (AUT) on the tatami of the World Judo Tour, in her quest for a fourth qualification for the Olympic Games. At forty, the champion still scares many of the young athletes who shine on the international circuit and her motivation remains in tact after more than two decades at the top.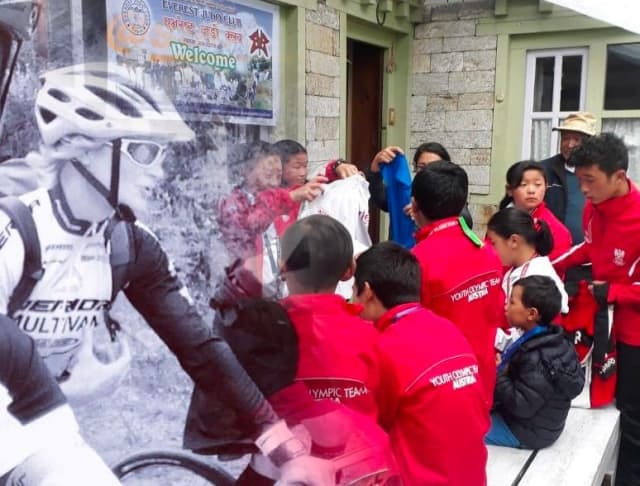 Between 1997 and 1999 she distinguished herself in the international junior championships, notably winning a European title as well as two European silver medals. The Austrian then took part in her first senior international competitions.
Very quickly she became number one in her country and began a series of podium finishes at the Military Worlds. In 2002 she appeared in the world cup tournaments and won her first international award at the Euro 2003 held in Düsseldorf.
Once again a European medalist in 2005, she repeated a similar performance at the world championships in Cairo, winning bronze. Then she finished in third place at the prestigious Fukuoka Tournament and won gold medals at the Paris and Hamburg tournaments. After a fourth continental bronze medal, won in 2007, she became European Champion the following year in Lisbon. In 2010, again, she stepped on to the world podium, in Tokyo.
Since then, we have seen Sabrina regularly on the World Judo Tour, as nothing seems to lessen her desire for performance. As if that weren't enough, the IJF media team met Sabrina in 2016 on her descent from one of the 14 Himalayan 'eight thousanders': peaks over 8000m. (https://www.ijf.org/news/show/sabrina-filzmoser-on-top-of-the-world). It must be said that she has a special attachment to this region of the globe and to the mountains.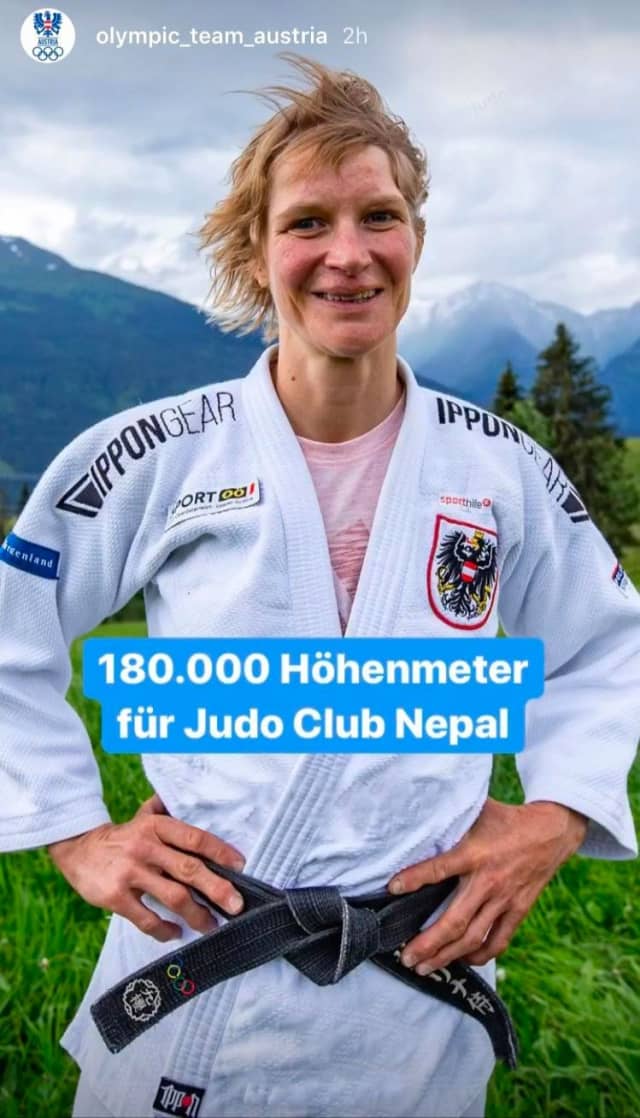 In parallel with her career, she devotes her time and energy to helping Nepal and Bhutan to develop. In recent weeks, the Austrian has launched a new challenge and she has been 'collecting metres' to help the Everest Judo Club.
Sabrina said, "I am deeply inspired by the mother of the Ueno sisters, who was featured in one of the Art of Judo episodes (https://youtu.be/hQ5hpdNmUpI). I try to inhale and take all the energy to fight for my Everest project, by collecting metres in altitude, day by day, while not losing the sense of philosophy and training. You know, I'm training like hell, like all other athletes on this bumpy road to Tokyo, but in the last weeks I could only keep my motivation so high because of this Everest project."
The idea is simple. Sabrina runs, Sabrina bikes, Sabrina hikes and she collects metres. Then on the crowdfunding platform (gf.me/u/ygu6u4), those metres are converted into money to help the construction of a better structure for the Everest Judo Club (https://www.ijf.org/news/show/judo-opens-up-minds-at-the-everest and https://www.ijf.org/news/show/when-judo-reaches-human-summits).
"My champions are living high up in the Khumbu valley of Everest. There we established the Everest Judo Club at Monjo School, at an altitude of 2800m. We are trying to work on building a bigger dojo and sending a long term coach to instill the judo philosophy of Jigoro Kano," said Sabrina, before adding, "Although I had a lot of ideas about this initiative, I had not the courage to start it earlier, but as we were facing the corona virus pandemic, I decided that it was time to launch it. The idea is to use the money for the whole judo community and their families up there, who struggle so much to even get food on their table, as there are no tourists since the beginning of the year."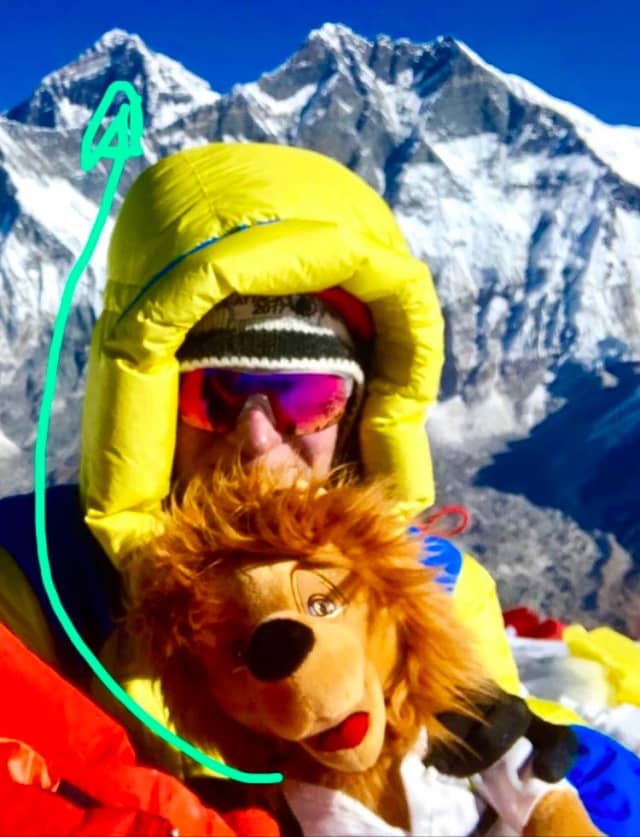 When Sabrina started the project in July, she had already collected 178.000 metres in altitude during Covid time by ski-mountaineering, climbing, biking and running. Her aim was to collect at least the height of the 8848m Everest, converted into Euros, with the goal of building a dojo at the Sir Edmund Hillary school, at an altitude of nearly 4000m. "The Monjo School (2800m), where judo is present, is a primary school where coach Kazi Sherpa is giving his best motivation for the young children to train with the help of tatami donated by the IJF. Then the children are old enough to go to the secondary school, which is located in Khumjung (3900m). For the moment, there is no judo up there and the children will sooner or later lose all the skills and judo education they received down the valley. As they have to stay in Khumjung, it's too far and too high to go up and down. It's a full trekking day to reach Namche Bazaar and Khumjung from Monjo.
My vision is to get the highest dojo in the world up there, but it will probably take some time to also get a longterm coach. I know that my dear friend Elisabeth Willeboordse (NED) is interested in this option and she will work up there at the Edmund Hillary school in Khumjung from March 2021. She's also a doctor and probably could help at Khunde hospital (next to Khumjung, high altitude hospital!) to do some volunteering and supportive work for the community. Of course this all depends on the Covid-19 situation."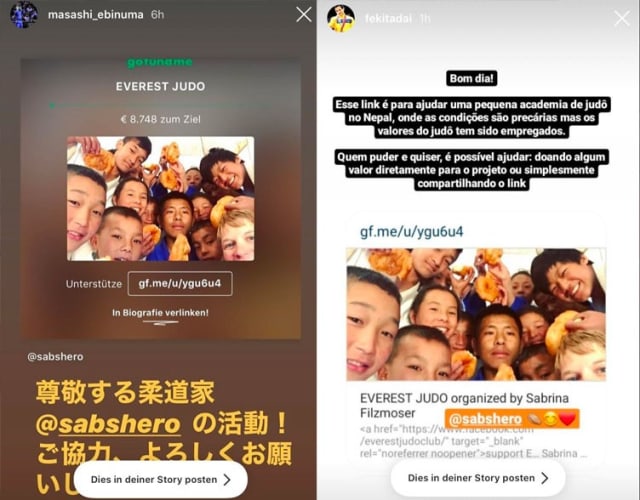 Talking about the crowdfunding operation itself, Sabrina feels blessed, "So far, people from all over the world have begun to donate money, mostly my judo friends. The Japanese have been really impressed and somehow it happened that all my judo heroes donated: Masashi, Kaori, Nae, Megu, Yuka, Yuki, Aki, Nobumasa and many more. Even Telma Monteiro is supporting. I'm absolutely stunned about who is supporting the project! There are so many. Our Judo family is more than great and with the strongest bonds."
Support Sabrina's project
https://www.gofundme.com/f/everest-judo
When we left Sabrina, she was still running, biking and hiking and had already collected 200.000 metres, transformed into 9,451€. She said, "My deepest respect, a humble knee fall, humility all over. Domo arigato gozaimasu to all my united friends and judo family around the world. Because of you, we have found a way to build up Everest Judo Club and can continue to offer support as much as we can. We take care, we share our love and our passion full of values, full of education, full of love. Slowly, steadily, consistently, we progress and we trust the process. Set a goal, build a plan and then work tirelessly until that goal is achieved. Further on, don't stop building on your dreams. I won't stop collecting high-altitude metres. Trust me, this project may not be the end. Go on, step by step, whatever your fears or your struggles or your thoughts. We do our best to direct our efforts to productive ends and sometimes we succeed. If we fail, we have regrets but we get new opportunities and chances to improve and get better as we try again. I'm grateful today for all my failures as regret is really hopeful, offering a clearer vision. May the clear view from the top of the world be spread all over the world! Thank you and Tashi delek!"