The price of fame is that they look at you with a magnifying glass. The fame is that of Kosovo, which has a pace that few can match. The magnifying glass is now on Olbia, and specifically on Ezra Muminoviq. It was the first day of the Junior Worlds and the judoka had a status to defend because hers are the colours of a country that, now, is scary.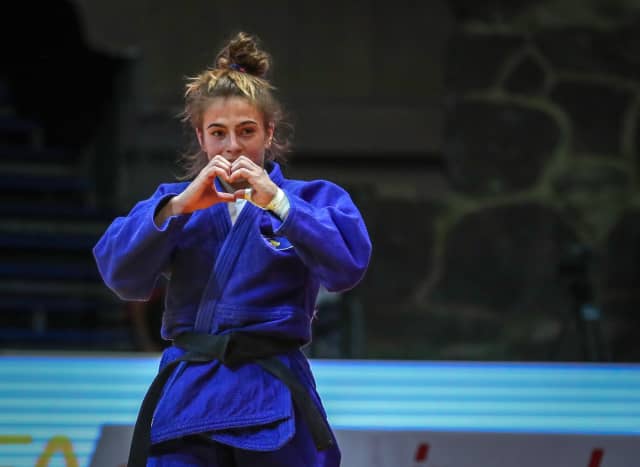 She is 19 years old and has a style akin to her country's fellow judoka: rocky and difficult to counter. "We are used to training a lot, in very hard sessions," she says, "It is our hallmark." 
The Kosovo women's team is a collection of champions, a hymn to work, a tribute to sacrifice that always ends up bringing awards. Driton Kuka is the brain that operates it, the one that designs and decides. He knows that behind him there is a battalion of faithful hoplites who apply his slogans and leave every last drop of sweat on the tatami. Ezra belongs to that school and like all success stories, this one has a beginning. 
It all started with Majlinda Kelmendi. For six years, Kelmendi was the terror of the tatami. There was no way to beat the Kosovan judoka, the true owner of the –52kg category. "She is the model we've always had," Ezra confesses. Kelmendi conquered all possible titles and is the reference of a small country with enormous pride. Thanks to her the paths of judo pass through Kosovo. 
Kelmendi's Olympic gold was the culmination of an immense career and was a springboard for her friends Krasniqi and Gjakova to prop up the sweet moment of a relentless team five years later.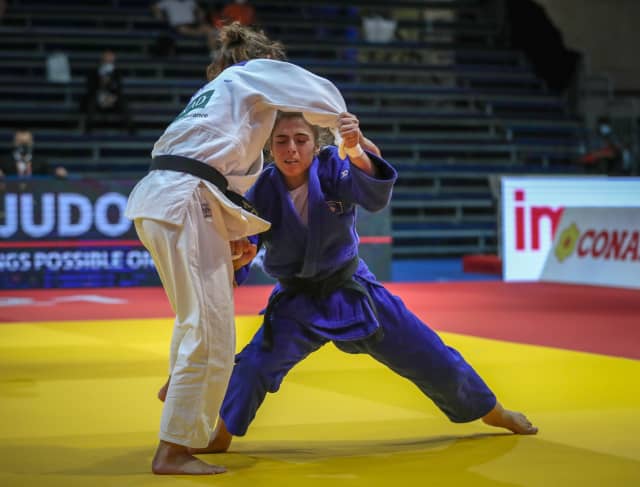 Ezra is the generation of the future that is becoming the present. "I already have four medals in the junior category. They are important, they mean that I am doing well." In Kosovo, a medal means a pat on the back, unconditional support and a return to work. It's like the team is nonconformist, always hungry for something more. In reality, it is the rejection of relaxation. There they have understood that a degree is just one more stage and that work is constant until retirement. 
In Olbia Ezra did what she had to do: win matches. She lost in her semi-final against the Italian Carna, but since she comes from where she comes from, she did not drop her resolve. "The sadness lasted five minutes, just the time necessary to analyse the fight, digest the defeat and prepare to fight for the bronze because a world medal is very important, even if it is not the colour I expected." 
Ezra complied and defeated the Spanish Toro Soler to return home with a medal; duty accomplished and the peace of mind of knowing that nothing will change her routine, work, discipline and the honour of being part of a splendid team. 
"We are very close. We know what we want and also how to obtain it," she ends. It is the message that everyone transmits in all tournaments, like a mantra, a sports prayer that begins in a Kosovan dojo and usually ends on a podium. Kelmendi is no longer a dominator and her future is a mystery, although her legacy is already immortal. Ezra is the fresh blood that runs through the veins of a country that would be otherwise without judo, the expression of an ambition that tastes like sweat and swallows medals.