True. At every bout everyone's eyes are focused on the judokas in blue and white judogi battling it out on the tatami. However, one person is undoubtedly even more focused watching these fighters their every move very closely. The referee stands tall seeing to it that the game is played by its rules. Without referees no competition. IJF Media sat down with Balazs Gosztonyi, IJF referee from Hungary.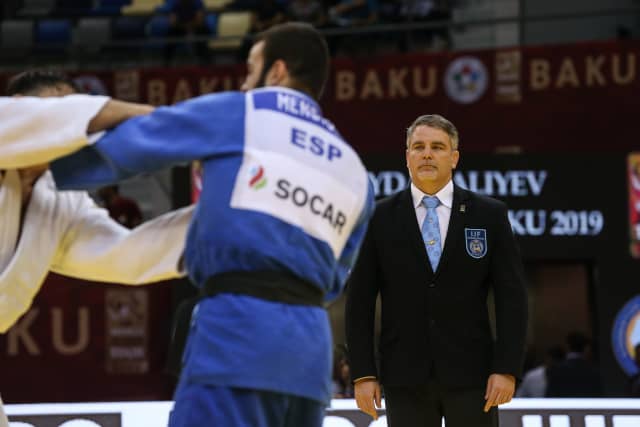 "I started refereeing when I was 18 years old," Balazs recalls. "We had some great examples back home and when our club coach asked us to follow the referee course to help out the club we did. It was a good decision. We were also welcomed by the older generation of referees. We became a great group of friends once we started refereeing and going to all these tournaments."
Progressing through the ranks from being a local club referee to becoming a top IJF referee is a long road. "First of all, you must like what you do. Being a referee is not a popular job. I always mention we are the 'dark force' on the tatami, being dressed in black suits," Balazs jokes. "It takes time to become a good referee. It's a long learning curve from refereeing at your club tournament gradually progressing to a regional, national and finally the international level. It's also time consuming but I'm lucky, because the closest persons from my entourage are all in the same boat. My sister-in-law and her husband are both international referees and more important, my wife is also an international referee. Actually, we met at judo tournaments, so there is also a love story intertwingled," the referee laughs.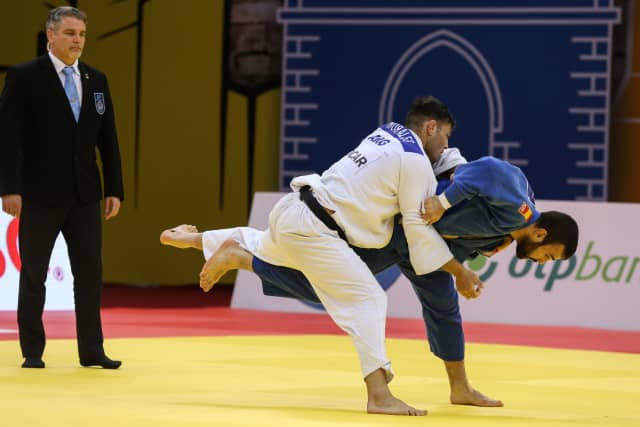 Imagine refereeing an IJF Worlds final. The two judokas ready to clash, a boisterous crowd cheering madly … and then you, the referee right in the middle. There must be a high stress level? "When it comes down to do your job, it doesn't really matter," says Balazs. "Be it a small tournament or when the stakes are very high. You have two judokas in front of you. You fade out the surroundings and the concentration level peaks on those two athletes. The level might be different, but judo is judo. The competitors will be passionate and fight to win. Of course, there is some pressure. But this also helps us to immediately switch off everything and fully focus on the fight we are about to officiate."
Recently, technology has taken a step forward and the implementation within the judo sport also has helped the referees. "The arrival of technology around the tatami has improved the refereeing," confirms Balazs. "I could make the comparison with the video refereeing implemented in football. In the fifties a different kind of football was played compared with today's game. The action on the pitch has become very fast. The same goes for judo. When judo was introduced in the Olympics in 1964, it was almost a different sport. Modern day judo is fast paced. Athletes have become very quick in their techniques. Sometimes hard to follow. Extra help is welcome. Hence, the video recaps are a great tool today."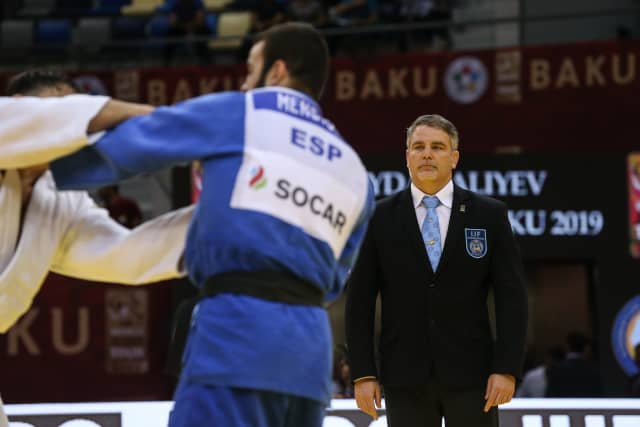 Having reached the rank of IJF referee for Balazs Gosztonyi is more than a proud achievement. For him it is also important being a role model for younger referees in his native country as he also could rely on those role models when he was a debuting referee. "I think it's very important for the development of future generations of referees. Not only to be present at IJF events, but also on the national or regional or even smaller tournaments. It's an important message to each referee's judo community."
Like judokas trying to qualify for Worlds and Olympics, there is also a qualification process for the referees. "For us referees, it's also important. I think every referee has two goals: seeing to it that every match is fought according to the rules of judo but also having the ambition to referee judo at the highest level, be it IJF Worlds or Olympics," ends Balazs.