On 28th October the tenth edition of World Judo Day took place, with the theme #StrongerTogether. It's been a few weeks since the event ended and today we are happy to offer you a video compilation of the best images we have received.
In recent weeks, we have collected hundreds of testimonials, images and videos that demonstrate the vitality of our sports community. While many of us are forced into confinement now and training is enveloped in different challenges, the IJF was able to organise its annual Grand Slam in Hungary, despite the situation and we continue to stand united in the adversity of the global Covid-19 pandemic. We have, together, continued to promote the values which make judo a special activity, whether it be from the arena in Hungary or from our quiet homes and restricted towns. 
The desire to be united, even from a distance and the ability to demonstrate it are heartwarming. The judo family has shown its unity as well as its commitment to do everything it can to get us out of this health crisis, maybe emerging even stronger than we were before.
From the simplest World Judo Day gestures and celebrations, to solidarity initiatives in the service of the community, the inventiveness and creativity of judoka from all over the world has underlined a simple but so important idea: on our own we can go faster, but together we can go further. The choice that has been made and that we will continue to make is clearly pointed towards unity being our strength.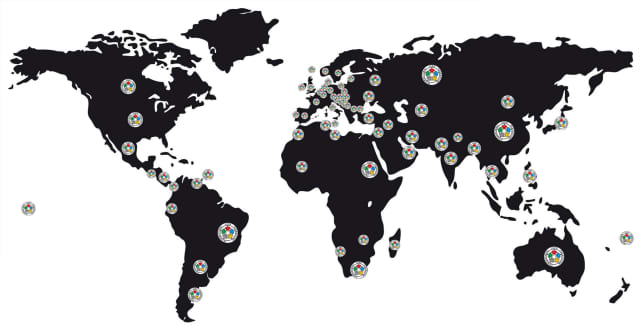 While we are still receiving contributions, to date we have received feedback from over 70 countries on the five continents. The list of contributors: ARGENTINA - AUSTRALIA - AUSTRIA - BANGLADESH - BELARUS - BELGIUM - BOSNIA AND HERZEGOVINA - BRAZIL - BURKINA FASO - CANADA - CHINA - COLOMBIA - CROATIA - CZECH REPUBLIC - DENMARK - EL SALVADOR - ESTONIA - FAROE ISLAND - FIJI - FRANCE - GERMANY - GREAT BRITAIN - HUNGARY - INDIA - IRAN - IRELAND - ISRAEL - ITALY - JAPAN - KIRIBATI - KOSOVO - LIBYA - LUXEMBOURG - MADAGASCAR - MALTA - MEXICO - MONGOLIA - MONTENEGRO - MOROCCO - NAMIBIA - NEPAL - NETHERLANDS - NORTH MACEDONIA - NORWAY - PANAMA - PARAGUAY - PARKISTAN - PERU - PHILIPPINES - POLAND - PORTUGAL - ROMANIA - RUSSIA - SLOVAKIA - SLOVENIA - SOUTH AFRICA - SPAIN - SUDAN - SWEDEN - SYRIA - THAILAND - TRINIDAD AND TOBAGO - TUNISIA - TURKEY - UAE - UKRAINE - USA - UZBEKISTAN - VENEZUELA - ZAMBIA
If by definition, World Judo Day is concentrated on a single day, 28th October of each year, the birthday of the founder of our sport, Kano Jigoro Shihan, the values it promotes thrive throughout the year. In 2019 we planted over 6,000 trees and in 2020 we were able to show how united we are. Thank you all for your commitment and thank you all for bringing judo to life in the four corners of the planet. Whether you are a judoka on the edge of a remote place on Earth, or a world or Olympic champion, World Judo Day is your day, it is our day.
In the coming weeks, we will be posting the contributions on the site http://worldjudoday.com and in a few months we will reveal what the next theme, for World Judo Day 2021. Until then, let's be #StrongerTogether