Heavy is the crown. It is not easy to assume the status of the favourite, nor is it easy to undergo an exercise in introspection when defeat is still fresh. 24 hours earlier, Szofi Ozbas was the queen. Not anymore and you have to be brave to talk about a failure that no-one expected; brave and honest.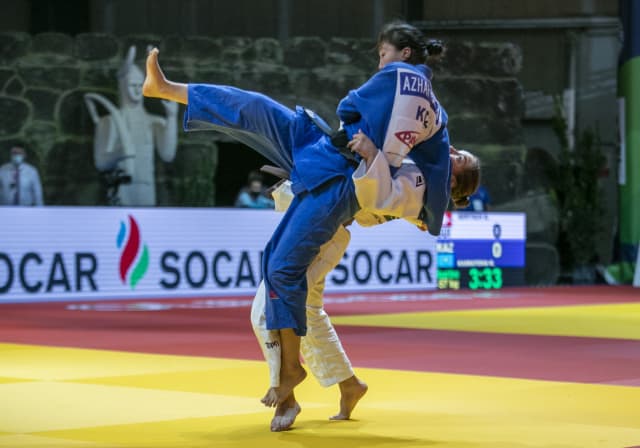 Szofi is not one of those who talks to say nothing. She takes time to think and collect her ideas. Only then does she say what she has in mind and speaking of mind, it is the key to her life, the key to everything. First though, a bit of history. 
Hers is a meteoric race. The Hungarian wins continental, world and even Youth Olympic titles in every category she passes through. At 19 she already participates in the World Judo Tour actively and was also present at the Tokyo Olympics. In other words, she is a young veteran. This is where the interview really begins. 
"I needed a break after Tokyo," she explains. "Many people did not understand it but I was firm in my decision. Advice is necessary but as much as your team does everything for your good, no-one can really know how one is feeling. I knew I had to pull over." In top level sport, as in everything, a balance is needed. 
Szofi's life has taken a Copernican turn over the past year. Hailing from Szolnok, a small town of 70,000 inhabitants, Szofi moved to Budapest. In other words, she had to manage a new city, a new club, a new environment and independence. "Now I live alone in an apartment. At first it was complicated but now I am used to it and I like it." 
With adaptation to the new and the unknown and to then pursue a career with new horizons and the doors of the World Judo Tour open, it was heavy but it was not for that reason that Szofi resigned to the junior category.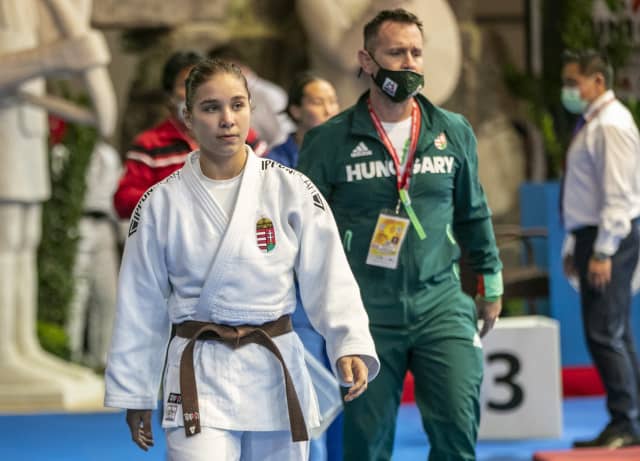 "The decision to come to Olbia was mine. It's my last year as a junior and that's why I wanted to participate and defend the title I won two years ago." 
She already knows the professional world and she even won a bronze medal at the Grand Slam in Budapest last year. That is to evidence that she is already aware of the world between the two categories. "The omnipresence of tactics in Olympic bouts caught my attention. 90% of the matches were decided in the golden score. The juniors are more attacking, having a judo that goes forward because they are looking for the ippon. I like that because that is the judo that I feel and practise." 
The Junior World Championships is an ippon smorgasbord. People attack without rest, looking for contact and the most aggressive tend to win. Szofi arrived as second seed and with the title in her pocket, having more experience and the advantage of knowing the professional circuit. Her first fight confirmed the predictions: ippon after 22 seconds. Everything was going smoothly. The next one didn't last long either. Then she ran into the Dutch and ultimately the gold medallist, Joanne Van Lieshout. 
"I haven't slept well," says Szofi. That is not a surprise. Losing is not a dish of taste, especially when the pools pointed in the opposite direction. "Normally I need at least three days to analyse the fighting. Right now I don't know what I did wrong, but I can tell you that I don't think she was better than me." Well, the Dutch woman was better the day before and that's what matters; this is the truth of the tatami. It is also positive to analyse things and accept mistakes, to correct them. It is an aspect that has nothing to do with the physical; it is the field of the mental, the field of psychology and Szofi likes that. 
"I am very emotional. Looking back makes me anxious. It's funny because strength of mind is what makes the difference between success and failure. In my case, I know that the mental aspect is at the same time my strength and my weakness. It sounds counterintuitive but I know myself. It takes me a long time to make decisions and once I decide to do something, I still hesitate." 
Recognising defects is a sign of maturity and understanding, certainly a crucial step in establishing a balance that allows people to reach higher goals. "Doubt affects my relationship with success. That is why I am interested in psychology as a science and a field of exploration. In fact, I'm going to start my career at university and when I leave judo, I think I could dedicate myself to it professionally and so, why not in the field of sports?"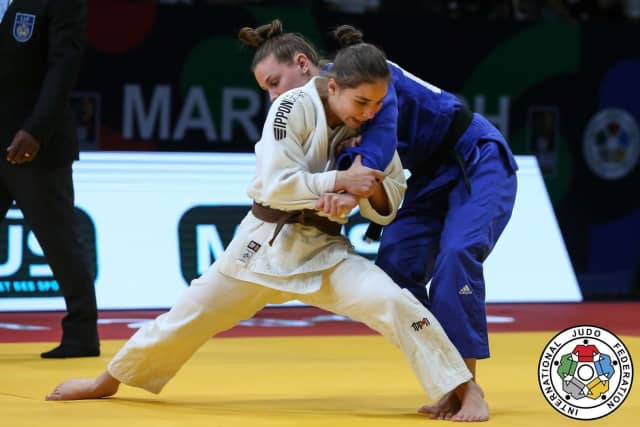 One of the things that she has already learned is, in addition to listening to her own sensations, opening her mind to other points of view and finding people she can trust. "It is essential that judoka, especially the youngest, are well surrounded and have at least one person to trust blindly. The final decision is mine but you have to know how to listen because it is very difficult to have a general vision and a neutral perspective when it comes to yourself." 
Szofi likes to go step by step, without rushing, without haste but also without pause. Now it is time to think about a professional future in the world of judo, the senior category where she is already part of the landscape. Since she doubts, since she needs confidence and certainty, perhaps the best thing is to focus on a leader and Szofi has a role model. 
"Clarisse Agbegnenou, without a doubt! Ok, she has an impressive service record, but for me that is not being a leader. I believe that Clarisse is what I call a natural leader because she is always aware of others. We met in Tokyo and she had very kind words for me and later she also texted me. That is natural leadership because it is human and it is not necessary to highlight sporting achievements." 
Clarisse studies everything that has to do with life coaching. She wants to dedicate herself to that when her career ends. Szofi likes psychology and these activities are related because they have to do with the mental aspect, the fundamentals in life, that make the difference in sport. Having a precise idea of what to do in the future, at age 19, is already a victory. To apply it takes time. "There is no rush," Szofi responds, "I have to go step by step to achieve great goals." 
Olbia has been a sporting defeat that is already a lesson for the future. What is lost on one side is gained on the other. If that is what Szofi Ozbas takes away from Italy, then we can say that she has taken another step towards the destiny that she herself is building and that is pretty cool.