The Netherlands, the first country other than Japan to claim a world judo title, adds a new chapter to its place in the sport's history with the second edition of the The Hague Grand Prix this weekend at the Sportcampus Zuiderpark from Friday 16 to Sunday 18 November.
The host nation of the 10th and final Grand Prix of the year are credited with helping to popularise the sport around the world after the exploits of legendary judoka such as IJF Hall of Famer and 10th Dan Anton GEESINK.
Heavyweight great GEESINK, who passed away in 2010, was the first non-Japanese judoka to win the World Judo Championships when he took gold in 1961 in Paris.
The 6ft 6in Utrecht native forever put his and his country's names into the roots of judo's rich history by winning gold at the 1964 Tokyo Olympics when judo officially joined the Olympic movement.
As one of judo's leading nations, the Netherlands has produced a whole roster of champions in addition to GEESINK such as double Olympic champion in 1972, Wim RUSKA, Sydney 2000 Olympic champion Mark HUIZINGA and Angelique SERIESE who took gold when women's judo was a demonstration sport at the Olympics in 1988.   
The European powerhouse returned as a host city on the IJF World Judo Tour in 2017 with the inaugural edition the The Hague Grand Prix and this year the second edition falls within the Tokyo 2020 Olympic qualification period and has attracted a bumper entry featuring reigning world champions.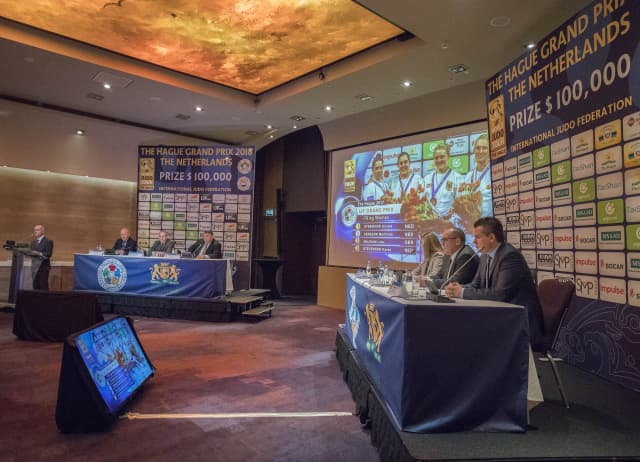 After Grand Prix events in Tunis (Tunisia), Agadir (Morocco), Tbilisi (Georgia), Antalya (Turkey), Hohhot (China), Zagreb (Croatia), Budapest (Hungary), Cancun (Mexico) and Tashkent (Uzbekistan), the final 14 Grand Prix winners of the year will be crowned in The Hague.
IJF Sport Director Daniel FLORIN LASCAU (below - right) revealed during Thursday's draw at the Hilton that 412 judoka from 62 nations will contest the Grand Prix swansong for 2018 including world champions Nikoloz SHERAZADISHVILI (ESP) and Saeid MOLLAEI (IRI).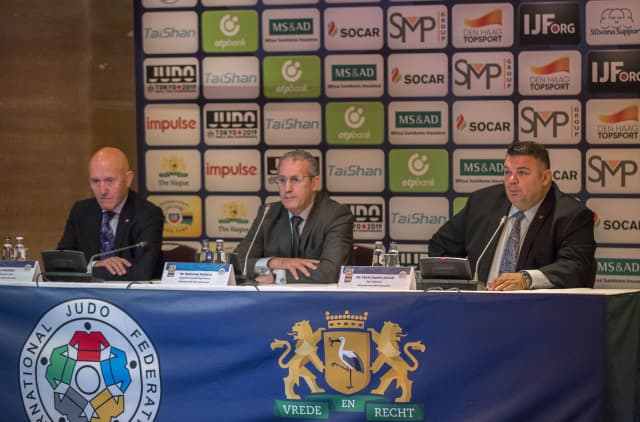 Mr. Mohamed MERIDJA (above - centre), IJF Education and Coaching Director, made the opening address on behalf of IJF President Mr. Marius L. VIZER. "Dear ladies and gentlemen, on behalf of the IJF President Mr. Marius L. VIZER, I welcome everyone to The Hague and thank the organisers for their excellent work to stage this competition. I wish you all the best of luck and hope you have a successful competition."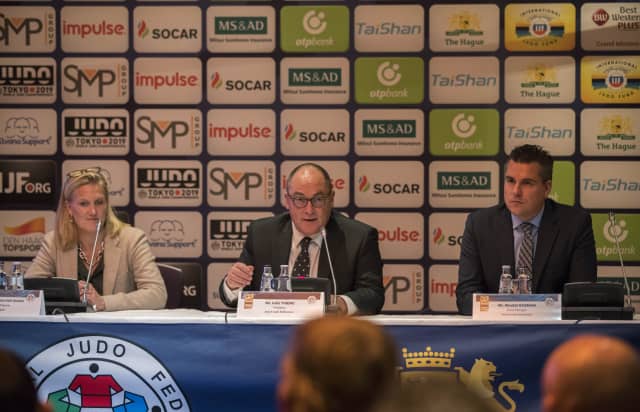 Mrs. Hanneke VAN DER MAREL (above - left), Director of Sport for The Hague, said: "I'd like to thank the IJF President Mr. Marius L. VIZER for supporting Dutch Judo and I welcome you all to the sports city that is The Hague. We're happy to see you all here and I wish you all a good competition and good results."
Mr. Felix THIEME (above - right), Dutch Judo Federation President, said: "Good afternoon everyone, I'd like to welcome you all to the Netherlands for the second edition of our Grand Prix in The Hague. I'd like to say a special thank you to the IJF President Mr. VIZER for his support. We're working very hard to organise the best competition possible and I hope you will all be very satisfied with the event."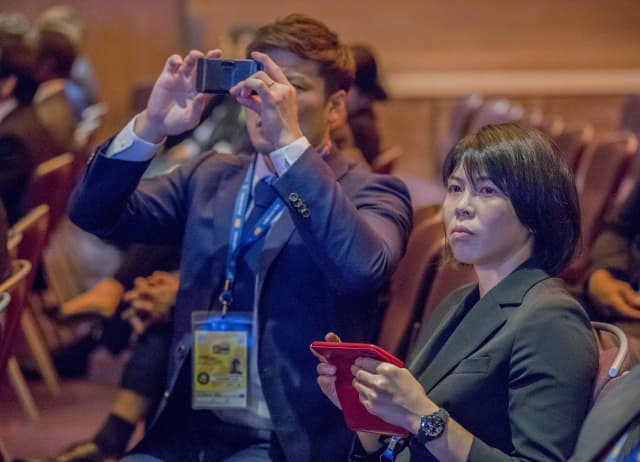 WOMEN
-48kg
Tashkent Grand Prix winner and Abu Dhabi Grand Slam silver medallist Distria KRASNIQI (KOS) is a five-time Grand Prix winner and has sparkled for Kosovo recently. KRASNIQI is up to 18th place in the world after medalling at her last two competitions and starts as the favourite in The Hague. Abu Dhabi Grand Slam bronze medallist LI Yanan (CHN) will be aiming to remain among the medals after securing her second IJF podium and first in two years in the U.A.E last month. Cancun Grand Prix bronze medallist Julia FIGUEROA (ESP) and London 2012 Olympic champion Sarah MENEZES (BRA) are all world-class performers while the hosts will look to former Junior World Championships gold medallist Amber GERSJES (NED) for inspiration on day one.
-52kg
Seven-time Grand Prix winner Charline VAN SNICK (BEL) is the top seed in the -52kg category on day one. The world number eight is closing in on qualification for her third Olympics having featured in London and Rio at -48kg. Abu Dhabi Grand Slam winner Odette GIUFFRIDA (ITA) won her first IJF title since 2016 when she outlasted the injured Majlinda KELMENDI (KOS) in the U.A.E. GIUFFRIDA will be joined in the Netherlands by Abu Dhabi Grand Slam bronze medallist Gili COHEN (ISR) and Budapest Grand Prix bronze medallist Ecaterina GUICA (CAN).
-57kg
Abu Dhabi Grand Slam bronze medallist Priscilla GNETO (FRA) is starting to build momentum on the IJF World Judo Tour in the -57kg category at exactly the right time. The London 2012 Olympic bronze medallist moved up from -52kg after Rio 2016, her second Olympics, and is now ranked number 22 in the world. Cancun Grand Prix bronze medallist Miryam ROPER (PAN) has shone for Panama since switching from Germany last year and will be tipped to medal in the Netherlands.
-63kg
Abu Dhabi Grand Slam gold medallist Juul FRANSSEN (NED) is the defending -63kg champion from the inaugural edition of The Hague Grand Prix a year ago. The world number five won a career-best World Championships bronze medal in September and is a leading gold medal hope for the hosts. British veteran Alice SCHLESINGER (GBR) is surprisingly without a medal this year. SCHLESINGER last graced an IJF podium at this event a year ago where she finished second to home favourite FRANSSEN but is now under pressure from teammate Amy LIVESEY (GBR) who won bronze at the Cancun Grand Prix in October. Both British judoka will compete in The Hague with potential Olympic ramifications. Junior world champion Sanne VERMEER (NED) won bronze a year ago and will want to show her progress over the last 12 months by improving on that result at home on day two.
-70kg
World Judo Masters gold medallist Maria PORTELA (BRA) returns to the tatami for the first time following a round three exit at the World Championships. The world number three, who is a two-time Grand Prix winner, placed at eight consecutive competitions before losing out to Maria PEREZ (PUR) in Baku. Hohhot Grand Prix winner Sanne VAN DIJKE (NED) took silver in The Hague a year ago while Olympic bronze medallist Sally CONWAY (GBR), World Judo Masters bronze medallist Anna BERNHOLM (SWE) and two-time world medallist Maria BERNABEU (ESP) all know what it takes to win IJF gold.
-78kg
Abu Dhabi Grand Slam silver medallist Natalie POWELL (GBR) starts as the number one seed in The Hague. The 17-time Grand Prix medallist competes in the Netherlands for the first time in her top-flight career and theWelsh judoka will be confident of medal number 18 on the last day of the competition. World bronze medallist Marhinde VERKERK (NED) is the number two seed and will be classed as the favourite by many with the advantage of home turf which undoubtedly helped her on her way to World Championships gold in Rotterdam in 2009. Abu Dhabi Grand Slam bronze medallist MA Zhenzhao (CHN) and Tashkent Grand Prix winner Loriana KUKA (KOS) will among be among the leading pack of contenders in the -78kg category.
+78kg
World number two Larisa CERIC (BIH) won bronze at the World Championships in her last competition and will be the fighter to beat in the +78kg category on Sunday. Two-time Grand Prix winner CERIC can expect stiff opposition from heavyweight standouts such as Tashkent Grand Prix bronze medallists Maryna SLUTSKAYA (BLR) and Yelyzaveta KALANINA (UKR) as well as Rio 2016 Olympic bronze medallist Anamari VELENSEK (SLO) and Abu Dhabi Grand Slam silver medallist Anne Fatoumata M BAIRO (FRA).
Men
-60kg
European champion Islam YASHUEV (RUS) has won Grand Prix and Grand Slam honours on the IJF World Judo Tour but is still waiting to climb onto the top rung on an IJF podium. YASHUEV has only had one outing since his continental triumph as he finished a lowly fifth-place at the Cancun Grand Prix in October. The Russian will be pushed all the way in The Hague with Abu Dhabi Grand Slam silver medallist Francisco GARRIGOS (ESP) and Tokyo Grand Slam silver medallist DASHDAVAA Amartuvshin (MGL) joining British Judo Male Player of The Year Ashley MCKENZIE (GBR) and former world champion GANBAT Boldbaatar (MGL) in a deep -60kg division on day one.
-66kg
Abu Dhabi Grand Slam gold medallist Vazha MARGVELASHVILI (GEO) is a three-time Grand Prix winner and could enhance that figure on Friday. The world number two has won gold in Tbilisi (Grand Prix) and the U.A.E this season and will be a force to be reckoned with on the opening day. Zagreb Grand Prix winner Tal FLICKER (ISR) finished fifth last time out at the World Championships and the six-time Grand Prix medallist will be determined to get back amongst the medals in the final Grand Prix of the season. Abu Dhabi Grand Slam bronze medallist Baruch SHMAILOV (ISR) offers a second world-class option for Israel at -66kg and both judoka will be almost certainly be involved in the key contests which could also feature Cancun Grand Prix bronze medallist Charles CHIBANA (BRA).
-73kg
Abu Dhabi Grand Slam gold medallist Lasha SHAVDATUASHVILI (GEO) stole the show in the U.A.E with a blistering performance and could edge closer to the summit of the category with gold in the Netherlands. The London 2012 Olympic champion and Rio 2016 Olympic bronze medallist is ranked third in the world and is on course for a tilt at an Olympic treble in Tokyo 2020. Three-time Grand Prix winner SHAVDATUASHVILI could again be matched against Abu Dhabi Grand Slam silver medallist Akil GJAKOVA (KOS) who is doing his very best to keep pace with Kosovo's all-conquering women's team. Budapest Grand Prix winner UNGVARI Miklos (HUN) could return to his majestic best after a seventh-place finish in Mexico.
-81kg
World champion Saeid MOLLAEI (IRI) finished fifth last month at the Abu Dhabi Grand Slam after picking up a metatarsal injury during the preliminaries. The Iranian star is back to full health now and will be keen to show his quality to reaffirm his world title triumph and to win his first medal since claiming the -81kg crown in Baku. MOLLAEI, who won bronze in The Hague a year ago, has the incentive of a first Grand Prix title which will also be the motivation for home favourite and poster boy Frank DE WIT (NED) who finished fifth here 12 months ago. The mouthwatering -81kg talent pool also features world bronze medallist Alexander WIECZERZAK (GER), Zagreb Grand Prix gold medallist Dominic RESSEL (GER), Abu Dhabi Grand Slam winner Sagi MUKI (ISR) and Cancun Grand Prix gold medallist Sami CHOUCHI (BEL).
-90kg
World champion Nikoloz SHERAZADISHVILI (ESP) will wear his new red backpatch for the first time in The Hague. One-time Grand Prix winner SHERAZADISHVILI will be under the spotlight after becoming the first Spanish man to win a senior world crown in Baku. Ekaterinburg Grand Slam winner Aleksandar KUKOLJ (SRB), who has prepared for the event with a camp in Rio de Janeiro training alongside Brazil's Flavio CANTO and David MOURA, is the world number two behind SHERAZADISHVILI. Zagreb Grand Prix winner Avtandili TCHRIKISHVILI (GEO) - who previously ruled the world at -81kg – is a potential show stealer in the -90kg category on Sunday.
-100kg
Olympic and world silver medallist Varlam LIPARTELIANI (GEO) competes for the first time since losing a World Championships final for the third time in September. Five-time Grand Prix winner LIPARTELIANI is the world number one in the category and will lead Georgia's five-strong team in The Hague. Paris Grand Slam winner Michael KORREL (NED), who took bronze last year, will demand more of himself this time around and will lead the medal charge for his country on the last day. Abu Dhabi Grand Slam winner Peter PALTCHIK (ISR) and Olympic bronze medallist Cyrille MARET (FRA) will have medal aspirations along with Düsseldorf Grand Slam silver medallist Benjamin FLETCHER (IRL) who returns to action after recovering from an elbow injury.
+100kg
The Hague Grand Prix culminated last year with heavyweight hero Roy MEYER (NED) capturing gold. The world number 10 is back to defend his title and will energise his home crowd and the division on Sunday. Abu Dhabi Grand Slam bronze medallist Henk GROL (NED) is a five-time Grand Prix winner but is yet to win gold since moving up to the heavyweight ranks at the start of the season. Former World Championships bronze medallist Yakiv KHAMMO (UKR) and famed Russian heavyweight Alexander MIKHAYLIN (RUS) will all be in the mix in an appealing looking line-up.
COMPETITION PROGRAMME
Friday 16 November  Preliminary rounds - 10:00 Final Block - 17:00
Saturday 17 November   Preliminary rounds - 10:00 Final Block - 17:00
Sunday 18 November  Preliminary rounds - 11:00 Final Block - 17:00
Venue: Sportcampus Zuiderpark