The Abu Dhabi Grand Slam has come to an end, leaving just one more Grand Slam and the ever-impressive IJF World Masters before we head into Olympic Year.
Today I spoke with the great, Dutch, heavyweight champion, Dennis Van Der Geest; a world champion, Olympic medalist and ten times a European medallist. He gave his thoughts on the day and the whole tournament.
"The final of -78kg women was really interesting as it highlighted an issue that has been becoming more prevalent recently; Malzahn (GER) was penalised for the standing armlock. Many judoka make attacks now across the one arm and it creates so much danger. Against Apotekar (SLO) it was enough for the penalty, leaving Malzahn with the silver medal, but if it happens before the medal stages you can be completely out, so I would recommend that judoka take this style of technique out of their repertoire. It's just too big a risk. It's also so easy for an opponent to make this look really bad."
"On a more positive note, it was good to see South Korea doing well across the whole tournament, after such a bad showing at the world championships. Cho (-100kg) placed 5th in Tokyo and then to see him so happy with the gold in Abu Dhabi, was wonderful. I think they changed something immediately after the worlds as it was clear they weren't on form. Here in Abu Dhabi the complete team performed really well.
You know, at this level almost every judoka can win a medal on the right day. I believe it was fantastic to watch some of the lessor known athletes come through. The judoka from Pakistan, Shah, come so close to a medal here, placing 5th, and I believe he can take a medal on the IJF Tour soon. No athlete from Pakistan has medalled at a Grand Prix or Grand Slam so it's satisfying to see them getting closer. I always like it when countries not so known for judo come up to the top level and he really stole the show for me."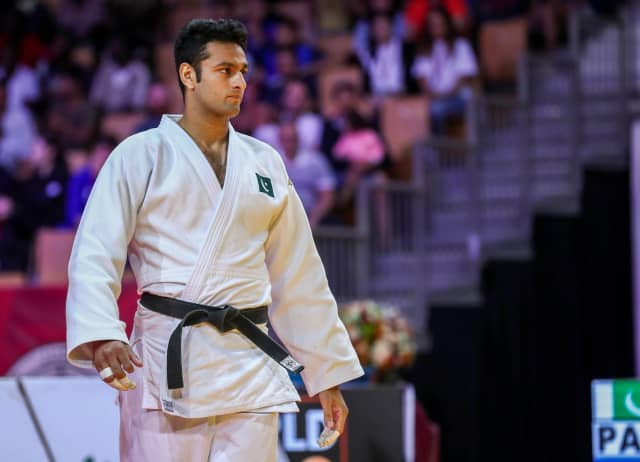 Dennis and I spoke about the standouts for today:
Ippon of the day: Han (KOR) with a beautiful uchi-mata in the +78kg final
Female judoka of the day: Malonga (FRA) because it's so hard to be a World Champion and lose. To still have energy and spirit for winning the bronze shows real positivity and strength of character.
Male judoka of the day: Roy Meyer (NED)