Interviewing Franco Capelletti is entering a world of oceanic proportions. It is not an easy task because there is so much to cover. When we still did not know where to start, he himself provided the solution. We asked the questions, Franco answered and Bertoletti Giacomo Spartaco, journalist and member of the kata commission of the International Judo Federation, embellished the article in his own way. The result is so dense that we prefer to publish it by episodes. Here comes the first, to meet a legend of judo, universal encyclopedia and teacher among teachers.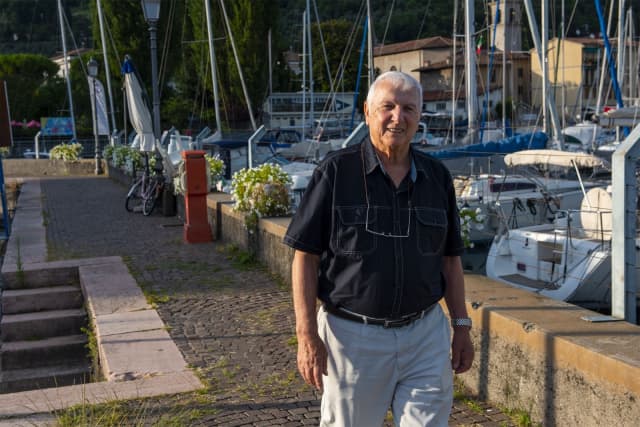 How did you get in to judo?
Memories take us back to the 1940s in Cremona, a town in Lombardy, Italy, with an agricultural tradition, well known as the birthplace of the great violinist Antonio Stradivari (1644-1737), but equally well-known for the Torrazzo, the second tallest historical tower in Italy.
Franco CapelIetti, now Director of the IJF Kata Commission and Italy's first 10th Dan, did not start with judo, "I was fifteen when I started playing football in the Juventina and it was in the Juventina of those years that Aristide Guarneri was with me. He played and later became the 'gentleman stopper' of Helenio Herrera's great Inter team." 
Guarneri remembers his friend Franco Capelletti fondly, "He was a spectacular goalkeeper, very flexible. Let's just say he was very good in goal. He was ahead of me."
Franco recalls more, "An important episode in my life took place during a football match in Cremona. One day, during a football match, a policeman who was carrying out his security service, walking at the sides of the football field, tried to stop a ball with his hat, which clearly fell apart. I couldn't resist telling him that football was just not for him. His answer? 'It's true, football is not my sport. My sport is Japanese wrestling.' Perhaps because it was an unknown entity to me, this Japanese wrestling sparked my curiosity, so much so that I wanted to exchange a few words with the policeman and I learned that sessions were taking place at the Massarotti barracks, which was located right in front of my house. It was a short step from simple curiosity to going and taking a look at this discipline."
It was 1956 and the policeman's name was Alfredo Guerrazzi, the one who, on a football field, awakened the interest of a 17 year old Franco for this sport. "I have always been very coordinated in my movements and when I did something quite easily I became passionate and enthusiastic quickly and immediately dedicated myself to it with body and soul.
My decision not to go to Lazio coincided with the choice to leave football to devote myself to judo. 
"We were at the beginning and we only knew how to grab the sleeve and the belt. When we went for the first time to see a competition, in Milan, where they grabbed the collars, we didn't even know that this was possible. The changing of the guard came in 1959, in the shape of Quinto Garofalo who was a judo black belt. He created the 'Dojo Saigo' in Cremona. We began to broaden our perspectives on judo even more and above all we were excited by the idea that with judo the smallest  person could surprisingly beat the largest one.
When Maestro Tadashi Koike (1927-1997) arrived in Italy at the 'Jigoro Kano Dojo' in Milan, everyone knew him as he had been sent by the Kodokan. At that time we had no-one as a reference and if we wanted to improve the only way was to go to see Koike. What also pushed me to go was the charm of Japanese culture.
For me, seeing a Japanese judoka or sensei for the first time was something truly special. Until that moment we only had the opportunity to see Master Ken Noritomo Otani (1920 - 2017), but Tadashi Koike had a special aura surrounding him because he was part of the police and represented a completely different judo from that of Otani.
For me, 19 years old in 1958, a yellow belt and for those who were with me, going to Maestro Koike meant entering a new dimension. At that time I was working in Cremona, but travelling 200km a day there and back was not a sacrifice because passion and the desire to know was huge.
Koike had some favourite students and then there were the others. I came from outside and I was always among the last. Giancarlo Peloso and Fulvio Aragozzini helped me to develop a lot and improve the basic principles.
From the moment I met Koike, I completed all my grading with him, up to black belt, even though Quinto Garofalo was still in Cremona.
When Koike left the Jigoro Kano Dojo to open his own company, the 'Kodokan Judo Club,' together with Costanza Belloni, I followed him. When I got my black belt in 1965 I felt like I had 'arrived,' but Koike always said that the first dan is only the starting point and he was right.
What is the background to your current role? What have you been doing since your judo career began? 
"I became a judo teacher in 1968, the year in which I obtained my 2nd dan. I began a teaching period in the provinces of Lombardy (1968-1970) and transferred to Brescia. There I officially joined the 'Forza e Costanza,' a sports club hundreds of years old. There a young judoka began his practice, aged 12 in 1970 and his name was Ezio Gamba." Ezio began to win and in 1974 he was selected for the European Cadet Championships in Tel Aviv and he returned to his homeland with the silver medal. He had a great ability to understand the opportunity of a technique, the perfect intuition to understand what was the right action to take at the right time.  "In 1975 I took the 4th dan exam. It was the time of the Olympic Preparation Centres, one in the north and the other in southern Italy. I started as Technical Director of the Northern Italy region, as a pre-cursor to earning the national role, which was every teacher's dream. The results at the European and World Championships were many. The best was the Olympic gold medal in Moscow in 1980, won by Ezio Gamba, who, in the final, passed Neil Adams (GBR) by 'hantei.' The central referee and the two corner judges all gave the victory to Gamba. It was a difficult period due to the boycott of the Olympics and military athletes could not take part in it. We went alone, Ezio and I.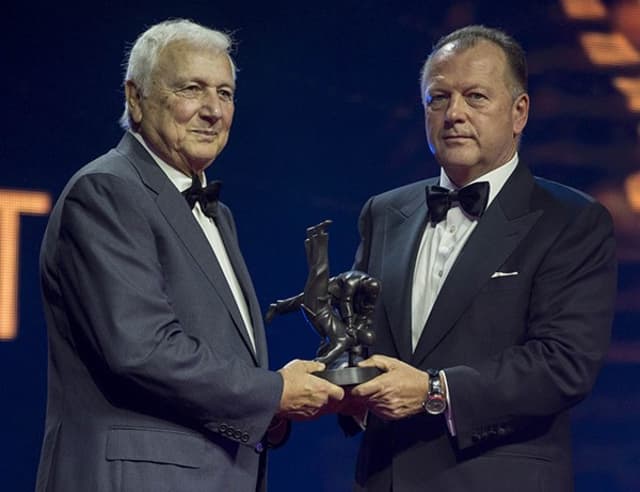 It was further down the line, in 1990, that Franco thought about a new educational programme dedicated to children and committed himself to its realisation. "I have always thought that the Colosseum stands up because it has a good foundation. I have always taught children that way, even when I was a beginner coach addicted to judo. I studied a new didactic way of working with children because I thought it was a shortcoming of the Japanese school."  Coming closer to today, "After the death of  the President of Fijlkam, Dr. Matteo Pellicone (1935-2013) I became Deputy Vice President, planning the assembly for the election of Dr. Domenico Falcone. Then in 2014 I received the 'Order of the Rising Sun' award from the Ambassador of Japan in Rome, Masatoro Kohono; gold rays with rosettes. It was presented in thanks for the great working relationship I had with Haruki Uemura, President of the Kodokan. In the same year the prestigious 10th dan was given to me by the IJF President, Mr Marius L. Vizer and the General Secretary, Mr Jean Luc Rouge." In 2016 the IJF President Mr Marius Vizer appointed Mr Capalletti to develop a competition as an alternative to the shiai we all recognise: the kata competition. Mr Vizer has always considered judo in its 360° form, in its entirety and that includes kata. It was not easy to create rules and principles for the first evaluation criteria of kata competitions. "I used, as an example, some equestrian competitions show jumping, where the one who makes fewer mistakes wins."