The International Judo Federation wishes a Happy International Women's Day to all the women accross the globe. Together we are stronger.
Since its founding, Judo has come a long way to become the modern, dynamic, and balanced Olympic sport that it is today. This progress is reflected in competitions all over the world, where women and men compete together on the same tatami, share equal weight categories with equal Olympic quotas, and receive the same prize money.
We, at the International Judo Federation, are proud to say that this mission towards equality extends far beyond the realm of competition. For instance, at the 2019 IJF Congress in Tokyo, the IJF modified its Statutes to further empower women to pursue their sport career by taking a leadership position in administration and management. The IJF also added to the statutes that both genders must have at least 25% representation on the IJF Presidential cabinet (read here). These goals follow the initiatives of the IOC Agenda 2020 as well as the UN Millennium Development Goals.
Over the years, the IJF has seen a steady organic increase in the participation of women across all areas of judo, with 25 commission members, 12 National Federation presidents, and 7 female referees out of 35 referees on the current IJF World JudoTour.
We will not stop there! Moving forward, the IJF Gender Equity Commission, chaired by IJF Competition Manager and Executive Committee Member Dr. Lisa Allan, is working tirelessly to ensure lasting gender equity, equality and integration of everyone in the judo family, as well as to promote judo as an empowering sport for all.
"On this International Women's day, I wish the girls and women in our judo family all the best and urge them to celebrate, to have confidence, to empower each other, to be courageous and to commit to shaping a more equitable and equal future for our wonderful sport." said Dr. Lisa Allan.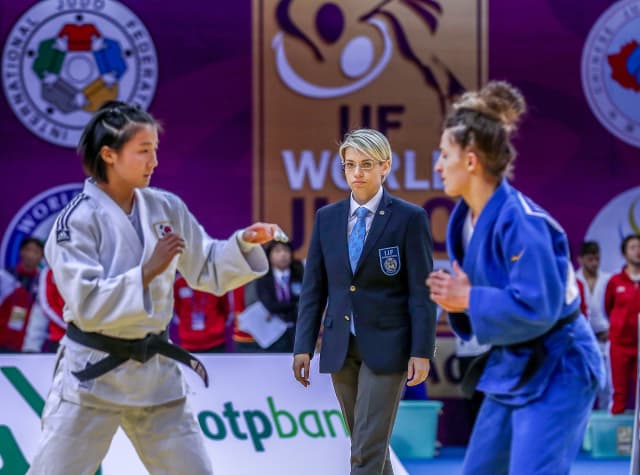 Today, on International Women's Day, the Judo community celebrates all the women who make judo the sport it is today, and those who will carry it into the future. Judoka of all shapes and sizes are challenging gender norms and assumptions about the capability, status and value of women and girls every day. Their strength and passion bring communities together, enhance social cohesion and inspire future generations across all continents.
Individually, we're all responsible for our own thoughts and actions - all day, every day. We can actively choose to challenge stereotypes, fight biases, broaden perceptions, improve situations and celebrate women's achievements. Together, each one of us can help create a gender-equal world. So let's all be #EachforEqual