Hortence Mballa Atangana was born and brought up in Cameroon and became a judoka there. In 2011 she moved to Rouen in France with the help of the Cameroon Olympic Committee and then in 2014 she found her new home and coach in Chateau Gontier in Mayenne, where she now trains full time.
Today, in February 2020, Hortence Mballa Atangana made history, becoming the first judoka from Cameroon to win a medal at a grand slam. It wasn't a fluke or a flurry of luck. It wasn't the draw. It was a great deal of hard work, and powerful judo and the motivation to do something very special. She won her way through a tough day, beating fellow African Cheikh Rouhou (TUN), a possible rival for Olympic selection via continental quota. She also beat, in the bronze medal match, Mbairo of France, a grand slam medal winner many times over.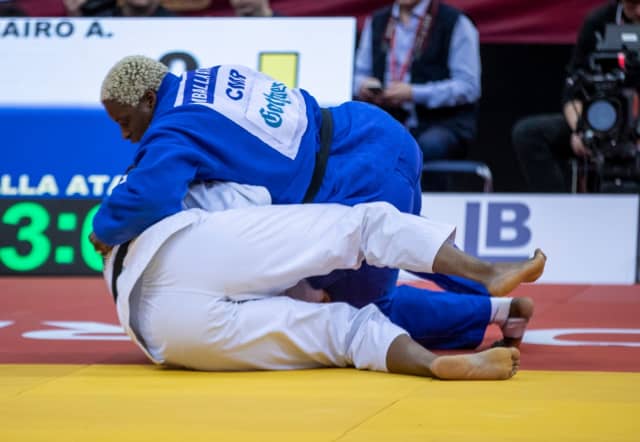 Her coach, Rodrigue Chenet builds her programme as she is no longer a funded athlete. The Cameroon funding ran out and so her French club provides all it can for her to make progress. Mr Chenet, Ms Mballa Atangana and her training partner Mr Sauvé Martin drove from their home to Düsseldorf, in order to save money. Mr Chenet hopes that today's incredible medal, an historic achievement, may provide a springboard to further funding.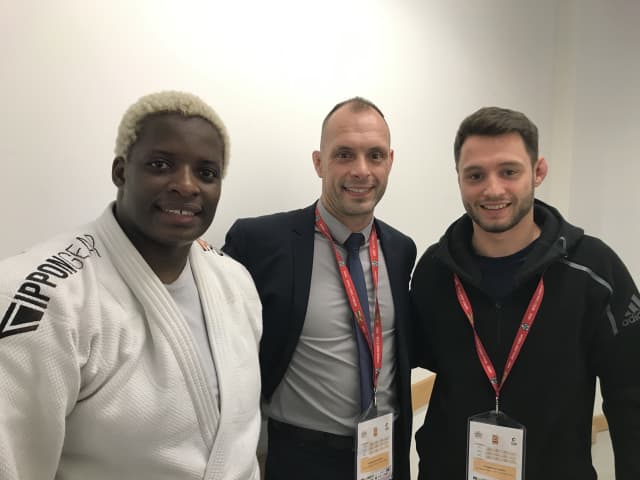 So, an ordinary question with no ordinary answer, how do you feel?
"I feel very good. I worked so very hard. It was a wonderful day with a lot of challenging fights. I'm also so happy to beat the Tunisian athlete, because there is quite a rivalry. On 16th April in Casablanca at the African Championships we will have to fight, for sure. it will be a big day. It's made history today. I can't yet realise what I have done here but I know I will feel emotional about this for some time to come. I'm proud. I'm very proud.
I was in the -78kg category until 2017 and then me and my coach made the decision to change and it has been such a great move for me.
How doesn't this compare to your previous achievements?
It's without a doubt my best medal. Winning the African Championships 3 times has been wonderful but this is a global stage and it means so much. I have 2 Grand Prix medals, but this is another step up and gives me further faith in my coach and my training.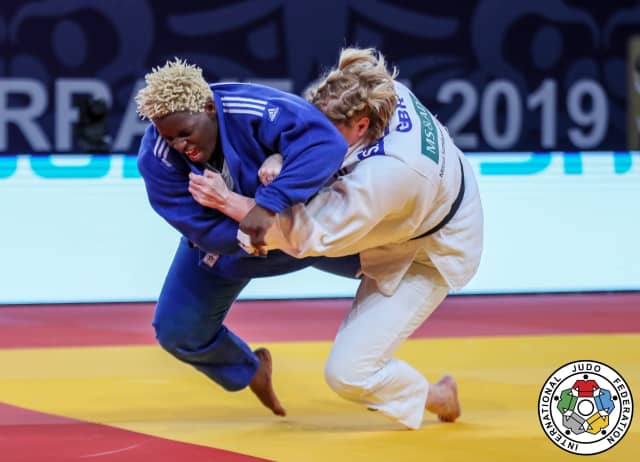 In the last two months Ms Mballa Antangana was fortunate to have -100kg and +100kg men from Argentina training with her at her club. With theses heavyweights she is sure she gained strength and so thanks them for that.
What is next for you?
I have to take some time to attend to some injuries. Then it is likely I will compete at the continental Championships and then Qatar for the Masters. Then it's the big one, the Olympics.