#JudoWorlds2018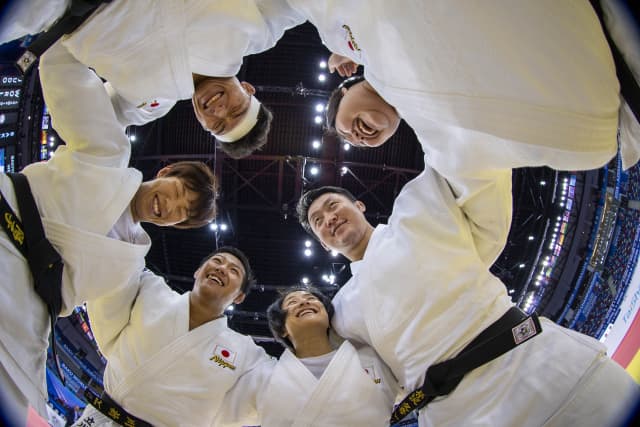 MIXED TEAM COMPETITION: Japan beats France to gold while unified Korean team wins historic bronze alongside Russia Final: Japan v France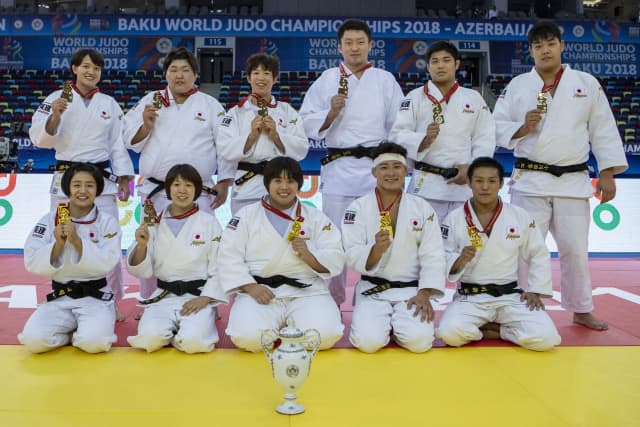 Japan retained their mixed team world title with a 4-1 victory over France in the final on the last day of the 2018 World Judo Championships.
+90kg: World bronze medallist HARASAWA Hisayoshi (JPN) beat Rio 2016 Olympic bronze medallist Cyrille MARET (FRA) after two minutes of golden score by a waza-ari score. HARASAWA threw with uchi-mata after two minutes of added time to give Japan the lead. Japan 1 – 0 France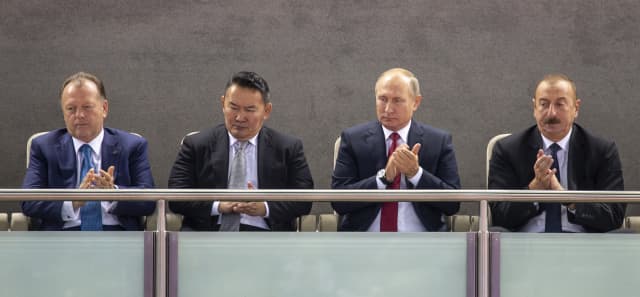 -57kg: Japan's world champion YOSHIDA Tsukasa (below - white judogi) defeated London 2012 Olympic bronze medallist Priscilla GNETO (FRA) to double Japan's lead. YOSHIDA opened the scoring with a waza-ari from a harai-makikomi and held down the French judoka with a ushiro-kesa-gatame for 10 seconds. Japan 2 – 0 France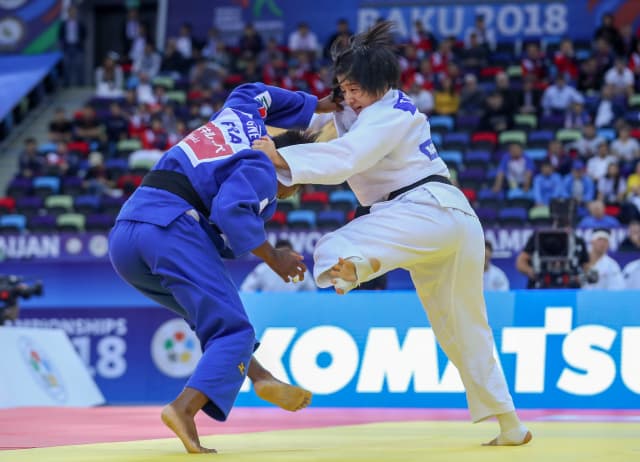 -73kg: TATSUKAWA Arata (JPN) defeated Guillaume CHAINE (FRA) in golden score. The Japanese pressured the Frenchman who was reprimanded with three shidos and was disqualified as Japan closed in on retaining their title. Japan 3 – 0 France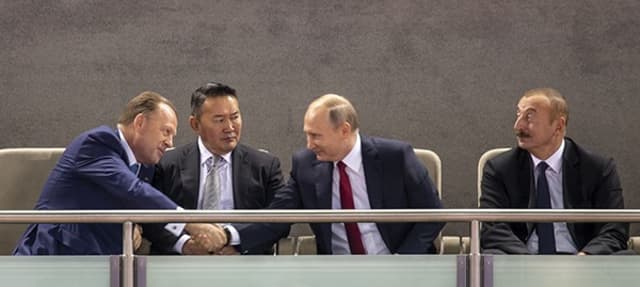 -70kg: World silver medallist Marie Eve GAHIE (FRA) kept France in the final by beating Japan's world bronze medallist ONO Yoko (below - white judogi). GAHIE pulled one back by ippon at the halfway point of the contest as the French judoka countered ONO for ippon. Japan 3 – 1 France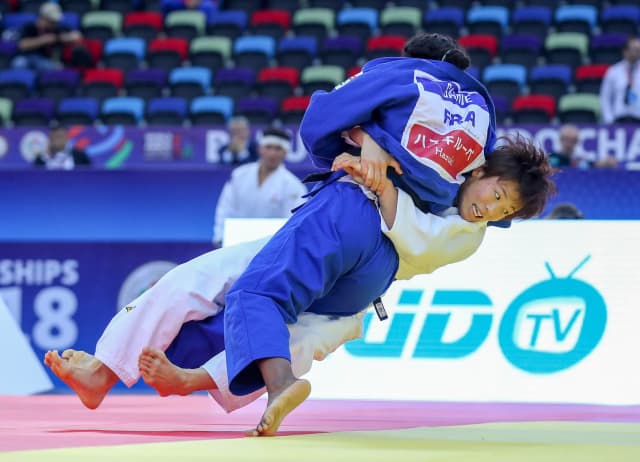 -90kg: MUKAI Shoichiro (JPN) was the hero as he defeated world bronze medallist Axel CLERGET (FRA) with a ko-soto-gake for ippon to end the 2018 World Judo Championships in style. Japan 4 – 1 France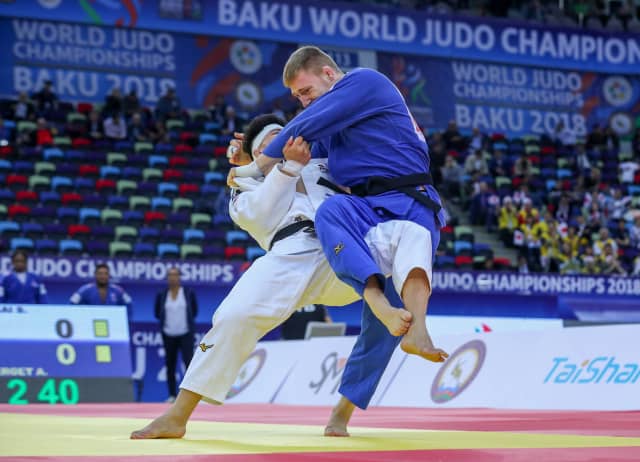 In the first semi-final Japan routed the unified Korean team 4-0 while in the second semi-final France surged past Russia 4-1. In the first bronze medal contest Russia (RUS) outfought Azerbaijan (AZE) to win 4-1.
+90kg: World silver medallist Ushangi KOKAURI (AZE) was held down by Inal TASOEV (RUS). The Russian, who was only in Baku to compete in the team event, threw with an o-uchi-gari and held down the Azeri to give his country the lead. Russia 1 – 0 Azerbaijan.
-57kg: Ichinkhorloo MUNKHTSEDEV (AZE) fell to Anastasiia KONKINA (RUS) who first attacked with an uchi-mata and switched to an o-uchi-gari for ippon to double Russia's advantage. Russia 2 – 0 Azerbaijan
-73kg: World bronze medallist Hidayat HEYDAROV (AZE) cut the deficit in half as he beat Musa MOGUSHKOV (RUS) by ippon in golden score. Russia 2 – 1 Azerbaijan
-70kg: Alena PROKOPENKO (RUS) put her country on the brink of victory by throwing Gunel HASANLI (AZE) after 21 seconds for ippon with a ura-nage. Russia 3 – 1 Azerbaijan
-90kg: Mammadali MEHDIYEV (AZE) lost a must-win clash against Mikhail IGOLNIKOV (RUS) after 32 seconds of golden score. IGOLNIKOV threw for a waza-ari to seal bronze for his team as their lead was now insurmountable. Russia 4 – 1 Azerbaijan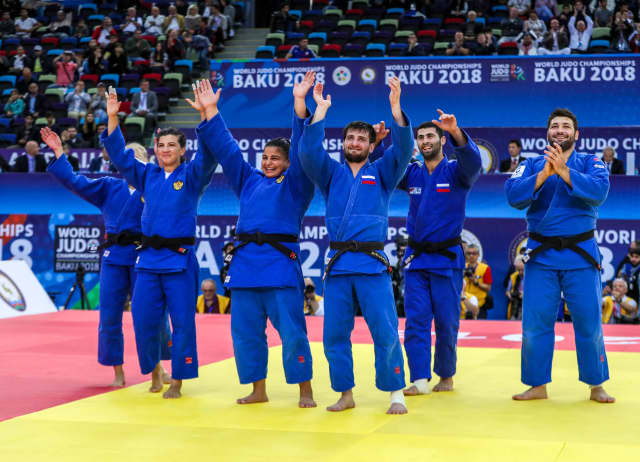 In the second bronze medal contest the unified Korean (COR) team whitewashed Germany (GER) 4-0.        
+90kg: In the opening contest Sven HEINLE (GER) lost out to Cadet World Championships gold medallist KIM Minjong (COR) who picked up where he left off in Wednesday's individual competition. HEINLE was thrown by the 18-year-old with a morote-soei-nage as the unified Korean team went ahead. Korea 1 – 0 Germany
-57kg: KWON Youjeong (COR) extended her team's lead with a win over Amelie STOLL (GER). KWON produced the only score of the contest, which was a waza-ari from a seoi-nage to put Korea half way to the podium. Korea 2 – 0 Germany
-73kg: Newly-crowned individual world champion AN Changrim (COR) defeated Igor WANDTKE (GER) by a waza-ari score. AN scored from a sumi-gaeshi with 40 seconds left on the clock to steer Korea towards victory. Korea 3 – 0 Germany
-70kg: Olympic bronze medallist Laura VARGAS KOCH (GER) was surprised by KWON Sun Yong (COR) who threw the Olympic bronze medallist for a waza-ari score with 35 seconds left on the clock. It was a fitting finale as KWON was a member of the Democratic Peoples Republic of Korea (PRK) team during the individual competition and recorded the decisive ippon for the unified team. Korea 4 – 0 Germany
Final France (FRA) vs Japan (JPN)                          
Bronze Medal Fights Russia (RUS) v Azerbaijan (AZE)    Korea (COR) v Germany (GER)     
Semi-Finals Korea (COR) v Japan (JPN)          France (FRA) V Russia (RUS)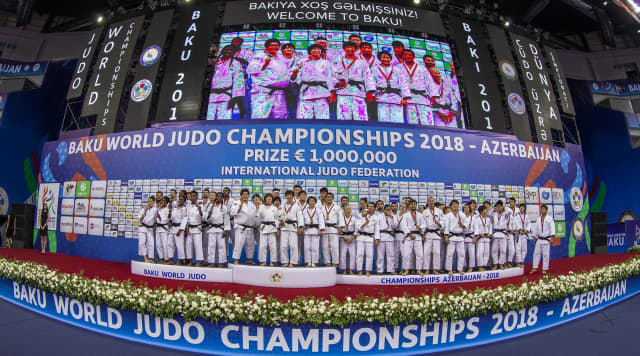 Final Results
1. Japan (JPN)                               2. France (FRA)                                                3. Russia (RUS)                                                       3. Korea (COR)                                            5. Azerbaijan (AZE)              5. Germany (GER)                  7. Netherlands (NED)             7. Brazil (BRA)