As the Covid-19 crisis continues to wreak havoc, examples of resumption of judo activities are multiplying. For a few weeks now, there has not been a day without receiving judoka testimonials from all over the world, explaining how, while respecting all health protection measures, it is possible to practise our favourite sport.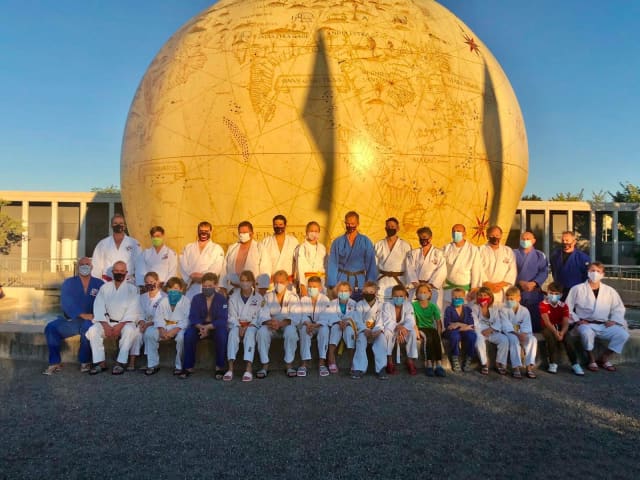 The latest comes from a section of the Polizeisportverein Königsbrunn, Bavaria, southern Germany. The testimony is that of Johannes Daxbacher, member of the Military and Police Commission of the IJF, also strongly involved in the judo for peace 'Judo for Ethiopians' programme, of which we regularly speak in our columns.
Johannes Daxbacher explains, "Despite the lock-down in spring and the safety rules imposed offering limited possibility to play and train judo, our judo students have now restarted, with great pleasure indoors, having only practised outdoor Judo-style activities until now. My wife, Regina and I have received great support from the administration of the City of Königsbrunn and we can now use a new dojo, which is a former thermal baths and it's huge!
After our first judo session, we wanted to take a symbolic picture in front of a cultural and historical monument, located close to the Mercateum, the museum presenting the history of the trade relations between India and Germany."
In an outside area of the museum is a giant globe, the world's biggest one to include historical cartography. It seemed a fitting place for a judo photograph, especially at this time.
Johannes continued, "its name, 'Mercateum,' is derived from the world famous geographer and cartographer Gerhard Mercator (1512 – 1594). For us it was a great symbol to pause in front of this monument and show that despite the situation we are connected with the whole world through judo.
Our members from the Kokoro Judo Club, including children, young adults and adults, were very happy that our sport could restart. We shall never give up."