In response to the press release published by the French Judo Federation yesterday, March 2 2021, the International Judo Federation makes the following clarifications regarding the Paris Grand Slam 2021.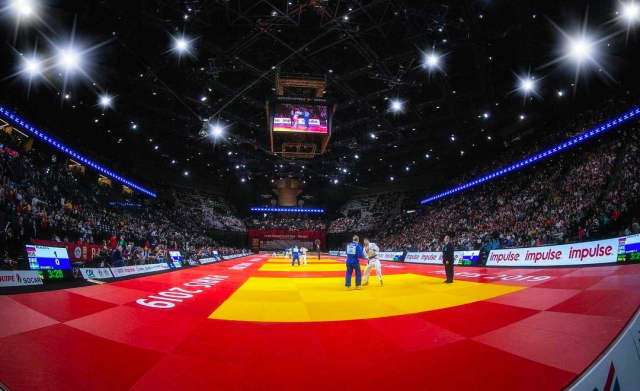 The International Judo Federation has never cancelled the Paris Grand Slam 2021, there has never been a signed event hosting agreement. Since the IJF calendar is full before the Olympic Games, the IJF offers the French Judo Federation the opportunity to hold this event in the autumn of 2021, despite the fact that the event hosting agreement has not been signed to date. Moreover, the IJF invoked the need for clarification and finalization of the agreement and suggested on several occasions to the new President of the French Judo Federation, Mr. Stéphane Nomis, since his taking office already, to consider the Paris Grand Slam as a top priority.
Although the IJF had put a placeholder in the calendar for the Paris event in May, having not received proper feedback about any aspects of the event to be organized in Paris, nor a signed agreement, in order to ensure the Olympic qualification opportunities for the Judo athletes around the world, the IJF was obliged to finalize the calendar for May. We are very grateful to the Russian Judo Federation and the city of Kazan who immediately gave positive feedback and a firm signed agreement for hosting the Kazan Grand Slam on 5-7 May 2021.
The International Judo Federation expresses its appreciation and respect for the contribution of the French Judo Federation and the French athletes to the International Judo Movement throughout the times, as well as the impressive history of this particular tournament which has always taken place in February. Given the situation created and the general global health crisis, the IJF is willing to guarantee the usual dates of the Paris Grand Slam for the years 2022, 2023 and 2024, while for 2021 we are providing the French Judo Federation with the opportunity to select a suitable date in autumn.
We hope that the French Judo Federation will be able to organize a Grand Slam this autumn, especially taking into consideration the rich history of this event which unites in a special atmosphere the Judo Family every year in Bercy. We are sure that this event will have great success, as a sporting celebration of both French and international athletes and their results in the Tokyo Olympic Games, launching the journey towards Paris 2024.
---
Version française
Le Grand Chelem de Paris à l'automne
En réponse au communiqué de presse publié par la Fédération Française de Judo hier 2 mars 2021, la Fédération Internationale de Judo apporte les précisions suivantes concernant le Grand Chelem de Paris 2021.
La Fédération Internationale de Judo n'a jamais annulé le Grand Chelem de Paris 2021, il n'y a jamais eu d'accord d'organisation d'événement signé. Le calendrier de la FIJ étant bien rempli avant les Jeux Olympiques, la FIJ offre à la Fédération Française de Judo la possibilité d'organiser cet événement à l'automne 2021, bien que l'accord d'organisation de la compétition n'ait pas été signé à ce jour. Par ailleurs, la FIJ a invoqué la nécessité de clarifier et de finaliser l'accord et a suggéré à plusieurs reprises au nouveau président de la Fédération Française de Judo, M. Stéphane Nomis, depuis sa prise de fonction, de considérer le Grand Chelem de Paris comme une priorité absolue.
Bien que la FIJ ait réservé un espace dans le calendrier pour l'événement parisien en mai, n'ayant reçu aucun retour d'information sur les aspects de l'événement à organiser à Paris, ni reçu aucun accord signé afin de garantir les opportunités de qualification olympique pour les athlètes du monde entier, la FIJ a été obligée de finaliser le calendrier du mois de mai. Nous sommes très reconnaissants à la Fédération Russe de Judo et à la ville de Kazan qui ont immédiatement apporté une réponse positive et signé un accord ferme pour accueillir le Grand Chelem de Kazan les 5 et 7 mai 2021.
La Fédération Internationale de Judo exprime son appréciation et son respect pour la contribution de la Fédération Française de Judo et des athlètes français au mouvement international du judo depuis de très nombreuses années, ainsi que pour l'histoire impressionnante de ce tournoi particulier qui a toujours eu lieu en février. Compte tenu de la situation et de la crise sanitaire mondiale générale, la FIJ est prête à garantir les dates habituelles du Grand Chelem de Paris pour les années 2022, 2023 et 2024, tandis que pour 2021 nous offrons à la Fédération française de Judo l'opportunité de sélectionner une date convenable en automne.
Nous espérons que la Fédération Française de Judo pourra organiser un Grand Chelem cet automne, compte tenu notamment de la riche histoire de cette épreuve qui réunit chaque année dans une ambiance particulière la famille du judo à Bercy. Nous sommes convaincus que cet événement rencontrera un grand succès, en tant que célébration sportive des athlètes français et internationaux et de leurs résultats aux Jeux Olympiques de Tokyo, lançant le voyage vers Paris 2024.