The opening ceremony took place in day 1 of the tournament, at 4:30pm local time. It was a gentle reminder of the unity that judo fosters, with warm and generous speeches from Israeli Judo Federation President Moshe Ponte, sponsor Mr Sylvan Adams and IJF President Mr Marius L. Vizer.
Mr Ponte opened proceedings, "Dear Mr Marius Vizer and all of the IJF judo family, we welcome you to the Tel Aviv Grand Slam for 2021, shalom. Mr Vizer you are a real friend to the state of Israel and as such we thank you for your trust and friendship. We also wish to welcome Mr Saeid Mollaei and his coach Mr Mansouri. They are truly welcome here."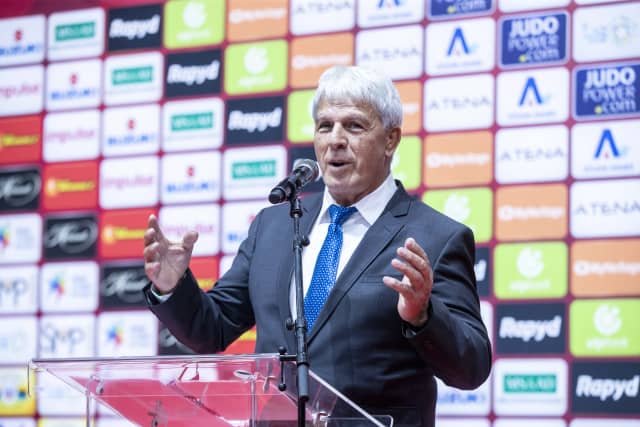 The Minister of Culture and Sports of Israel, Mr Hili Tropper, confirmed Mr Ponte's sentiment and added his own welcome, saying that Israel welcomes all athletes and sport is a vehicle for unity and solidarity.
Event co-host Mr Sylvan Adams also spoke candidly, "I'm extremely proud to stand here today in front of hundreds of world class athletes. Israel has opened its doors for the participation of 60 countries and their athletes. This is an example of how sport brings people together, irrespective of religion or race. We welcome one especially brave athlete, Mr Saeid Mollaei, standing against threats and exile. Sport can help overcome all types of evil and we wish you success and a visit full of sportsmanship.
It is precisely in a time of crisis that we have to show our strength and in the time of corona we use protocol to enforce a high degree of safety, to show our power. This event can be run safely and we are committed to those high standards. We need to show the path to the rest of the world. We can see the end of this crisis and we can see in our close future a return to normal."
IJF President Marius Vizer then took his place on the stage, "It is a great honour to be here and I must thank the government of Israel as well as the judo family for showing unity in these difficult moments. This spirit is one of the engines for motivation and friendship. Through the sport of judo we have shown, in recent years, a lot of achievements in the field anti-discrimination and this is the case here in Israel too. Sport has the power to change the world. Judo is an important bridge, built between society, countries and all people."