New beginning for judo in Brunei
The Kodokan Judo Institute, the spiritual home of judo, has played a pivotal role in creating a new national judo federation in the small Southeast Asia island of Brunei which was previously the only ASEAN (Association of Southeast Asian Nations) country without a recognised judo federation.
Brunei has an approximate population of 417,200 and little is known about their sports landscape outside of the country.
The Brunei National Olympic Council was created in 1984 with 10 athletes from other sports going on to represent their nation at an Olympics since 1996.
Judo is now on the map in Brunei Darussalam with the formation of the Brunei Darussalam National Judo Federation (BDNJF) on 15 April.
The Kodokan dispatched two expert instructors to the country in partnership with the Japan Foundation Asia Centre and welcomed coaches from Brunei and other ASEAN nations to Japan. Their demonstrations and trial sessions were so well received that tentative talk of establishing a federation was quickly put into action. 
Kodokan President and IJF World Promotion Director, Uemura Haruki, congratulated the country and shared why the Kodokan have a duty to develop judo around the world.
"I would like to offer my heartfelt congratulations for the establishment of Brunei Darussalam National Judo Federation," said the IJF Hall of Fame member.
"I am truly honoured for being invited to the establishment ceremony of Brunei Darussalam National Judo Federation," said Uemura, who won the 1975 World Championships and 1976 Olympic Games for Japan.
"In 1882, Kodokan Judo was founded by Kano Jigoro Shihan. Today, judo is recognised as a sport but there are also other aspects of judo such as "Judo for education" and "Judo for human development" which have also become recognised.
"Judo is very popular in the world as global culture, and 199 countries and regions have become members of the International Judo Federation. Because the purpose of which "personal perfection" "to benefit the world" is properly handed over to overseas judo people."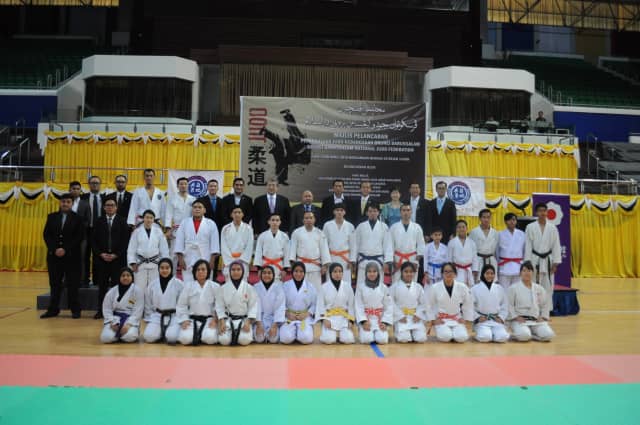 Uemura, who received an IJF Lifetime Achievement Award in 2017, added: "We would like to continue to step forward together with Brunei Darussalam National Judo Federation as members of the same judo family and I would like to extend my best wishes for the further development of Brunei Darussalam National Judo Federation."