Worldwide, elite judoka's are calculating the numbers. After all, the hunt for qualifying points for the Tokyo Olympic Games in 2020 is in full swing. The race to belong to the 18 best per category is ruthless, the struggle bitter.
For three-time Olympian Dirk Van Tichelt, the quest for Olympic qualification is twice as tough ... or exciting. Depends how you look at it. The bronze (Rio 2016) 'Bear from Brecht', as he is nicknamed in Belgium, suffered a serious knee injury at the beginning of this year during the training camp in Mittersill, Austria. Just when the nine-time Senior Belgian Champion got back on track after a disappointing World Championship in Baku.
"It really went smoothly throughout training camp", says Dirk. "True, I can no longer pump up the volume as when I was a young man in my twenties, considering my age now. However, I have found a good balance and in Mittersill I have trained against top judokas who now take medals, like Orujov and Mogushkov. Strong randoris, good outcomes. Then you realize that you are gradually coming back into good shape. However, that last training session, the last randori even, it all went wrong. I did an ura-nage and wanted to throw my opponent so hard that I tore my own cruciate ligaments. At first I assumed it was not so bad. I just felt a short pain and I suspected only a strain. However, during the drive back to Belgium it got worse and worse, my knee started to swell and become unstable. Then you automatically realize that it is not kosher. The visit to the doc confirmed that of course. Verdict: torn cruciate ligaments."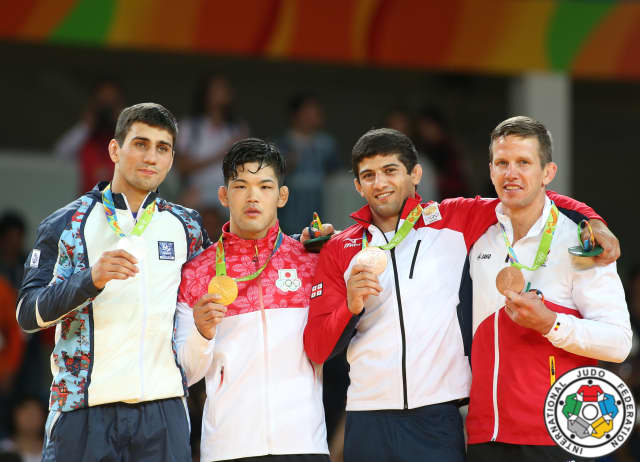 A serious injury at the start of the year, not a good omen ... but Van Tichelt is not a quitter.
"After the Olympic Games in Rio, I finally decided for myself to continue for the next Olympic cycle, until Tokyo 2020, on condition that I continued to perform on a high level and not suffer from too many injuries," says Dirk. "Since the end of last year, I was back on track. Unfortunately, in the run-up to the Games I now have to deal with this serious injury, but since I am this close, I decided to go for it anyway. This injury motivated me even more to work hard for a comeback to the top. After all, I have always been free from serious injuries. Previously, I have never had surgery, for a judoka with such a long career yet exceptional. In short, this injury triggers me even more because I want to show the world that this setback will not get to me", Van Tichelt sounds combative.
One more challenge to deal with for the Olympic bronze medalist. "Getting back at my best level and then qualifying for the Games, that's my goal," says Dirk. "I have qualified three times in the past. Once on the Olympic tatami, anything can happen. I was close in Beijing. There I lost the fight for bronze. In London, the high expectations were a heavy burden on my shoulders. I had performed well in the run-up and that resulted in an expectation from everybody for winning a medal. The media buzz gave me a lot of stress. After all, the OG are so special, only every four years you can compete against the very best. The day of my fight, it all went wrong because of the stress. In Rio, on the other hand, I was completely relaxed and that's how it worked. The OG truly remain a special competition. Once qualified, you can have it all or not."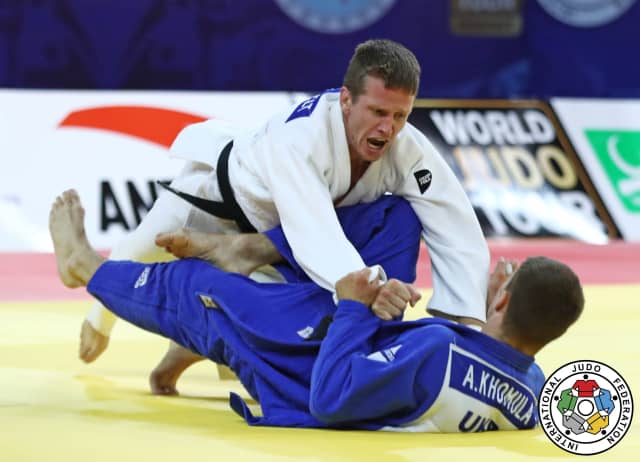 Now, however, the knee injury causes an additional obstacle for Van Tichelt. With rehabilitation there is still a long way to go. Notwithstanding, the Olympian goes full throttle.
"Consulting with the orthopedic surgeon, was a reality check. And sometimes reality bites," says Van Tichelt. "Maybe this is the end of my career, I feared initially. However, I wanted to be in surgery as quickly as possible because I still wanted to do judo for the rest of my life. After the consult, I went outside for a minute. Taking it all in. Then I returned to tell the surgeon to operate me as quickly as possible! He advised me to first train my leg to have a better rehabilitation afterwards. Meanwhile, the operation was successful, and I am now rehabilitating. I want to split the pre-set recovery targets in half. In principle, it takes nine months before one can exercise again, but I want to be up and running in four and a half," laughs Van Tichelt.
However, it is not going fast enough to his liking. Typical for an elite athlete. "You can do your outmost to rehabilitate in the best possible way, but you cannot accelerate the physical healing process itself. If you find yourself lacking strength, you start pumping iron. However, you cannot make a cruciate ligament grow faster. I have to respect the time it takes ... and that's a tough one," Van Tichelt admits. "I have received a training schedule from the physiotherapist that I follow closely. I also do a bit more than he originally told me," he jokes.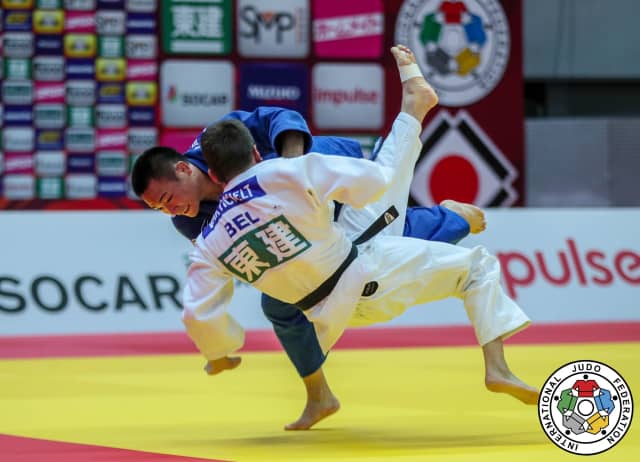 In the morning he rides the spinning bike, so his leg is working normally again. "I was shocked by the impact of this injury and the surgery. You have to learn to walk again. Your muscles do not work the way you want. I therefore try to regain the routine of folding and stretching. In the afternoon I perform the other imposed exercises. I listen to my body though. After all, forcing it too much would be counterproductive."
From 42 to 18 ...
"I want to return to that top level where I fight for a medal at every tournament", says Van Tichelt, currently ranked 42nd. "I will try to be back at the IJF Worlds in Tokyo. That is my goal. However, delivering a super performance will be difficult. After all, I will be missing competition rhythm. When I was younger, I needed a lot of tournaments and pressure. I do not have that pressure anymore with getting older. The tournaments after the World Championships I want to be ready for a medal hunt again and show that I really want to deliver."
Place 18 on the IJF World Ranking – the last one for Olympic qualifications - does not immediately haunt Dirk's head. The world ranking is only a number he finds. "I have never paid too much attention in the past. Twice I was in first place in my weight category. It's nice, but you don't really buy anything with that. You automatically increase when things are going well. My category is very open. Number one can easily lose from number thirty. That's how it works in judo. A wrong decision for a fraction of a second and the bout can be over. It just has to run smoothly and if that is the case, then I will soon be able to join the top again."
Participation is not enough
If Dirk Van Tichelt can qualify for his fourth Olympics, it's only a start. "If I do, it's not only to be there", he says vehemently. "To return to my previous level, that will indeed be a success. However, once on the Olympic tatami, the Olympic idea of ​​participation being more important than winning, does not work for me. As a true athlete I want to stand on that medal podium! There are athletes for whom an Olympic participation is their greatest ambition, but not for me. Every time I went to the Games, it was to be on that podium!"
Worst Case Scenario
Will not-qualifying for the Games of 2020 be a big disappointment for the Olympian? "I want to perform at top level for myself and drive my body to that level. Right now, I am experiencing an all-time low which I want to shake off as quickly as possible," he says. "Note, there is no certainty that my rehabilitation will go smoothly. When I look at teammate Toma Nikiforov, I notice that he managed to get back on the tatami after five months. That's pretty fast because there are not many who pull that off. I hope this works for me too. Similarly, I can have some setbacks and I have to rehabilitate for up to eight or nine months. Then it will be a tight rope to qualify for the Games. In that case I do not know yet if I will face all those last tournaments with a very small qualification chance in prospect. The further I am in my rehabilitation process, it will become clearer and only then can I better estimate my chances. From the Worlds onwards the points count for 100%. So, that last year is important. At best, I miss a little bit in the beginning, but there are still many tournaments. I therefore plan to participate in the big ones, the Grand Slam and the Grand Prix, probably also an Open European."
However, 2020 will mark the end of his career. "I notice that my body recovers more difficultly after heavy training. You are the strongest at the age of 28. You can keep it up for a while, but not forever," says Dirk.
After 2020, the judo story will not stop for Van Tichelt. "I like coaching. I already have my coaching certificate. In March I am going to Bremen with young judokas for the VJF (Flemish Judo Federation) as an assistant-coach. I like to pass on my knowledge to the younger generation. For me this is actually an obvious thing. In my long career I have been supported all those years and have gained a lot of knowledge. Hence, when I can pass on my knowledge, that is also the spirit of judo. I also notice that when I'm a youth coach I'm more nervous next to the mat than when I'm fighting myself," Dirk jokes.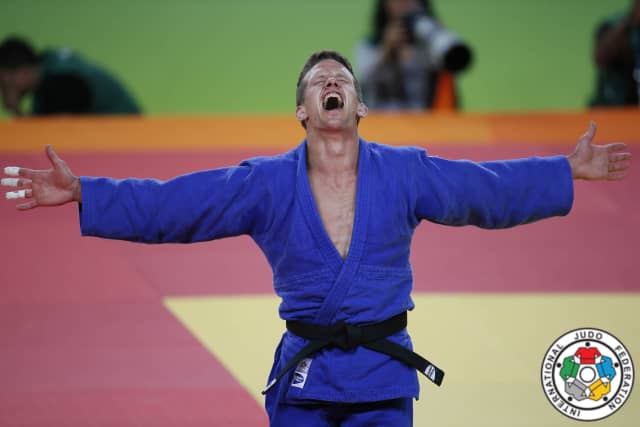 Time flies
"After the OG of 2016 I initially went to see year by year. Since then time has flown. We are now so close to Tokyo 2020. Meanwhile I noticed Matthias Casse making lots of progress in his career that I had a good feeling also in adding another Olympic cycle," says Van Tichelt.
Ending a fabulous career on the Olympic podium in Tokyo, Japan, in the legendary Budokan, for a judoka that would be a perfect closure of a long and successful career. "And maybe face to face against Ono, who beat me three times ... Imagine I can pull it off there," Dirk jokes. "Everyone wants to beat Ono. Especially in Japan. It would indeed be a nice ending."
Never sell the Bear's (from Brecht) skin before he is shot ...