Welsh judoka Dan Jones, 70, was one of the international judoka to complete the Kan-geiko Winter Training Course on Wednesday and his outstanding efforts on and off the mat were recognised by the Kodokan.
Click here for a special report on the Kan-geiko course
The 10-day course is designed to challenge the body and mind as training takes place from 5.30am – 7.30am in frosty Tokyo at the sport's spiritual home, the Kodokan Judo Institute.
Jones, 70, a member of Imperial Judo Club in his native Wales, was singled out during the closing ceremony as he received his diploma from Kodokan 9th Dan Matsushita Saburo.
"I really see the value of Kan-geiko," said the veteran judo competitor, who got up every day in the middle of the night to head to the dojo.
"It takes perseverance and commitment to get up at 3am. I would tiptoe about with a torch, shower and pack last-minute items that have dried overnight.
"I checked my kit, had an orange and was out on foot walking by 4am. It was a fifty-minute walk I'd sit outside until security opened the doors at 5am.
"In total I walked 48 kilometres and trained 10 times from 05:30 to 07:30 during the Kan-geiko class for 20 hours of mat time.
"For three evening's during the course I also joined the practice at Marunouchi dojo for a further 6 hours of mat time and I progressively built randori time from 5 to 25 minutes with Rodriga, a Chilean 108Kg dan grade."
Training at this level of intensity and in these adverse conditions establishes a unique bond between the participants.
"I made many acquaintances and judo friends. I was befriended by 9th dan, Matsushihta sensei who has strong links back to Swansea, Wales and Welsh Judo Association founder and 1964 Tokyo Olympian Alan Petherbridge forged 50 years ago. He introduced me to all the red and white and red dan grades.
"He signed a Kodokan publication of Dr. Kano's thoughts and philosophy and gave me one for Peth (Alan Petherbridge) too."
Participants who complete the course are awarded their certificates by a Kodokan instructor at the end of the roll call on day 10. However, Jones, was called out in front of the entire group to receive his award from a top dan grade based on merit.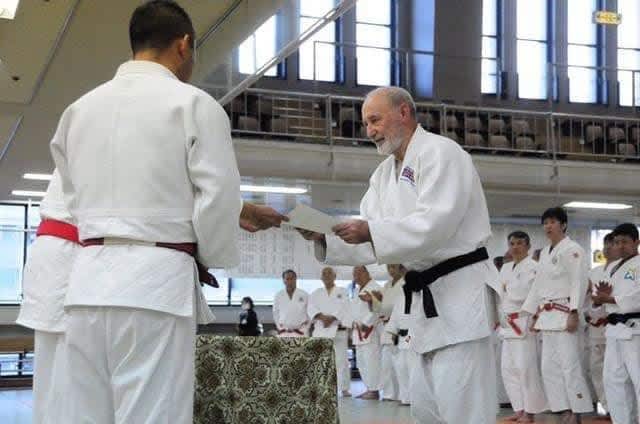 "Today I got the presentation at the closing Kan-geiko closing ceremony. It is their way of honouring or rewarding you for being judged outstanding student.
"Everybody else gets the certification handed to them by the group sensei.
All the top dan grades and high grades were similarly honoured for their work in putting the show together.
"One young player was awarded his shodan and best of all a name was called out. A young girl with a blue belt (about 10 or 13) with a huge smile and complete disregard for protocol bounded out, raced to the table. Quick head bob. Grabbed certificate. Raced back. Lovely.
"In contrast I and all other mere mortals with measured pace lined up side on to table. Left or right turn to suit. Formal rei. Approach sensei. Receive diploma. Bob of head. Step backwards. Formal rei. Re-join group without once showing your back to sensei."