Inbar Lanir was in a hurry, in such a hurry that she dispatched her first opponent in fourteen seconds, the time it took to salute and score ippon with osae-komi against IJF representative Nadezhda Tatarchenko.
The Israeli did not deny, at least initially, her status as first seed. In the semi-finals she had her first major test, against the Mongolian Erdenet-Od. Lanir smashed her opponent with a brutal ura-nage that Erdenet-Od will remember for a long time.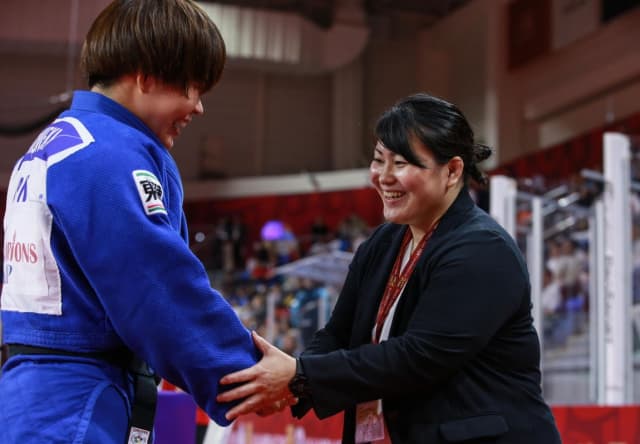 The hardest part was yet to come because in the final the former world champion Mami Umeki was waiting. The Japanese judoka got rid of the German Alina Boehm in the semi-finals. Lanir came out like a beast and with the same strategy as all morning, brought very aggressive ne-waza. Umeki withstood the first onslaught, taking the measure of the Israeli and gave a judo lesson with a perfect uchi-mata. 
In the fight for the first bronze, Boehm took the lead in the early stages against Tatarchenko. The golden score period was reached with the desire to yawn due to Tatarchenko's passivity. She finally showed signs of life and started a new fight, but Tatarchenko's previous passivity took its toll on her with a shido, the third, which made the bronze vanish for her. Mongolian Khuslen Otgonbayar won the second bronze as her compatriot Nyam-Erdene Batsuuri forfeited due to injury. 
Final
LANIR Inbar (ISR) vs UMEKI Mami (JPN)
Bronze Medal Fights
OTGONBAYAR Khuslen (MGL) vs BATBAYAR Erdenet-Od (MGL)
TATARCHENKO Nadezhda (IJF) vs BOEHM Alina (GER)
Final Results
1. UMEKI Mami (JPN)
2. LANIR Inbar (ISR)
3. BOEHM Alina (GER)
3. OTGONBAYAR Khuslen (MGL)
5. TATARCHENKO Nadezhda (IJF)
5. BATBAYAR Erdenet-Od (MGL)
7. JANGELDINA Aruna (KAZ)
7. BATSUURI Nyam-Erdene (MGL)