She is only 17 years old and yet her way of expressing herself and sharing her passion for judo is already very mature. Binta Ndiaye was born in Lausanne on the shores of Lake Geneva. She has just won a bronze medal in the World Junior Championships in Guayaquil, Ecuador, in the best of ways. This is not a first for her, since she reached the same level last year in Olbia, at only sixteen years old. The least we can say is that she is precocious and efficient.
Her mother is Swiss, her father Senegalese, but although she loves Senegal, she has only been there once. She is one of those children who fell into judo early, in her case when she was seven years old. Yet her judoka story was not written in advance because, near or far, no-one in her family practised this sport before.
Binta has a particularity however. She is one of three sisters; yes, triplets! Her first sport was swimming, like her sisters but she didn't really like it, she admits. Her luck was that on leaving the swimming pool she passed in front of bay windows which looked directly onto the dojo where Master Katanishi taught the Japanese martial art. She spent hours there watching the other children in their white pyjamas and she loved it, so much so that she ended up convincing her parents that maybe judo suited her better.
The things that impressed her the most were the beauty of the movements, the mastery of gestures and the good atmosphere. Obviously, in judo people had more fun than in the swimming pool.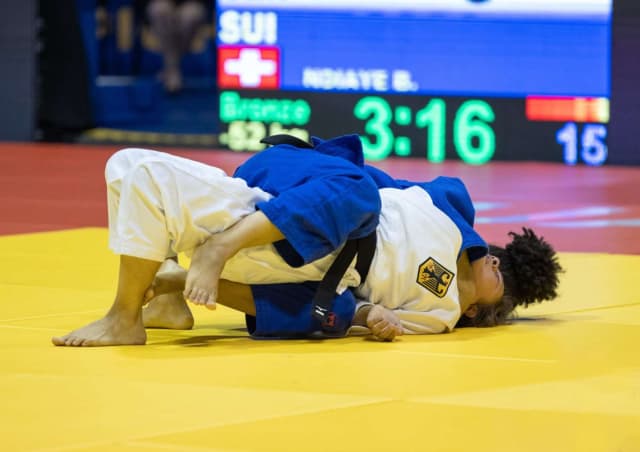 When Binta finally put on her first judogi, she remembers above all that she was a diligent and serious student, more than the other children. When the others were playing, she worked and tried to perfect her techniques. She wanted to learn and meet opponents in competitions. It was therefore not surprising that she performed quite quickly, which gave her great self-confidence.
She recognises that everything came from her because she simply had a great desire to learn. She also admits that she never felt pressure from her parents, who did not know the sport and for her it was a chance. This never stopped her family from supporting her, but she was able to make her way by making her own choices.
When she had the ignition to go to a higher level, she doesn't really remember; everything happened naturally, without pressure. What is certain is that in ten years of practice, she learned to love judo and began to climb the ladder. Her first sensei, Master Katanishi, is the lynchpin, while her current coach Tatsuto Shima continues the work.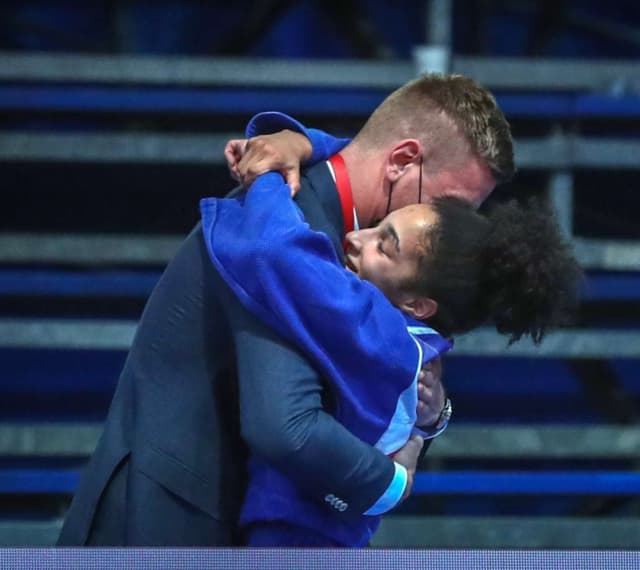 If these masters have helped her greatly, watching judo on TV and following her idols has also contributed to making her the judoka she already is. In her heart, a special place is occupied by the Japanese athletes whose style she admires. She also remembers that one day she had to make a presentation to pass her orange belt and that in the folder she had slipped several photos of Lucie Decosse. Is it really surprising? Not really, Binta loves beautiful judo so much.
Beyond this technical dimension, what she also appreciates above all is the judo community, the respect, the friendships she can weave and the mutual aid.
When it comes to analysing modern judo, she finds it dynamic and appreciates that it is not a sport frozen in time. This allows her to continue to improve and adapt. Now a two-time junior world medallist, she would like to break through to the senior level, where she has already competed in a few events. This should soon allow her to participate in the World Championships in Tashkent, already a great achievement in itself.
As there is not only judo in life, she also loves cinema and appreciates that on the way to Guayaquil she was able to watch Fast and Furious. Maybe that's where she found that burst of energy that allowed her to reach the podium. Although fighting in a light category, she likes to eat well but don't ask her to choose between cheese fondue and chicken Yassa; her family roots prohibit her from choosing. No doubt she would take one as a starter and the other as a main course.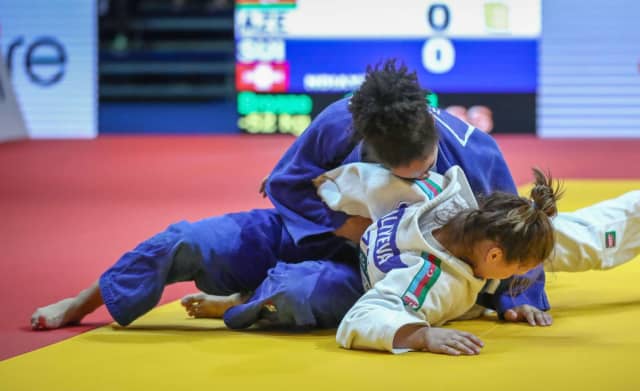 To come back to judo, she knows that she still has to improve, especially if she wants to break into the senior scene, where the technical-tactical aspect is more marked but, above all, where you have to be on top form physically. For this she relies on her not-so-secret weapon, her tai-otoshi, which she tries to perfect just like her ne-waza. Before reaching new heights, she continues to study and train, at least twice a day, with technical sessions and randori phases. Little by little she has integrated more and more physical preparation.
Two world bronze medals in the pocket among the juniors is a good start. Satisfied with her competition in Ecuador, she leaves with a little more experience and with the pleasure of having been able to speak other languages with the other participants. Before getting back on the plane, if she could discover a little more about the local culture, she wouldn't say no.
In a few weeks, Binta Ndiaye, will have the opportunity to discover a new culture, in Uzbekistan. We can only wish her to continue her life of discovery and make the most of the strength of her youth.