Sabrina Filzmoser is preparing intensively for the next competition deadlines as she is still in the race to qualify for the Olympic Games, again. This is the goal of a life and a career, even if it's not the first participation of the Austrian star, knowing that she was already on the circuit in 2008, during the Beijing Olympics.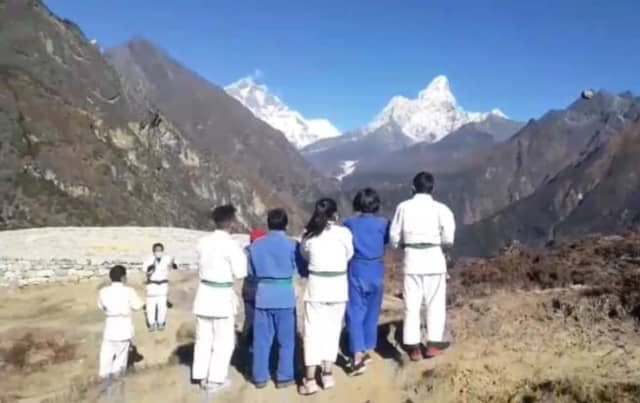 Despite everything, she also continues to work in the Himalayas, where she has been involved for years, supporting the development of judo. With her help and thanks to her determination, the highest judokas in the world have just stepped on to the tatami at the foot of Mount Everest.
Sabrina is clear, "I'm really trying to focus on the preparation for future competitions, but this development work in Nepal right now gives me so much energy!" She added, "Somehow it's always seems like just a beginning, but the first steps are set, right?"
We can confirm that judo finally landed in the highest dojo on this planet, located within the vicinity of Sir Edmund Hillary school in Khumjung, at an altitude of more than 4000m.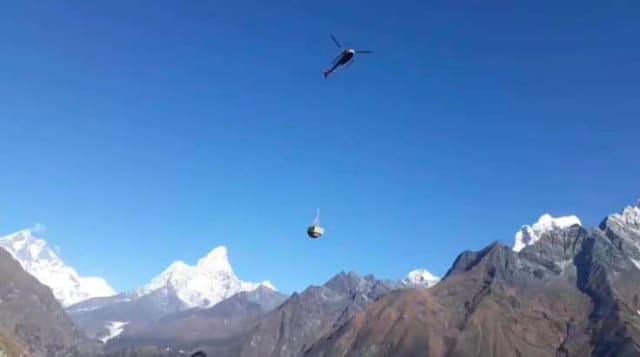 "This sounds great, although we still face hard times," explains Sabrina. "While life in Europe is getting back to a somehow more complicated, challenging, but kind of normal COVID-life, unfortunately our friends in Nepal aren't as lucky as we are. Nepal's daily new case numbers are rising swiftly and tourism is nearly non-existent now, although it's not possible anyway. The problem is that Nepal is totally dependent on tourists, funds, grants and help from all over the world, which mostly comes during the tourists' high season."
Sabrina has been active in this region of the world for many years and we have already presented her work several times, but this new opening of a judo dojo near Mount Everest is something special, "I have been blown away by the generous donations for Everest Judo during the COVID time. Since I started collecting thousands of metres of altitude last March and since I launched my Gofundme campaign in mid-July, the funds raised paid for cargo, with an initial shipment of medical supplies, Ippongear masks, Judogis, clothes and a lot of training equipment and school materials, which were delivered to Kathmandu in October and November. We could finally deliver up to the Solukhumbu District (Everest region) the generous donation of tatami, by helicopter, the only efficient way to do it. Everything was made possible with the incredible support of NPOJUDOs, Solidarity of International Judo Education judoka, Yasuhiro Yamashita (Chairman of the board of trustees - AJJF and Japanese Olypmpic Committee President) and Kosei Inoue and the kind, hard working staff, lead by Hiroko Ozawa and Keiko Mitsumoto. There were so many more wonderful people involved."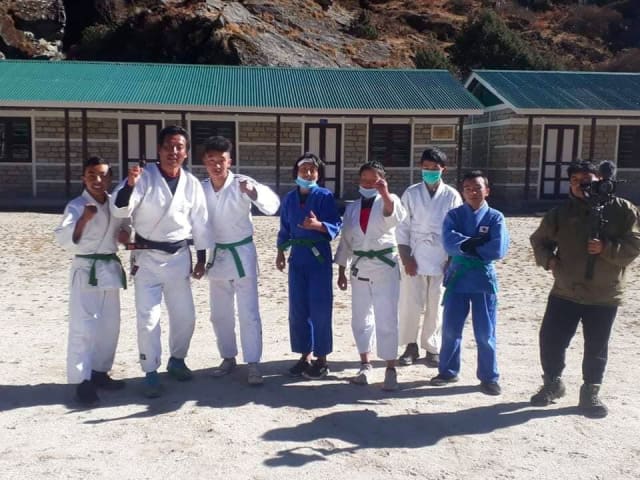 When Sabrina launched her project to collect altitude metres (https://www.ijf.org/news/show/sabrina-filzmoser-surpasses-mount-everest), she didn't expect such an amazing outcome, "Because the amount raised far exceeded my expectations, we have now been able to dispatch another shipment to supply even more Sherpas and judoka across the region. It is crucial here, as with everywhere, to prevent the spread of COVID-19 through well educated health workers and the community, but also to help the general population with health education. It is also so important to help them spread our judo values. By funding the essential supplies, the incredible coach Kazi Sherpa helps young children and their families  to have hope for their future."
It was something very special to see the tatami arriving from the sky, "Tatami should have been delivered by porters, but what a difference the extra support gave us and we were able to deliver the equipment by helicopter. That was for sure the most exciting part."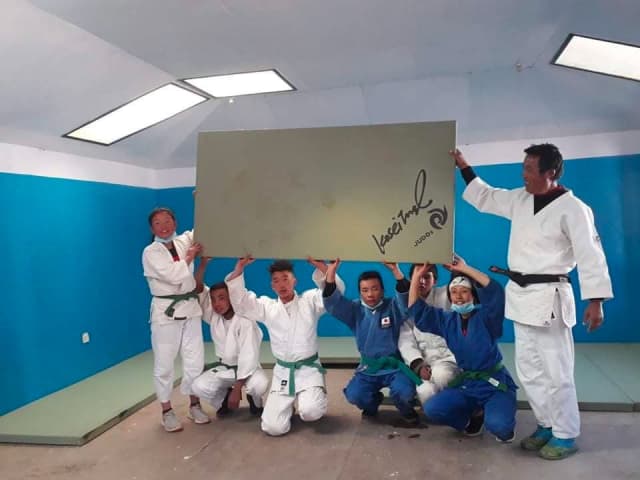 Beyond this excitement for the children and their parents, the fight has to continue, "Together we will continue to provide support for health workers as they fight back against COVID-19. We are also working with our local partners in Nepal, like the Pasang Lhamu Foundation, to determine more ways to help. Tourism is the main source of income in Solukhumbu District and with most international flights suspended and no tourists visiting, the economic situation is critical. With still no end in sight for this pandemic, everybody is anticipating that there will be more need for humanitarian support."
Sabrina knows the situation better than anyone else and that's why her message is so heartfelt, "What I know now for sure is that Nepal is being hit hard by this virus and the situation is evolving rapidly. If you can, please donate: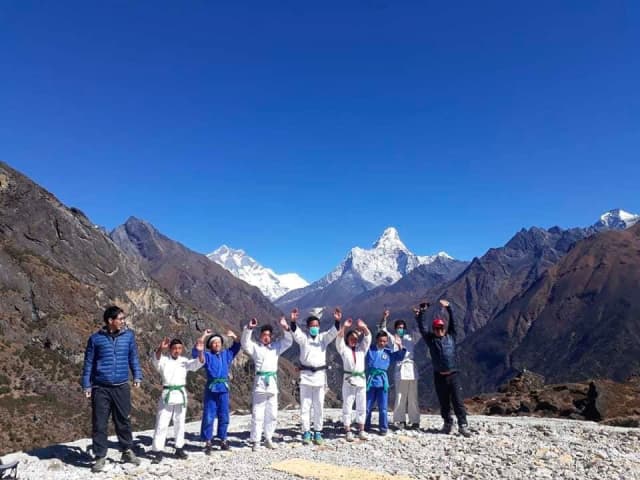 So we can continue to respond quickly to the emerging needs, not only at Khumjung Hillary school, but also at Monjo school, Lukla school, Nepal's Federation projects in Kathmandu's orphanages and for the deaf and blind judo project, which is an enormous project from Dharma Khumar Shresta.
Thank you and tashi delek to all judo family members in advance and to all supporters for helping to extend and promote Jigoro Kano and Sir Edmund Hillary's legacies, even during the toughest of times."