Venezuela has been very active on the World Judo Tour for several years. We wanted to know a little bit more about the team and their secrets. Kilmar Campos is the coach of the Venezuelan team. We met him on the last day of competition in Antalya.
"My team is still under construction; it's a work in progress. In 2017 we changed the direction of the federation and Katiuska Santaella was elected President. Since then everything changed and for the better. She knows judo very well, is a coach herself and she is a member of the IJF Education Commission. She knows how it is on the field.
It is very important to have someone in such a position who knows the difficulties and challenges of the athletes and their coaches when they want to achieve good results. As a coach, she used to train the -70kg athlete Elvismar RODRIGUEZ. I remember the kind of work that she was doing with Elvismar, with all the support and all the planning she did. She went after the sponsors, to be able to offer possibilities to Elsvismar to reach this level. When Katiuska took the presidency of the federation everything started to change, because she arrived with a bag full of ideas. When she took overshe started working not only with Elvismar, but with the whole team; all the girls who are here, the cadets, juniors, men. She inspired true team work and for all.
One year after she took office we had a female athlete winning the Youth Olympic Games and then we had a cadet world champion too. I don't know why it is but at the moment the women shine more. They are stronger, maybe because Katiuska has a lot of wisdom. When she was a coach, she motivated the girls to believe more in their faith. Later we had two Pan-American champions, one man and one woman and so we are starting to see the men as well. Today we have many chances to participate in training camps in Japan, in Spain, in Austria in Mittersil and this really makes the difference."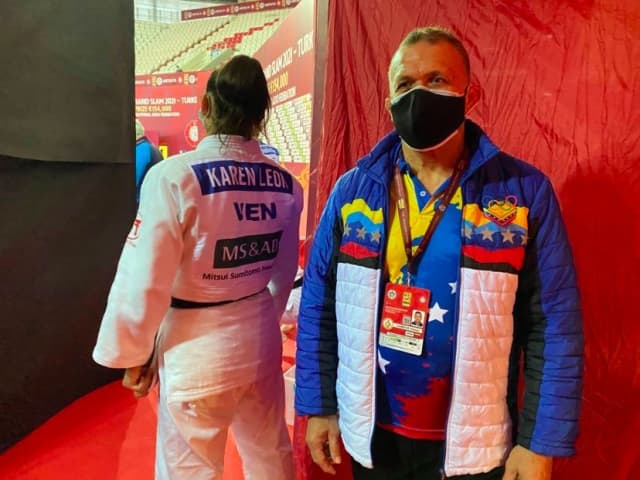 Anriquelis BARRIOS (-63 kg) started judo because of her parents, she said, "My dad is my coach and my mum also did judo, so all my family was involved and that's why I started this beautiful sport. When I began it was about making friends, enjoying the sport, but when I jumped to the cadet category and then juniors, the story changed. Of course I still have the friends and the spirit, but I wanted results and medals and I started to think about the Olympics and it has been my dream ever since."
Rodriguez ELVISMAR (-70kg) first took up judo because her mum worked at the same company as her coach, who is now the Venezuela National Federation President Katiuska SANTAELLA, "She motivated me to go and train. So that's why I started judo, because they were friends." 
Karen LEON (-78kg) started judo because of her older brother, who represented the country many times, "I started doing it because of him, he was my inspiration and my motivation."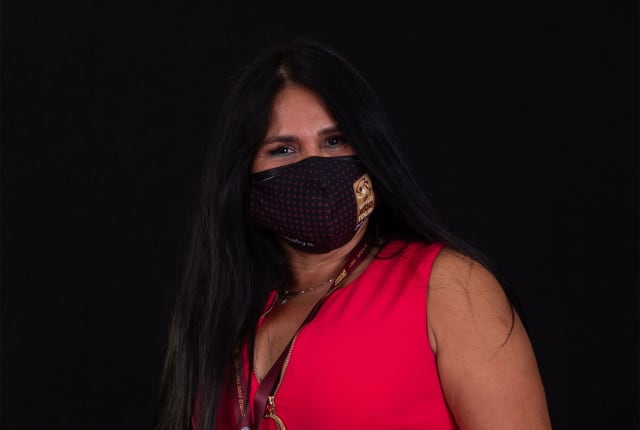 We asked what makes Venezuela a team to fear, with more and more female athletes reaching the medals. Barrios smiled and just answered, "The difference is that now we have a new federation system, a new President who is super involved and who knows very well how the athletes need to perform at the highest level. We have a better organisation, better planning, more discipline."
Elvismar said the same, "I also think that in judo in Venezuela we have always had good athletes and good competitors, but what was missing was the support to go to international competitions. Now the federation supports the athletes. For example, the training camps in Japan, where we have been able to train for three years and this has helped us grow mentally, physically and technically. I think all of these things combined has, little by little, brought judo in Venezuela to where it is today. Speaking from my personal experience, we used to train only in Venezuela and then I would go to a competition and lose by shido or maybe by something that is an avoidable mistake and I did not have that competitive fighting spirit. When we went to training camps we felt more confident. We started to believe in our capacities. This helps a lot for is to develop to higher levels."  
Having a female team under the spotlights is not trivial and we wanted to have offer some explanations. Karen actually smiled and said, "Yes, now we are much better than the male team because we are united and we have this team spirit and we support each other. It makes a big difference. When I need help or some technical advice, I can always count on my teammates. We all have the same goals now and we are in the process of reaching them. As we say 'together we are stronger' and this makes our team different and special." 
Barrios said, "The Venezuelan women are very independent women, fighters, true warriors. We are just stronger, in all aspects of life. We believe in ourselves and the structures behind us and our determination makes us better now than ever." 
Talking about the youth, the three had role models, people that they admired during their childhood. Elvismar jumped into the discussion and said, "I remember how much I admired and still admire her even if she retired. I'm talking about Yuri Alvear (COL). I woke up in the middle of the night to watch her fight in the finals of the Worlds or at the Olympic Games. She was my inspiration, a true role model. I really wanted to be like her and deliver my judo as she did. Now I feel that it is important that we become the 'Yuris' for this next generations and I hope they see us doing judo with the same excitement and sparkles in the the eyes as I did." 
Elvismar continues, "I think it's important that judo in Venezuela keeps growing and receives more support. We have many young people practising judo, but we are still missing a certain level of support, especially for this next Olympic cycle. I wish there was more Latin American representation in the sport. We don't only need support, but also motivation to go to training camps and competitions and to have experience on the international field. The economic aspect is a key one for success and for motivation as well. Someone may have a lot of support and still not want to get involved or push their boundaries, but what we need is opportunity, to compete and go to training camps, because that is something that really helps you grow as an athlete, to teach a higher level. Interacting with the international athletes, going through tough training, knowing that I can feel good against certain people; all these things help physically as well as mentally."
Barrios added, "I wish for the future that the Venezuelan team becomes complete, so that not only the women are strong but also the men and in all weight and age categories; lots of medals and a proud nation of judo."
Venezuela National Federation President Katiuska SANTAELLA wanted to conclude this interesting talk, "I want to address many compliments to all the agents of judo, not only the coaches and the athletes, but also officials and sports stakeholders. In Venezuela we have initiated what needs to be a thorough job, not only at the high performance level to win medals, but also at an educational level, with judo in schools. You know how important the next generation is. You know how the values of judo can help the children to grow in their professional lives later."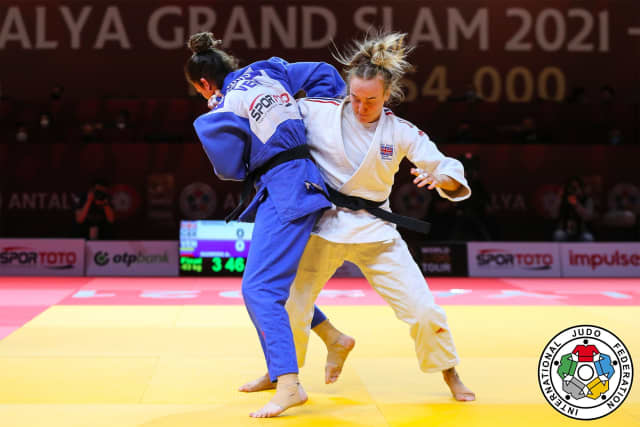 As one of the few women in her position, Katiuska SANTAELLA can speak about how difficult it is and how she manages to have the successes she has. "I believe that the success comes from the fact that I am actually a woman. First of all, as a woman I'm very organised. A woman can be a mother and dedicates herself 100% to work. That is exact what I have been for Venezuelan judo, a mother.
I understand the situation very well. I was an athlete, a coach, a manager and I'm a member of the IJF Education Commission. So, I know all the positions well and I understand what happens to an athlete, to a coach, to a leader and I always try to understand a situation before taking any steps. I always try to do it better. This would not have been possible without the support of the IJF and the IJF President, Marius Vizer. He supports us with judo in schools, for the youth categories and for the elite athletes who are present here competing for medals. Without the IJF I couldn't do it because the situation in Venezuela is very bad.
My dream as President is to be able to organise Venezuelan judo, not only to win Olympic and world medals and not only at the competitive level, but rather from an organisational point of view. Before, the federation was not well organised. What I want is not to improvise but to have the right people in the right places. This is my wish. I want my team to be together and work successfully together. If we do this, we will have many successes."
That's all we can wish for President SANTAELLA. It appears that she is definitely heading in the right direction.