We are slowly approaching the end of the World Judo Championships Tashkent 2022. Although there are still great moments to be experienced, including the heavyweight day and the team tournament, we gradually feel that the event is coming to an end. There is however no reason to demobilise and today's categories helped us to stay focused.
To date, 12 world champion titles have been awarded out of the 14 put into play during the individual tournament and during this sixth day it was the women -78kg and the men -100kg who were in action from the preliminaries in the morning.
You had to be particularly intuitive to imagine the finals of the day, so many were the surprises, the performances of some and the disillusionments of others. That's obviously what we love about judo, the uncertainty of the outcome and even if the favourites get away with it, the fact that they are challenged and that it can happen at any time, gives the competition an exciting flavour.
The last day of the individual tournament will undoubtedly bring its share of surprises and we look forward to it. It will then be time to draw some initial conclusions. We can already say that Japan dominated, at least during the first days, before other nations took over. We can also say that for the host nation, this championship is a success. It was from the point of view of the organisation, it is also from that of the results, after the last two days, in which the Uzbek athletes were in the spotlight.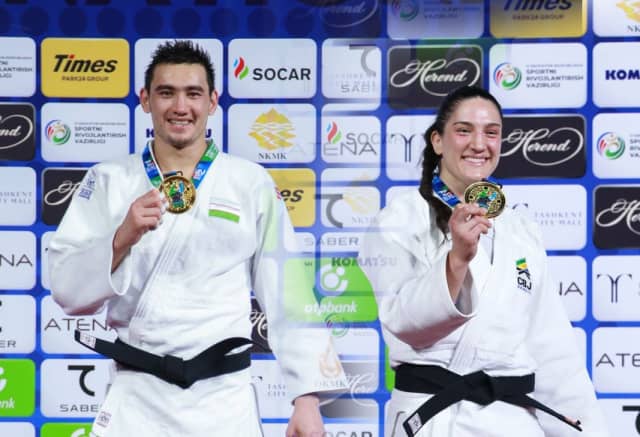 It is not malicious, on the contrary, to say that for certain countries, the 2022 vintage will not go down in history. It is the law of sport. It does not question the commitment and passion of each athlete and coach. There is no doubt that countries whose results do not reflect what they might have hoped for, will know how to draw the necessary conclusions. In the meantime, we can already greet all the judoka who took part in the championship or who are about to do so. Their passion and commitment, beyond the medal, is an example for young people around the world.
As we said, we still have good times to live and it would be premature to draw up a full assessment of these championships, although some delegations are beginning to indulge in the exercise of tightrope-walking that this represents: what went well and what didn't? Everything in its time. Let's celebrate today the victories of Aguiar and Turoboyev and prepare for a final individual day tomorrow, before the climax of the mixed team tournament.