In -52kg category, the competition seemed well underway for Gefen Primo (ISR) who, since her victory at the Paris Grand Slam in 2021, was looking for a gold medal. Things looked even better after the elimination of the reigning world champion, Ai Shishime (JPN), who did not think she would be struggling as she was against Yerin Jung (KOR). With three shido against her, Shishime was not even qualified for the second round.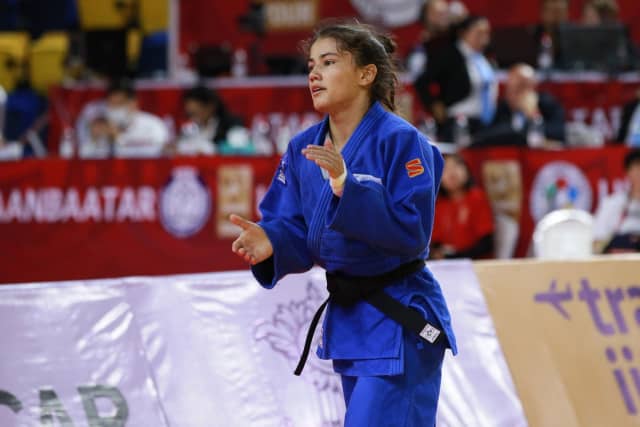 In the semi-final, Primo was unfortunately unable to do anything against Alesya Kuznetsova (IJF) who applied with rigour and precision an unstoppable armlock for ippon. In the second part of the draw, we followed with pleasure the competition of the young Uzbek Diyora Keldiyorova (UZB) who has come a long way since her cadet world title in 2015. Now capable of competing with the best, she already had two grand slam medals before her participation in Mongolia, both from Antalya, in 2022 and 2021.
It was a one way final as Diyora Keldiyorova totally dominated her opponent, producing strong kumi-kata and engaging, powerful attacks. It was a perfect example of a tactical match, pleasant to follow and observe for all judo specialists. The women's Uzbek team is acquiring skills and experience at each of the World Judo Tour events. As the Olympic qualification is starting, we will have to follow Diyora Keldiyorova, twelve in the world before the grand slam and now with a second gold medal in her pocket, she will move up in the ranking and will chase medals at a higher level from now on.
The first bronze medal contest opposed Yerin Jung (KOR), without any record on the international circuit and Joana Diogo (POR), already twice a bronze medallist at grand prix level. During the first phase of the match, Diogo was not very active and was therefore penalised twice rapidly, for passivity. Incapable of putting her hands on the judogi, she let Jung attack first systematically. The third penalty was not far away. It was not that Jung's attacks were especially precise but they were powerful and with a face-to-face ko-uchi-gari, the Korean definitely took the advantage and scored a waza-ari that Diogo had no possibility to challenge. This is medal number one in a grand slam for Yerin Jung.
Defeated in the semi-finals, Gefen Primo still had a chance to step on to the podium to earn valuable points. Against her was Khorloodoi Bishrelt (MGL) who was counting on bringing a medal to her home country. It must be said that the local public was present throughout the day, encouraging their athletes while appreciating the beautiful judo in general. With two shido to her name, things started to be complicated for Primo who, despite all her will, seemed to be incapable of producing any good judo. With no surprise the third shido came giving the victory to Khorloodoi Bishrelt and for Mongolia.
Final
KUZNETSOVA Alesya (IJF) vs KELDIYOROVA Diyora (UZB)
Bronze Medal Fights
BISHRELT Khorloodoi (MGL) vs PRIMO Gefen (ISR)
JUNG Yerin (KOR) vs DIOGO Joana (POR)
Final Results
1. KELDIYOROVA Diyora (UZB)
2. KUZNETSOVA Alesya (IJF)
3. JUNG Yerin (KOR)
3. BISHRELT Khorloodoi (MGL)
5. DIOGO Joana (POR)
5. PRIMO Gefen (ISR)
7. NUGAEVA Liliia (IJF)
7. BALLHAUS Mascha (GER)