Third at the Paris Grand Slam last February and three times a grand slam bronze medallist, Enkhriilen Lkhagvatogoo hoped to reach a new level on the occasion of the return of a World Judo Tour event to Mongolia, after six years of absence. Inspired by her home crowd and the wind from the steppes that blows in Mongolian lands, she qualified for the final against the IJF representative, Daria Kurbonmamadova, who had seen her draw open up after the early elimination of Tsukasa Yoshida, bronze medallist from the last Olympic Games.
Once again the Japanese athlete did not show her best level and struggled to build an effective system of attack, as she was penalised three times through her match against Oyunchimeg Oyungerel (MGL), before being defeated again in the repechage by Chen-Ling Lien (TPE).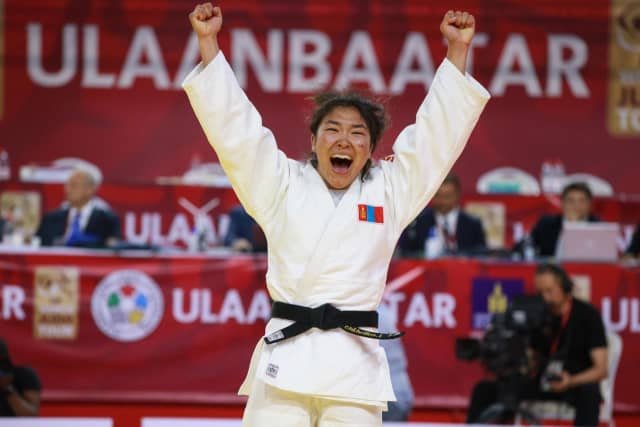 For Lkhagvatogoo things were not guaranteed, however, as in the semi-finals, she faced the recent and solid European champion Timna Nelson Levy, but the third shido awarded to the Israeli opened the doors of the final wide for Lkhagvatogoo.
After a few seconds in the final between Enkhriilen Lkhagvatogoo and Daria Kurbonmamadova, we had the feeling that at any time the victory could be decided on one single attack. With both athletes fully engaged, giving their best to score, taking risks and not avoiding the confrontation, it was with less than one minute to go that Kurbonmamadova was penalised a first time. It was not that she was passive, but the Mongolian judoka was super active. In golden score, after a confused action, with an attack from Lkhagvatogoo and a counterattack from Kurbonmamadova, the supervision commission had to review the action and clearly attributed the victory to Lkhagvatogoo, putting Mongolia on top of the medal podium after one day of competition at the Ulaanbaatar Grand Slam 2021, with two gold, 2 silver and four bronze medals.
In the first match for a bronze medal, Ichinkhorloo Munkhtsedev (MGL) gave Mongolia one more chance of a podium finish, against Pauline Starke (GER) and she actually took her chance, throwing Starke twice for a clear victory.
Facing Timna Nelson Levy for the second bronze medal, we found Chen-Ling Lien (TPE). The match seemed a little closed, neither of the two competitors being able to score and take the advantage, despite the numerous groundwork phases, until Timna Nelson Levy produced the strongest attack of the bout, with a massive koshi-guruma, that was rewarded with a waza-ari. A wide smile illuminated Nelson Levy's face after what could be considered a tough day at the office for the European Champion.
Final
LKHAGVATOGOO Enkhriilen (MGL) vs KURBONMAMADOVA Daria (IJF)
Bronze Medal Fights
LIEN Chen-Ling (TPE) vs NELSON LEVY Timna (ISR)
MUNKHTSEDEV Ichinkhorloo (MGL) vs STARKE Pauline (GER)
Final Results
1. LKHAGVATOGOO Enkhriilen (MGL)
2. KURBONMAMADOVA Daria (IJF)
3. MUNKHTSEDEV Ichinkhorloo (MGL)
3. NELSON LEVY Timna (ISR)
5. STARKE Pauline (GER)
5. LIEN Chen-Ling (TPE)
7. ZEMANOVA Vera (CZE)
7. YOSHIDA Tsukasa (JPN)